Ireland: Mind Your Manors
Charming accommodations on the Emerald Isle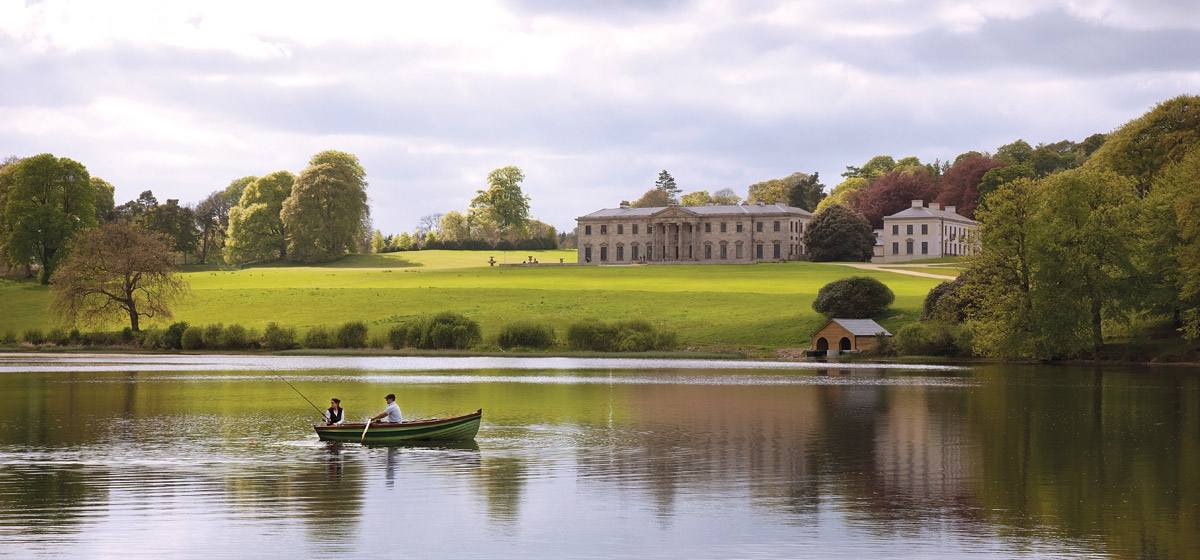 August 20, 2015
Whether you spend the day on Dublin's bustling Grafton Street or peering over the Cliffs of Moher, odds are good you will encounter some sort of precipitation accompanied by a chill wind and gray sky. It's what makes stopping by the pub at the end of the day such an appealing Irish tradition. A welcoming fire, a stiff drink or hot tea, the warmth of old wood, cracked leather and friendly smiles all around do much to counteract the elements.
---
---
There's a special kind of coziness that seems to exist only in Ireland. For all of its outdoor attributes, it's an indoorsy kind of place. As the proliferation of bookstores testify, the Irish have mastered the art of staying home. For a traveler, there is nothing more memorable than sharing that experience at one of the many estates that now serve as country house hotels. A stay in one is about much more than a room for the night—indeed, guests usually book for several days or more. The point is being there and savoring all that these luxurious hotels have to offer.
It begins with the finest accommodations—beautifully appointed rooms with character and charm and lovely amenities. But the heart of the experience is always the pub, elevated to grand heights and disguised perhaps as a library or living room. Dining rooms that serve the best of Ireland's haute cuisine, along with homemade brown bread and other hearty fare, provide punctuation for days spent hiking, fishing or shooting with skilled guides. A visit to one of these hotels offers a glimpse into a gentrified way of life that few can actually claim, but many can borrow, if only for a short time. Here are three of the best:
Ballyfin Demesne
Arriving at Ballyfin is like something out of Downton Abbey: you call at the gate of the walled estate and by the time you traverse the winding drive, the staff is standing outside at attention, waiting to greet you. At the very top of any list, Ballyfin is the finest country house hotel in Ireland. Set on 614 acres of private land (demesne means the land attached to an estate that is only for the owner's use) about an hour from Dublin, the five-star hotel has only 20 guest rooms.
Each is impeccably decorated, filled with beautiful antiques, exquisite fabrics and priceless paintings. Many are original to the house, which was built in 1820 as the most spectacular Regency mansion in Ireland. More recently, it had been used as a boy's school before the current owner, Chicago businessman Fred Krehbiel, bought the estate in 2002 and spared no expense during an eight-year restoration.
Ballyfin opened in 2011 as a hotel unlike any other. The owner's personal objects abound, from the 10,000-year-old Irish elk antlers in the entrance hall to a room filled with Flora Danica porcelain. An outstanding collection of museum-quality Irish art is displayed everywhere, but the grandeur it suggests is muted by the comfortable, classic decor—lots of soft sofas, good reading lights and stacks of books to browse. The 70-foot-long library with fireplaces at either end is an especially nice place to relax, though on a warm day you might wander into the conservatory, which was completely disassembled and every pane of glass replaced. Then it's on to dinner, where the motto is "local, natural and seasonal." The superb meals are included in the rates, with much of the food grown on the estate or sourced from neighboring farms.
What to do at Ballyfin? Golf carts and bicycles wait at the front door, where most of the hard paths through the extensive grounds connect. There is boating or fishing on the 28-acre lake in front of the house, clay pigeon shooting, archery, tennis, horseback riding, falconry and golfing at nearby courses. A pool, spa and state-of-the-art exercise facilities are in the hotel's lower level, along with a terrific wine cellar and a casual bar that specializes in Irish whiskey. In short, there is plenty to do, but Ballyfin's greatest gifts are peace and privacy. Unlike Ashford Castle or other grand country hotels overrun with tourists, only guests are permitted on the grounds. That might explain why Kim Kardashian and Kanye West honeymooned at Ballyfin, though the staff won't tell you that. ballyfin.com
Castle Durrow
There can't be a prettier dining room in Ireland than the one at Castle Durrow in County Laois. Brown and white toile covers the walls, with giant tapestries hung on top of the paper. Crisp white linens and Irish crystal make the tables gleam against the simple bleached oak floors, while tall windows look out on acres of formal gardens. And then the food arrives, beautifully presented and on a par with the finest gourmet offerings anywhere. Welcome to Castle Durrow, the very essence of a country house hotel.
Built in 1716 by Capt. William Flower (who became Viscount Ashbrook), the home's cut bluestone exterior and pre-Palladian design seem harsh until you take in the breathtaking views and manicured grounds that surround it. Like many other manor homes, Castle Durrow did penance as a school after it fell on hard times in the 1920s. It was purchased by Peter and Shelley Stokes in 1998 and transformed into a hotel, with Shelley doing the interior design.
Many of the original 18th and 19th century architectural details remain intact, and the house conveys a deep sense of history. Antique furnishings fill the bedrooms, which are at once imposing but welcoming. The public rooms are spacious and inviting, with a wonderfully lived-in quality that makes you want to linger, whether in the pub, the library or an enchanting sitting room that feels like a garden. A salon and banquet facilities are in a separate wing. While most of the activities are in the vicinity and include golfing nearby, Castle Durrow does offer tennis, clay pigeon shooting and archery, in addition to "Durrow leafy loops walks" through its grounds. castledurrow.com
Ballynahinch Castle
Seamus Heaney, the late Nobel Prize-winning poet, loved to escape to Ballynahinch in Connemara, Galway. He visited many times each year and could often be seen sitting alone by the fire in the pub. Ballynahinch is that kind of place; a secret off the beaten path that has a loyal international following. It's most famous for its fishing, which it claims is the best in Ireland. The fishing and walking guides are available every morning to chat and give advice, but many seasoned fly-fishermen simply go out on their own, familiar with the sparkling waters. Guides will also take you hiking in the 12 Bens Mountains or out to sea to catch lobster. Clay and woodcock shooting, tennis, horseback riding and cycling the Connemara are other pastimes, but a stroll through the magnificent 450 aces of woodland that surround the early 19th century castle is not to be missed.
Still it's the fishing that gives Ballynahinch such character. Maharaja Jam Sahib of Nawanagar, India, a renowned cricketer, took over the property in 1925 and built what is now considered one of the best salmon and sea trout fisheries in Europe. A rack of fly-fishing rods stands near the entrance hall, as it has for decades, waiting for the water. Men in fishing gear congregate for lunch in the pub, which is filled with old trophies and fishing memorabilia. A recent addition has expanded this popular spot, which boasts delicious fish chowder and a convivial atmosphere.
After a busy day outdoors, guests at Ballynahinch can retreat to luxurious bedrooms, many with such splendid views of the river and mountains that turning on the television would be a shame. A new wing of rooms has just opened, and Ballynahinch has undergone a major update in the last few years in the hands of its new owner, Irish cell phone billionaire Denis O'Brien. His outstanding collection of art is on display, including many wonderful paintings by Gerard Dillon. The much-loved shabby chic quality of the hotel still exists, with its worn Oriental rugs and generous seating, but some of it has been replaced by a more sophisticated look, especially in the dining room. The formal white linens and the intricate drapes are gone, with bare tables and uncovered windows in their stead.
What hasn't changed is the food, which the 40-room, four-star hotel prepares to perfection. A meal is an experience worth savoring, and you never know who will be at the next table. The guests who appreciate Ballynahinch are an interesting lot who wear diamonds with their tweeds and sip Connemara whiskey in the afternoon. They're right at home in this relaxed country hotel. ballynahinch-castle.com