In a class of her own
One of the greatest amateurs in women's golf history scores another (and unexpected) triumph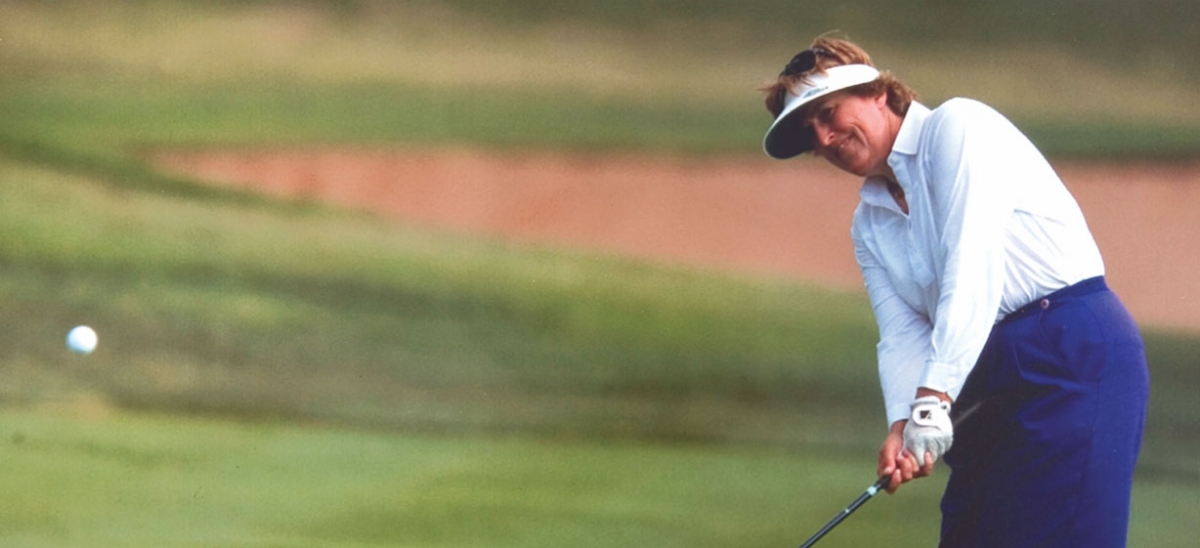 May 21, 2015
Just behind the first tee of the legendary Old Course at St. Andrews, Scotland, looms a brooding stone edifice of baffling architectural lineage. Call it Ponderous Nondescript. This is the clubhouse of the famous and historic Royal and Ancient Golf Club of St. Andrews, hulking guardian of golf.

A big brass telescope sits on the balcony of the chief executive's office on the second floor. When the mist isn't stealing in from the North Sea, members can see out to the farthest reaches of the fabled course, out to No. 8, some 3,000 yards away, out to the estuary of the River Eden. But even the most visionary of them could not have foreseen what was coming: women admitted as members.
This wasn't breaking the glass ceiling, or crashing the board room. This wasn't a fraternal lodge. This wasn't even Augusta National, home of the Battle of the Masters Tournament. This was the Royal and Ancient, a golf club founded in 1754, about the time a brash young colonist named George Washington touched off the French and Indian War near what is now Uniontown. This was a men's club.
* * *
Carol Semple Thompson, 66, probably the most celebrated woman amateur in the world, gets plenty of golf mail, but in the delivery at her home in Sewickley last December, one letter screamed to be opened first.
It was the return address: The Royal and Ancient Golf Club of St. Andrews, Scotland. Thompson had been to the Royal and Ancient, but why would a venerable and most exclusive men's club write to her?
She slipped the letter out and found herself holding history in her hands.
In September, the Royal and Ancient gave in to mounting pressure and voted to admit women as members. In February, in a news release that focused on starpower, the club announced that seven women had been admitted as honorary members. The news hit like a worldwide earthquake. Another men-only citadel had fallen. First, Augusta National, in 2012, and now the Royal and Ancient, after 260 years of a sheltered existence.
The headliner of the honoraries was Princess Anne, in a move that cut both ways. Her invitation was prudent because she is, after all, a royal. But it was awkward because of her opinion of golf. "I prefer," she'd said, "to take the dogs out."
In a puzzling aside, the announcement also muttered that a number of other women, unnamed, also had been admitted as members.
Later, it developed that Thompson and six others around the world had been invited to become the first women regular members ever—golf-playing, dues-paying members. Just like one of the other 2,400 guys around the world. Invited with Thompson were Diane Dunlop-Hebert of Canada, Patsy Hankins of New Zealand, Marion Thannhauser of Germany, Martha Lang of the U.S., and Clair Dowling and Angela Bonallack of the U.K. The latter, by the way, is now Lady Angela, whom Thompson beat for the British Women's Amateur, and whose husband, now Sir Michael, was once head of the Royal and Ancient.
(Clarification: It used to be so much simpler. The Royal and Ancient Golf Club had been one organization, usually referred to as the R&A. Now the R&A is a legally separate governing body that stages the British Open and, with the U.S. Golf Association, establishes the rules and equipment standards of the game. The parent Royal and Ancient is simply the golf club, and still without its own course. It uses the famed Old Course, a public course dating back some 600 years, owned and operated by the city of St. Andrews and also used by other clubs, including St. Rule, a women's organization that has no intention of admitting men.)
* * *
It never gets old for Dick Thompson. Ever since they married in 1983, if Carol wasn't winning something, she was getting an honor. In 2003, it was the Bob Jones Award, the highest honor of the U.S. Golf Association, putting her up there with Arnold Palmer, Jack Nicklaus, Babe Zaharias, Nancy Lopez and others. Then in 2005, the PGA of America named her the First Lady of Golf, and in 2008 came golf's peak, the World Golf Hall of Fame. And now the Royal and Ancient.
"That's Carol," Dick said. "I'm so happy for her, so proud of her." Husbands are everything on the women's amateur circuit—drivers, caddies, medics, comforters, bill-payers, whatever.
"If I want to play in a tournament," Carol once said, "he says, 'I'll go to the bank.' "
At a tournament in the blazing sun in the California desert once, someone asked Dick what his job was for the week. He grinned.
"Shade," he said. "I provide shade."
* * *
Carol Semple Thompson was recalling how she got into golf. "I was just 12," she said, "when my mother started bribing me to play."
The elegant, dark-haired lady next to her at the table that day was Phyllis Semple, her mother, who did not care for the word "bribing." Surely there must be more palatable word.
"Bribing," Carol maintained. One day, Thompson would salute her mom with an old adage: "A pushy mother is better than a college education." Dad was active, too. They elbowed and tugged all five kids into golf, music and foxhunting (real horses but not real foxes).
Thompson has about lost track of the number of golf tournaments she's won, but as an accomplished rider, she notes that she is undefeated in foxhunting. "I figure that if I get to the end of the hunt, I've won," she said, "because I haven't fallen off and killed myself."
There is a photo from the 1960s of the beaming Semple family on the green at Allegheny Country Club. There's dad, Harton S., better known as Bud (he came from steel and law), mom Phyllis (from coal), and Carol, Heather (the baby), Fraser, Cherry and Harton Jr.
Dad, a former president of the U.S. Golf Association, died of heart failure in 1990, age 69. Fraser, a passenger in a van, was killed in a traffic accident in 1998. Mom, the quietest of matriarchs, contracted lupus in her 50s, spent months in the hospital, and fought it to her death in 2009 at age 87. She followed her daughter's matches wherever she could. "She did her best to hide the pain," said Thompson, "but we knew what she was going through." Mom also was pushy in horses and music, two other loves. Thompson stuck with the horses, but as for the piano, no amount of bribery could produce "Chopsticks" much less Chopin.
"I took lessons for 15 years," Thompson said, "and could play two songs—'Moon River' and 'Pink Panther.' "
* * *
On a fine summer day in 1965, Phyllis Semple was a torn woman. For years she had dominated women's amateur golf in the Pittsburgh area, but now she was in an absolutely no-win situation. She was in the championship match of the Women's Golf Association of Western Pennsylvania Championship, the most prestigious women's prize in the district. She'd won it six times. Now she was up against a hot 16-year-old kid who hadn't won yet. Of course, it was Carol. The tongues were just waiting to wag: If mom wins, how could she be so cruel to her own child? If she loses, she must have thrown the match.
Anyone who knew them knew the dilemma was purely academic. They would not cheapen themselves or the family name with anything less than the best possible effort.
Carol did win, and was on her way to a Hall of Fame career.
"I knew she was going to win," her mother said later. "She has a much better swing than I have—period. And she always had the best timing."
Carol's win created an instant family crisis. Here came Heather, her kid sister. "I don't like you anymore," she cried. "You beat Mommy!"
Before her career had run its course, Thompson would be known by the company she keeps. She won three different U.S. Golf Association championships—national championships. Only four other golfers have done that: JoAnne Carner, Jack Nicklaus, Arnold Palmer and Tiger Woods.
Thompson's career record requires a deep breath. Stretching from her teens into her 60s, she has more than 60 victories. The 1973 U.S. Women's and 1974 British Women's Amateurs are the crown jewels. Also among the highlights: two U.S. Women's Mid-Amateurs and four U.S. Senior Women's Amateurs, and she played in a record 12 Curtis Cups (the Ryder Cup for women amateurs), and on five U.S. World Amateur teams. She won the Western Pennsylvania Women's Championship 15 times, the Pennsylvania State Women's Championship 22 times and the Pennsylvania State Women's Open three times; two North & South Women's and three Mexican Women's Amateurs and a bunch else.
Off the course, much of Thompson's organizational work was at the top—the U.S. Golf Association's executive committee and the PGA of America advisory committee. She has one other distinction that surely is unmatched anywhere in golf. In 2010, the Pittsburgh History & Landmarks Foundation, trying its best to honor her but without a golf award to its name, proclaimed her a Historic Landmark. The notion of which never fails to bring a grin to her face.
* * *
The logical and prevailing notion is that if a golfer is any good, she'll turn pro. The notion doesn't look far enough. Thompson never turned pro, she explained, because back in her prime, the prize money on the LPGA Tour was hardly worth the trouble. So she remained an amateur, and now probably nobody will ever match her, for a simple reason: The best amateurs haven't remained amateur for very long. They turn pro and head for the money.
"These young girls are so good these days," Thompson said. Witness, for example, Alexis "Lexi" Thompson (no relation to Carol), who turned pro at 18, and no sooner was she a certified phenom than along came Lydia Ko, at 15, in 2012, the youngest to win on the LPGA Tour as an amateur. Then she turned pro in 2013.
Thompson has often played with the fast-rising amateurs, and made the most of it on an international stage. The 2002 Curtis Cup match, U.S. vs. Great Britain and Ireland at Fox Chapel Golf Club, was her record 12th appearance in the biennial matches. Thompson was 53 then, and by 31 years the oldest player on the American team. "They have been very nice to me," Thompson cracked, "as the old bag on the team." Then she was very nice to them. At the final hole of her singles match, she knocked in a 27-foot putt for a birdie to lock up the cup again for the U.S.
But, someone wondered, thinking back to when she beat her mother, did you ever lose to a 16-year-old kid?
"No," Thompson said. "But a 15-year-old…"
She was 52 at the time, and rolling. "I beat a 19-year-old in the first round and a 17-year-old in the second," she said. "But then I lost to the 15-year-old in the third. A friend of mine told me that their ages, taken together, didn't add up to mine."
* * *
The odd thing is, although Thompson is pleased and flattered with the Royal and Ancient's invitation, it's not so much making history that impresses her.
"Really—being one of the first women in the Royal and Ancient doesn't matter that much," she said. "It's being part of such a group that's so neat."
Thompson was no flaming activist, like a Martha Burk, the woman who attacked Augusta National. It didn't trouble her that the Royal and Ancient had been an all-male club. "I didn't feel any huge resentment," she said. "I felt they could do what they wanted to do. It was their club."
And now it's her club, too. So when she crosses that threshold, the door will not creak, the foundation won't crack and the orchestra will not strike up the Trumpet Voluntary. And sooner or later, someone will say, "Welcome to the club."