Hyeholde
A unique dining spot in Moon celebrates 75 years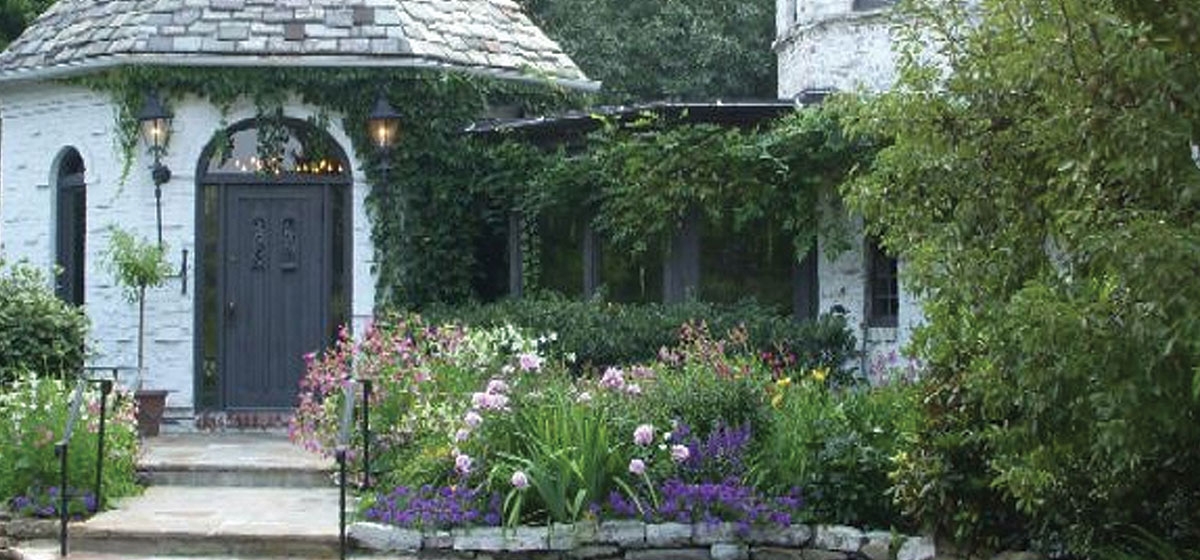 May 20, 2012
The goddess Diana plays many roles. She is goddess of the moon and the likely source of the name of Moon Township, which sits along a crescent-shaped bend in the Ohio River. Here, English settlers farmed the land after the French and Indian War, following the signs of the moon, as farmers have done since the days of Pliny the Elder.


But it is Diana's role as goddess of love that was surely at play in the late 1920s, when William Kryskill envisioned Hyeholde and took his bride Clara to a remote cornfield in Moon Township, promising to build her a castle there. Placing stones with their own hands, love's labor persevered until the residence and restaurant opened successfully seven years later.
Having spent summers in Connecticut to learn the hospitality trade, the couple had returned every fall to the golden fields of Moon, and to the construction of their beloved Hyeholde. In time, they added a great hall, again using materials from the land and nearby barns, recycling everything out of common sense, not fashion.
Now owned and managed by William and Clara's daughter Barbara, Hyeholde flourishes, tucked into the trees, well-known by those in-the-know, but still a happy surprise for first-time patrons. A rare confluence of mood and food, Hyeholde has survived the region's boom times and bad, a warm inn throughout.
Diana plays one last role at Hyeholde, as goddess of the hunt. Her influence holds sway on the menu, where starters include applejack-glazed wild boar chops, house-made duck prosciutto, vegetable timbale, crab cakes and pan-seared wild mushrooms.
Cervena elk, with mushroom bread pudding, heirloom beets and bordelaise sauce tops the entrees. Other choices include braised lamb shank, pan-seared trout, house-made pasta with seasonal vegetables, grilled prime filet, pan-seared chicken breast, and a vegetarian feast of the season, with prices starting at $19 and ending at $39 for the elk.
Tea is offered Monday through Friday, by reservation, from 4–6 p.m. Savories and sweets are available, and a typical sampling might include carpaccio, smoked salmon gravlax, vegetable quiche, mini eggs benedict and fresh scones with preserves and clotted cream.
Come in from the snow or a chilling rain, and you will be greeted by a wood-burning fire in the great hall. In warmer weather, you can breathe easy and smell every season as if for the first time, all while enjoying a chef-prepared picnic dinner in a secluded spot on the grounds, blankets and pillows provided.
The Round Room was added in 1986, providing wedding and business conference space. Nestled into the hillside below the original Hyeholde, it is open to the woods and gardens that surround it. It is to the Hyeholde what I.M. Pei's glass pyramid is to the Louvre, there but not there, juxtaposing the future with the past, modern and classical, a perfect marriage.
There are neighborhood joints and then there are neighborhood joints, and Hyeholde is of the latter. This is fine dining to be sure, but patrons who were kids when they visited during the days of William and Clara, return with their own children and grandchildren to renew what Barbara remembers as the "magic of childhood in a castle."
Everyone knows the story of the Taj Mahal. Built by a Mughal emperor in memory of his wife, it is an enduring symbol of everlasting love. Fabulous wealth made that tribute possible and it deservedly draws admirers from around the world.
Yet, west of Pittsburgh's Golden Triangle, a story just as enduring has emerged from a land once hunted by Iroquois and tilled by early settlers. William and Clara together built Hyeholde, with their own hands and dreams to sustain them. All on the promise of a man to build a castle for his bride.
Hyeholde Restaurant, 1516 Coraopolis Heights Rd, Moon Twp., PA 15108.