Hits and Hugs: The Evolution of Roller Derby
Just showing up with a clever name and a fancy outfit is not enough. Roller Derby in Pittsburgh has evolved into a serious sport that combines athleticism and strength with camaraderie and a tough-girl attitude.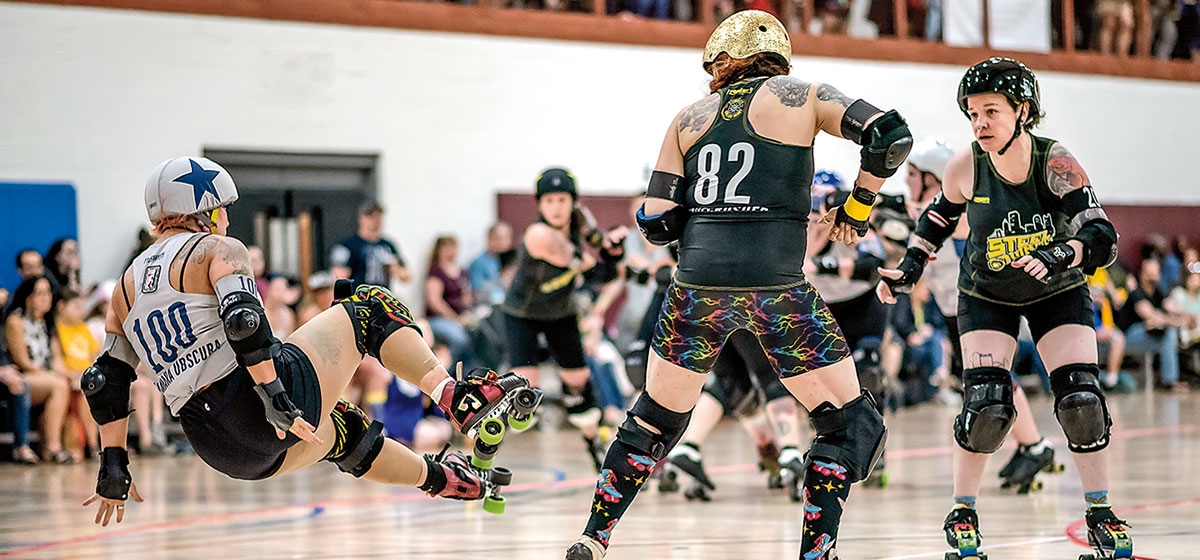 August 27, 2018
Cheswick, May 12, 2018: It happens about 10 minutes into the first half of the game between the Steel Hurtin'—the A-team of the Steel City Roller Derby—and the Chattanooga Roller Girls. Three big Chattanooga blockers, arms locked firmly together, are just about to smack Zorra, the tall jammer for the Steel Hurtin', when she makes a brilliant move. Zorra takes her right skate off the ground and puts all her weight on the stopper of her left skate that is planted firmly on the track but dangerously close to the red, out-of-bounds line. Then she's hit.

---
---
Zorra's quick repositioning, catches the blockers off guard. Instead of being pushed out of bounds, and having to start all over at the back of the pack, the jammer uses the energy delivered by the impact of a firm Chattanooga butt to pivot, like a ballerina, 180 degrees into the direction where she needs to go. The home-crowd erupts in a roar as the Steel Hurtin's jammer puts her right skate back on the track, pushes off and speeds into the open space before her. A ref in a zebra shirt, skating along on the infield, blows her whistle twice and points at Zorra, indicating she's now the lead jammer able to score points.
This is what I learned following the women of the Steel City Roller Derby for a while: Being able to spin out of a block as Zorra did takes a lot of athleticism and practice. There might be some theater in Roller Derby, but if you want to do it right, and if you want to win games and stay in one piece, it's a very demanding sport. However, all the sweat and all the bruises have also built a community full of camaraderie.
"Being part of Roller Derby has given me a confidence boost," says Mariane Kimbler, 25, a dental designer who has been playing for two years as Riley Rinkrash. "Roller Derby is a place where women can be themselves. A lot of times we're supposed to be less obnoxious or less loud. With Roller Derby you can be yourself, no matter what your size, your age or your sexual orientation is."
Harmarville, March 2007.
I was first exposed to Roller Derby on St. Patrick's Day 2007, as I photographed a match in Hamarville, between the Hot Metal Hellions and the Slumber Party Slashers for a European magazine. My basic feelings about that event: shock and awe.
The Slumber Party Slashers were women from every imaginable size and weight, dressed in torn net-stockings and T-shirts masquerading as dresses. Their faces and outfits were splattered with fake blood. A lot of skin was covered by nothing but bruises and elaborate tattoos, varying from dainty butterflies to fire-spewing creatures from hell. The Hot Metal Hellions looked pretty rough too, but compared to their opponents they seemed "civilized."
At the first bout of the evening, it was immediately clear that the attitude of the Slumber Party Slashers on the track was totally in sync with their outfits and names. Busty Brawler, Della Morte, Betty Bonecrusher and the rest of the team threw themselves—as I saw it—into the confrontation with total disregard for the pain they might experience as well as the damage they planned to put on the bodies of the Hot Metal Hellions.
The Slumber Party Slashers outdid the Hot Metal Hellions in trash-talking and in hurling insults at a male referee who was called Reffer Madness. They also spent way more time in the "sin bin" for infractions. The Hot Metal Hellions, on the other hand, scored where it mattered most. Their jammers did more laps and passed more opponents, which meant they eventually won the game. In the captions for my European audience, I wrote that Roller Derby was a cocktail of skating, wrestling, Halloween, post-feminism, punk and burlesque.
The real pandemonium, however, happened as soon as the match was over. All these fierce women who had been smacking and insulting each other for over an hour, suddenly were hugging, kissing and complimenting each other on well-delivered pains and hits. Little kids came out of the stands to hug their moms and concerned parents checked out the bruises on their daughters' body parts. What seemed to be a violent female brawl ended in a family-oriented lovefest.
Cheswick, May 2018.
Turn the clock forward to May 2018. A lot has changed in 11 years. The organization that was once the Steel City Derby Demons has morphed into Steel City Roller Derby. Hellions and Slashers are things of the past. The Steel Hurtin' and the Steel Beamers—the two travel teams of the organization—compete with teams as far away as Chicago. The Steel Hurtin', Pittsburgh's A-team, even traveled twice to England for an international competition.
The "looks" of the game have also changed. As I watch the Steel Hurtin' play the Chattanooga Roller Girls, it is obvious that the net stockings and miniskirts have been replaced by more athletic gear. There are no women dressed in undersized T-shirts. Apart from a bloody lip, there's no sign of blood—real or fake—on any player. Skaters that are punished by the refs sit out their penalties without retaliating with verbal abuse. The other thing that's obvious: the players are faster and stronger, and they hit harder.
"Roller Derby has gotten more athletic and less theatrical," says Jamie Fargo. In daily life, the 39-year-old Fargo is a lawyer, but at the track she transforms into Allie McKill, co-captain and blocker of the Steel Hurtin'. Fargo's been involved with Roller Derby since it began in Pittsburgh in 2006. "People are nowadays more focused on their athletic performance. Everybody is doing cross-training and lifting weights to get better. The players are fitter. If you want to be successful, you have to put a lot more into it than just showing up for practice."
What made Fargo stick with Roller Derby for 12 years? "The physicality of the games makes me come back. I actually like the hitting. After a bad day at the office, Roller Derby gives me an opportunity to go out on the track and forget about it." In 2017 Fargo had her first serious injury as she tore a ligament in her foot. After the surgery, she was determined to come back. "I like the challenge to keep up with women that are younger than me."
And younger women are interested. Fargo has used her 12 years of experience a couple of times to train the Pittsburgh Derby Brats, a Roller Derby team for girls from 8 to 17 that has been active since 2012.
Crushing bones
In the second half of the game between the Steel Hurtin' and the Chattanooga Roller Girls, Tamara Obscura, a speedy jammer for Chattanooga, makes a pass around a block of the Hurtin'. She almost succeeds. There's just one blocker left on the track she has to pass. Her problem? It's number 82, Bonecrusher. A few seconds later Tamara receives the hit and suddenly experiences what it feels to be airborne.
Yes, Bonecrusher, the current team captain of the Steel Hurtin', is the same woman I saw play in 2007 as Betty Bonecrusher, the most obnoxious and explosive player of the Slumber Party Slashers. After 12 eventful years—that included losing several teeth, having a concussion and breaking a collarbone—this Bonecrusher, 36-year-old Jen Booth, is the most battle-hardened blocker of the Steel City Roller Derby. Just ask Tamara Obscura.
Enjoying the hitting and blocking didn't come out of the blue for Booth. "I was a real rough-and-tumble kid," she says, "and I always had more male friends. When I was growing up, there really wasn't a sport where it was OK for a girl to be physical and aggressive without being apologetic about it." Once she began to play Roller Derby, the game got in her blood. And it stayed there.
Booth sometimes misses the days of the Slumber Party Slashers. "As a person that doesn't always take life that seriously, I do miss some of the camp stuff and the ridiculousness of the old Derby. The game is much more athletic now. The new skaters that join us are much better prepared. Some of them come with $700 in new gear. I don't know what is better."
Booth calls it "surreal" that Pittsburgh's City Paper in 2017 named her Pittsburgh's Sportswoman of the Year. "I just started to laugh when I heard it." It's extra surreal since Booth was born with scoliosis, a sideways curving of the spine. "I had surgery when I was 14 and I have two metal rods and a bunch of plates in my spine." It never stopped her from hitting hard. "I'm actually in better physical shape than I was 12 years ago. I probably will play 'til my back goes out or my hips need to be replaced."
One thing that hasn't changed a bit in the evolution of Roller Derby since 2007 is the camaraderie after the game. "This is unique in Roller Derby," says Booth. "After the game we always hang out with the other team. I might get blown up completely and be on my butt most of the time, but after the last whistle it's all over and it's party time."