Hello ACC
Between academics and sports, Pitt's new league is seen as a perfect (and exciting) fit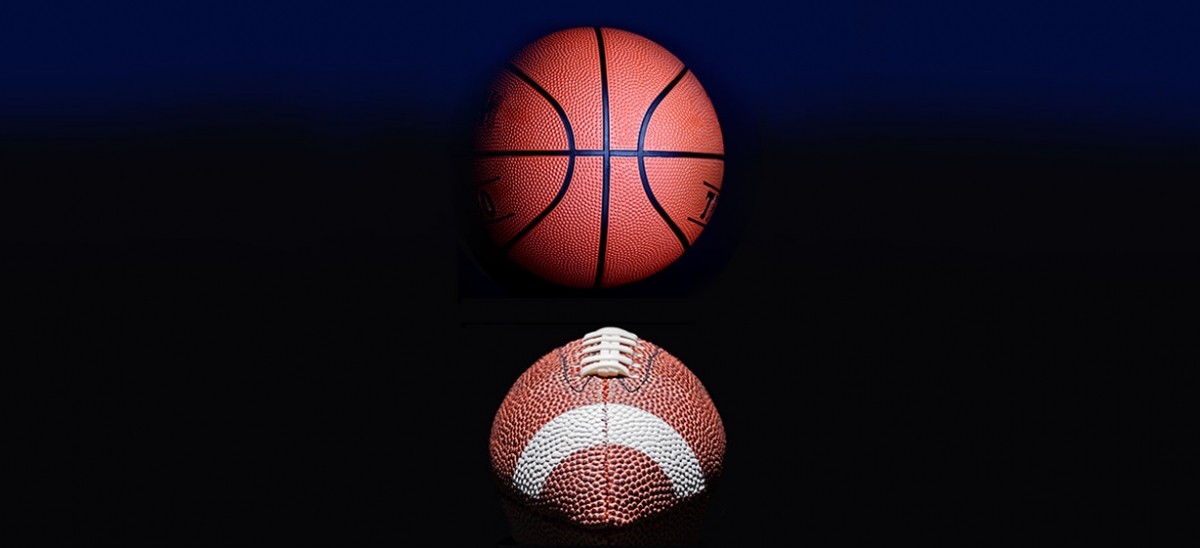 August 20, 2013
How did the University of Pittsburgh celebrate its official entrance this summer into the Atlantic Coast Conference? With Downtown fireworks, of course—quintessential Pittsburgh.

But Panthers fan Stephen Clendaniel is holding out for the electricity inside the Petersen Events Center when teams like Duke University pass through this upcoming season. He's been a devoted Pitt men's basketball season ticket holder since 1980. "I can't wait to see Duke play here," said Clendaniel, 63, of Wexford. "That will be fabulous. It's going to be a great atmosphere."
Clendaniel, who has also owned Pitt football season tickets off and on since the Dan Marino days, views the university's move to the ACC from the ever-changing Big East Conference as a no-brainer.
"I'm happy about it, quite frankly. This is a great move for Pitt. With all the other dominos falling, especially in football, they did not want to be left out."
In September 2011, Pittsburgh and Syracuse, once centerpiece programs of the Big East, were accepted as members of the Atlantic Coast Conference. Pitt had been part of the Big East since 1982. Notre Dame also joined the conference in basketball and most other sports, bringing the membership up to 15 schools. Notre Dame remains an independent team in football but will play five ACC teams each year. Louisville will join in a year when the University of Maryland departs for the Big Ten.
Pitt's football team makes its ACC debut on Labor Day, hosting defending champion Florida State at Heinz Field. Some of the home games for Pitt's basketball team this inaugural ACC season include Duke, Wake Forest, Maryland and North Carolina State. "For us, the ACC is the best combination of major college athletics and outstanding institutions combined into a major college athletic conference," said Pitt's Athletic Director Steve Pederson. "This fit was perfect for us, in so many ways. The geography is basically from Boston to Miami and we fit more along the lines of schools like Duke, North Carolina, Virginia and Georgia Tech."
While the Big East will keep its basketball league, mainly with Catholic universities, the football program has been revamped and renamed as the American Athletic Conference. After various legal snares, Pitt agreed to pay $7.5 million to the Big East as an exit fee.
"The ACC has enjoyed a rich tradition by balancing academics and athletics, and the addition of Pitt and Syracuse further strengthens the ACC culture in this regard," Atlantic Coast Conference Commissioner John Swofford said at the time of the announcement in September 2011. "Pittsburgh and Syracuse also serve to enhance the ACC's reach into the states of New York and Pennsylvania and geographically bridges our footprint between Maryland and Massachusetts. With the addition of Pitt and Syracuse, the ACC will cover virtually the entire eastern seaboard of the United States."
Besides Pitt, West Virginia, Syracuse Rutgers, Louisville and Notre Dame all negotiated to leave the Big East recently. With conference realignment sweeping the nation in major college sports, men's basketball coach Jamie Dixon said Pitt had to look ahead. "It's been a long process. Now the time is here and it's exciting. I think it's fine to talk about our great memories in the Big East, but there was no hesitation in this move. It was pretty obvious and the choice was pretty clear."
The financial benefits are also significant—the ACC is one of the so-called "power conferences," the others being the Southeastern Conference, Pac 12, Big 12 and Big Ten.
"The five power conferences have all been able to secure significant, multimedia rights agreements," Pederson said. "There's a significant difference in the amount of revenue coming into the conference, and that puts us in a good longer-term position as an institution."
The ACC signed a 15-year, $3.6 billion contract with ESPN last year. Each school will receive about $17 million a year, a figure that could increase to $20 million annually. Pitt received $3.1 million in its final year of its Big East television contract. "This will help us compete at a high level and fund programs at a greater level," Pederson said.
Pitt also will look to renew some old rivalries with other Big East defectors such as Syracuse, Boston College, Miami, Virginia Tech, Notre Dame, and eventually, Louisville.
Like Clendaniel, Barry Knecht, 48, of Pittsburgh, has been a loyal basketball season ticket holder. His initial trepidation is now waning as he views the upcoming basketball schedule. "I was pretty sad, because I love Big East basketball. I always thought the Big East was the best basketball conference in the country, but now I feel the ACC is the best. I'm actually kind of psyched to see Coach K. (Mike Krzyzewski) and Duke in the building."
Coach Dixon agreed. "We're going from what was [once] the best basketball conference in the country to what is now the best basketball conference in the country. The competitive depth of the conference is unbelievable."
Knecht is not as excited about Pitt football.
"I think it's going to be a rough year for the football team—they open at home with Florida State and close with Miami," Knecht said. "But considering how things were crumbling for the Big East in football, I understand that it was the only thing for Pitt to do by joining the ACC."
Of both major sports, Pederson said, "This is going to be a whole year of firsts and a whole year of excitement and energy. I'm looking forward to everything. The Florida State football game here on Labor Day is going to be a tremendous event."
Pederson said logistical travel and lodging accommodations are not a big concern because it has been two years in the making. "These are very appealing and exciting locations for our fans to travel to. And, in many ways, it's more convenient, with so many schools in and around the North Carolina Research Triangle, like Duke, North Carolina, NC State and Wake Forest."
Besides athletics, the ACC's influential academic reputation attracted Pederson.
"The ACC has a unique culture in a lot of ways because, you know, everything is just focused on the academic prestige of the institutions first. When we had our initial meeting with ACC officials, the first two hours of the meeting was talking about academic initiatives and cooperation. It was a very good feeling. The strength and prestige of the University of Pittsburgh made us appealing to the ACC."
Jason Webb, a 2007 Pitt Law school graduate, has a somewhat unique point of view—his undergraduate degree is from the University of Maryland, which departs the ACC in 2014.
"I think I may let go of my alma mater, and hold on to the ACC through increased backing of Pitt," said the 37-year-old Pittsburgh lawyer. "I hate that all of this conference realignment is happening and disrupting traditional longstanding rivalries, but I am selfishly happy about Pitt's move because I love the ACC."