Great Allegheny Passage
A scenic trail from Pittsburgh to D.C.
Laurel Highlands Visitor Bureau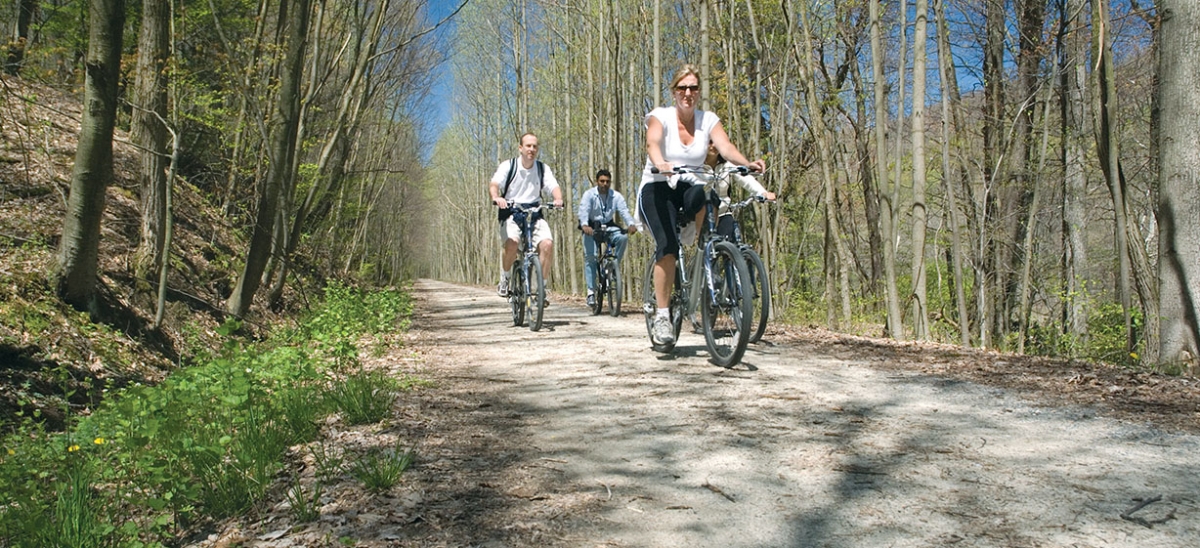 February 20, 2016
One of the most wonderful trail additions in western Pennsylvania has been the Great Allegheny Passage which runs 150 miles between Pittsburgh and Cumberland, Md., where it joins the C&O Canal Towpath and continues to Washington, D.C.

Some of the most remote and scenic parts of the trail are the portions along the Casselman River in Somerset County.
Beginning in the town of Confluence, an 11-mile hike or bike ride upstream along the trail will take you to an access point in Markleton. Seven miles from there is Rockwood and in another seven miles you will reach the town of Garrett, Md. None of these stretches are difficult, since the trail is an almost level former railroad bed. The Allegheny Trail Alliance, which has spearheaded the development of the Great Allegeheny Passage, has created spectacular infrastructure improvements along this stretch of the trail—most recently the rehabilitation of the Pinkerton Tunnel.
These secluded segments of the trail are surrounded by expanses of forests. Pennsylvania's highest point—Mt. Davis at 3,213 feet—is south of this area. The Casselman River is wild with rapids and whitewater. And damage to the Casselman from decades of acid mine drainage is becoming more and more a condition of the past.
Much of the land adjacent to the passage in these sections is privately owned. The Western Pennsylvania Conservancy continues to protect adjacent land and improve water quality, wildlife habitat and the scenic views travelers experience along the trail. For more information on recently protected properties by the conservancy in this area, visit WaterLandLife.org. For more information about the Great Allegheny Passage, go to atatrail.org.