Golden Eagle: High, Wild and Here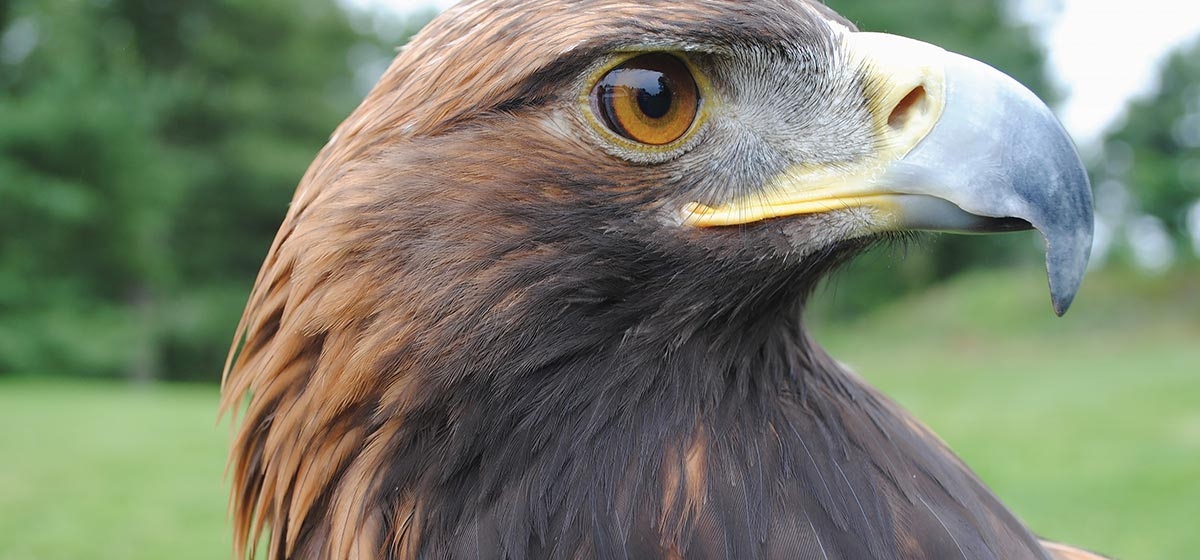 August 20, 2017
Imagine the view from a thousand feet up. Snow-mantled ridges cloaked in barren forest, angling southwestward as far as an eagle can see. On the northwest horizon stands a crisp urban skyline above the glint from three rivers. That's the view golden eagles survey as they soar along the Laurel Highlands to their wintering grounds in late fall. That urban profile is Pittsburgh's.


Who knew that golden eagles soared over southwestern Pennsylvania? Before 2006, almost no one except some attentive ornithologists working at regional institutions devoted to bird research and conservation.
For thousands of years, birds of prey have used wind currents shunted upward from Appalachian ridges to their advantage on long-range flights. But today, those same mountain gusts also offer society clean renewable energy captured by whirling wind turbines. In 2006, Todd Katzner, who then worked at the National Aviary, and three Carnegie Museum staffers—Mike Lanzone, Trish Miller and Bob Mulvihill—knew that golden eagles were occasionally seen in the East during spring and fall migration. They also knew that wind-energy development was accelerating in the central Appalachians with no understanding of potential harm to migrating birds, and that golden eagles are sometimes killed by impacts with wind turbines in the West. The team set out to learn all they could about golden eagles over the eastern mountains. Their aim was to provide wind-energy developers with maps of flight corridors and data on seasonal eagle behavior that could minimize risk to eagles and other birds, without sacrificing capacity to generate power from wind.
First, they needed to learn if golden eagles, fierce and aloof masters of flight, could be lured down to earth.
Golden eagles are one of the world's largest birds. As a top-of-the-food-chain predator they are nowhere abundant but their nearly 8-foot wingspans cast shadows on wilder country across the Northern Hemisphere. In North America, golden eagles are most common in mountainous western country, from California to Alaska. Until recently, it wasn't known if goldens sporadically seen here were stray wanderers or, as the research team came to suspect, they represented a distinct and undocumented eastern population.
In the winter of 2008, on a tip from retired Bedford County wildlife conservation officer Tim Flanigan, who had seen a golden eagle scavenging a deer carcass, Miller, Lanzone and Mulvihill began staking out road-kill deer at mountaintop sites in Somerset, Westmoreland and Bedford counties. Golden eagles are efficient predators, capable of taking prey as large as foxes and small deer, but they will scavenge carrion when it's available in places where the birds feel secure. Almost immediately, golden eagles spied the easy meals and dropped in to feed. That presented the possibility that eagles might be trapped and released for further study.
By then Trish Miller was working on a Ph.D. in ecology at Penn State where she prepared her dissertation on the Appalachian eagle research. Todd Katzner had joined the Wildlife and Fisheries faculty at West Virginia University and served as one of Miller's advisers because of his past studies of raptor ecology around the world. Through Katzner's West Virginia connection, they worked with the state Department of Natural Resources to establish more bait sites there, and began trapping golden eagles using the same cannon-net technique that game officials use to capture flocks of wild turkeys. Explosive-fueled rockets are arranged near the bait site, attached to a net folded and hidden nearby. The trappers wait, in sight of the bait, for the eagle to land. At the right moment they fire the rockets, which carry the net over the quarry and pin it, unharmed, to the ground.
Miller fitted those eagles, captured in West Virginia, with electronic transmitters but the team was disappointed with data gleaned by tracking technology available at the time.
Miller also deployed motion-sensitive cameras to gauge how many different eagles visited the bait sites. She knew that a volume of photographs, taken all along the mountain chain, could yield an estimate of eastern eagle numbers. Miller and her colleagues sought cooperation from managers of mountain land throughout the eastern third of North America, where they might place baited cameras and trap more birds. Over the dozen years since the team's initial collaboration in Pittsburgh, their project grew into a cooperative effort with continental reach, continuing today as the Appalachian Golden Eagle Project, involving biologists, state wildlife and forestry agencies, universities and diverse funders from Quebec to Alabama. Western Pennsylvania remains an important hub in the work.
"This work got started in Pittsburgh with Pittsburgh institutions and we feel a strong connection to people there who have supported us," Katzner said from his office in Boise, Idaho, where he continues work with the project as a research biologist for the U.S. Geological Survey. "I think it's neat that an international conservation effort with such breadth in consequence began in Pittsburgh."
Katzner acknowledged funding support from the U.S. Department of Energy, Pennsylvania Game Commission, Virginia Department of Game and Inland Fisheries, and the Anne Morrow Lindbergh Foundation.
An obvious partner for continuing the research in Pennsylvania was the state Department of Conservation and Natural Resources, Bureau of Forestry, which manages two million acres of commonwealth-owned state forests, much of it atop the Appalachian and Allegheny ridges.
With help from DCNR foresters, researchers first placed bait stations on the Tuscarora and Rothrock state forests in central Pennsylvania where they soon began documenting golden eagle visits. In 2012, the research returned to its geographic roots in the Laurel Highlands, in the Forbes State Forest.
"I work in the woods every day, and I've been a birder since I was 6, but I did not know there were golden eagles here until we started working with this project," said Cory Wentzel, DCNR Forbes State Forest assistant manager from his office in Laughlintown, Westmoreland County.
Wentzel and Miller, now a research scientist at WVU, identified three mountaintop sites, one each in Fayette, Somerset and Westmoreland counties, that fit the project's needs—a small open area, where bait could be seen from high above, in otherwise unbroken forest.
Wentzel and his forestry crew staked out deer carcasses and six days later the first golden eagle tripped the camera atop Laurel Mountain. The eagle returned with such regularity that Miller deemed it a good candidate for capture and fitting with a tracking device.
"We didn't have to wait long that day," Wentzel said. "The ravens came first. We think the eagles key on the ruckus the ravens make. The eagle flew in and perched in a tree to study the site, and the ravens left as they always do when a golden eagle shows up. Then [the eagle] dropped near the bait and walked to it. Dr. Miller told me not to fire the rockets until the eagle relaxed and started to feed."
That female eagle, captured atop Laurel Mountain, proved to be the heaviest trapped thus far in the entire project, nearly 13 pounds.
"It was the neatest experience of my life to hold a golden eagle," Wentzel beamed. "We wanted to share its magnificent presence, so before we attached the tracking device and released it, we took it to the Ligonier Valley School to show the kids."
Katzner and Lanzone had by then designed and built an improved GPS cellular tracking device specially for the golden eagle project. The unit is about the size of three stacked matchbooks and rides on the bird's back between its wings. Once fitted on an eagle, it transmits data about the bird's use of Appalachian wind and the landscapes that influence it. In remote areas, out of reach of cell service, the device stores data until the eagle returns to more developed regions.
The eagle Miller and Wetzel trapped on Laurel Mountain near Ligonier flew to Quebec the following spring (2013), then returned southwest to winter in West Virginia during 2013-14. Eighty-five different golden eagles have worn transmitters during the project, knitting together proof that the species in eastern North America spends the summer breeding season across a vast swath of Quebec and Labrador, and winters in the central Appalachian region of Virginia, West Virginia and western Pennsylvania. But transmitter data show that, during migration, most eastern golden eagles pass reliably through a narrow corridor over central Pennsylvania and the Laurel Highlands. Many spend the winter there.
Western Pennsylvania bird enthusiasts are accustomed to thinking about birds migrating away from here in winter, to warmer climes. But to a golden eagle, the snowy, windswept ridges of the Laurel Highlands offer balmy relief when winter grips its Canadian breeding grounds.
"We know that a number of things are important to golden eagles," Miller explained. "They like a lot of topographic relief, and the topography of Laurel Ridge, Chestnut Ridge and the Youghiogheny Gorge is not that different from some rugged parts of the West. From our tracking studies, we know that eastern golden eagles use winter home ranges that have a lot of forest cover, but they also need some openings. About 75 to 90 percent forest cover is ideal for them and that's what you find up there. There's also a good prey base of turkeys, squirrels and other prey.
"From a conservation perspective, the Laurel Highlands is a jewel and an important part of the eastern habitat for these birds," Miller continued. "So, preserving that forest integrity is important to golden eagles."
The sophisticated technology in the device Katzner and Lanzone developed tells researchers more than just a bird's location. At 30-second intervals the unit also records and transmits a bird's altitude, speed and compass bearing. The data suggest how wind-generation facilities and eagles might use the same landscapes with minimal conflict.
Wind-energy developers and regulators are paying attention.
"Pennsylvania, West Virginia, New York, North Carolina, Maine and Virginia have all used our data in wind-generation decision- making," Katzner said. "We provide maps of eagle movements to partners at state agencies, non-profit groups and to industry. We rarely hear exactly how our data are used in a decision—much about that process is confidential— but the volume of maps we produce for people (15-20/year) indicates the value of these data to decision-makers."
Perhaps surprisingly, Miller said that despite the potential for conflict, "no eagle deaths have been documented thus far due to wind farms in the Appalachian region.
"But it's always a possibility," Miller cautioned. "Because of the bordering forest in the region a bird could be flung into the woods and remain hard to find."
Snares set for other species are the primary known cause of mortality among birds Miller has tracked.
"This year in Quebec we lost two eagles in snare traps," Miller said. "In Quebec, they use wire snares to catch wolves but there is no regulation on the minimum closure size. If snares there had a 'stop' on them, an eagle might get its head in going for the bait but the loop couldn't close tight enough and the bird could get out."
Miller reported that birds of prey, golden eagles included, are also vulnerable to lead poisoning by ingesting bullet fragments from unrecovered deer carcasses in the woods. For that reason, the project has used only road-killed deer to lure eagles.
"Pennsylvania Game Commission wildlife conservation officers have been a tremendous help in getting us road-kill deer," Wentzel observed. "It can be hard to find road-kills up here in the winter, when the snow piles high."
The massive archive of photographs and tracking data gathered over more than a decade prove that golden eagles in eastern North America are more numerous than anyone suspected, and represent a population distinct from those in western regions, but with only subtle genetic differences.
"We've generated a lot of information about how many eagles live in the East and their distribution," Katzner said. "One of the real advances is that when we first started, golden eagles were very rarely included in Eastern states' wildlife action plans. Most state agencies were unaware they had golden eagles.
"We are finding numbers much greater than we anticipated. The number depends on where you define the boundaries, but our best estimate is that about 5,000 golden eagles pass over central and southwestern Pennsylvania."
Still, most western Pennsylvanians, even those who keep track of the region's now famous bald eagles, have never seen a golden eagle and aren't aware of their presence here.
"Unlike bald eagles, golden eagles are not going to be down in the urban areas," Wentzel observed. "At this latitude, our ridges offer the only high-elevation uninterrupted forest available to them; that's why they funnel along this narrow belt."
Miller agrees but says Pittsburgh-area bird enthusiasts willing to invest a little time and travel can see some magnificent country, and possibly golden eagles, relatively nearby.
"They actually could see them, if they wanted to go out to the Allegheny Front Hawk Watch. With an east wind in late October into November there's a good chance to see some migrating goldens," Miller said.
The Allegheny Front Hawk Watch is a privately owned vista off Route. 30 near Reels Corners, on the eastern escarpment of Somerset County. All migrating raptor species pass by, sometimes at observers' eye-level. The Allegheny Front site set the one-day Eastern Flyway record for golden eagle sightings on Oct. 24, 2015, when 74 golden eagles soared past the overlook.
"Golden eagles are amazing creatures," Wentzel said. "For me, it adds another gratifying facet to my job, to manage these lands on the Forbes State Forest for a species I didn't even know was here."