Going to Town
Mennonite program brings interns to city projects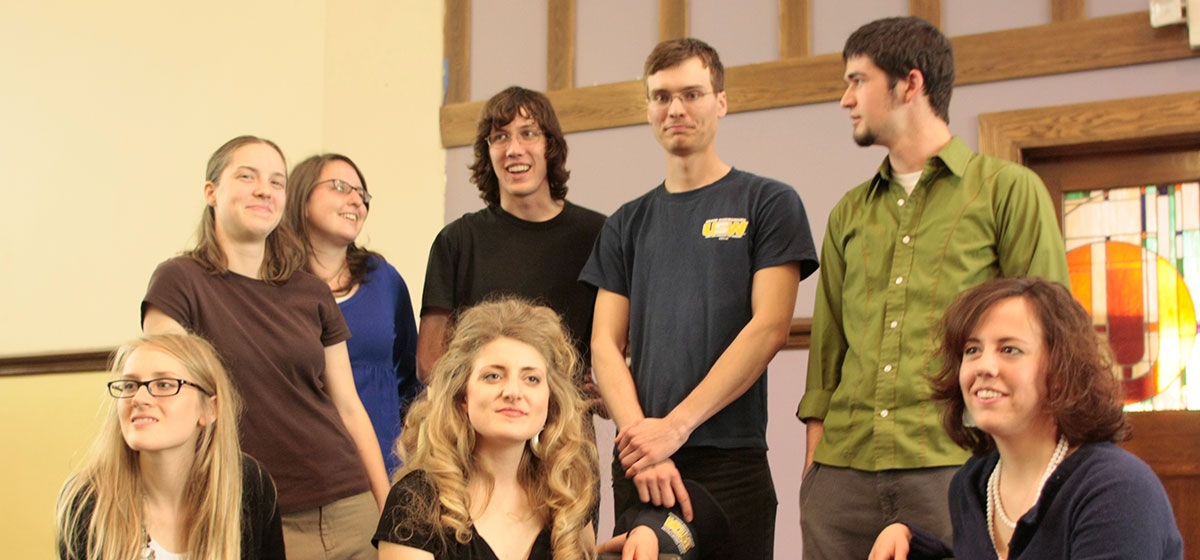 November 24, 2008
When John Stahl-Wert, then pastor of the Mennonite church in Pittsburgh, received a request from the national Church to design a program to strengthen the Mennonite community and impact the city, he knew what was needed.
"I went home that evening and wrote on a single piece of paper that we would create a one-year, post-university volunteer/intern program, and we would place artists, community builders and entrepreneurs in service assignments around the city where they would be impacted by the role models with whom they worked. Half a day a week, they would be in a seminar where they would learn about Pittsburgh, about being a good citizen, and would meet the Bill Stricklands of the city. My thought was that I could find young people who would come here and say 'Wow! I can do something!' "
That became the PULSE project, which stands for Pittsburgh Urban Leadership Service Experience. It has attracted a steady flow of young people to the city over its 14 years, including interns at the Greater Pittsburgh Food Bank, the Thomas Merton Center, WYEP, the Warhol Museum, the River Life Task Force and Rivers of Steel National Heritage Area. More than half of the 100 interns have made their home here after completing the program.
Stephan Bontrager, director of Outreach and Education for WYEP, is one. "PULSE gives young professionals an opportunity to get their foot in the door in an organization that is meaningful to them. I was placed at WYEP in 2001 and it has led to a pretty long career here." Bontrager, in turn, mentored another WYEP intern, Heather Kropf, who has launched a successful career as a local vocalist.
The 2008 interns worked at City Theater, Wireless Neighborhoods, the Pittsburgh Mennonite Church, Storehouse for Teachers (a project of the Pittsburgh Leadership Foundation, which Stahl-Wert now directs), United Steelworkers, Pittsburgh Center for the Arts, Venture Outdoors and the Manchester Craftsmen's Guild. Three got full-time jobs after their internships.
One of them, Layne Wyse, stayed on as a ceramics instructor at the Manchester Craftsmen's Guild, as another PULSE intern did two years ago. Keith Herschberger, now coordinator of the digital art program, said, "The decision I made to get in touch with John and participate in PULSE has shaped the course of my life, and I wouldn't choose to be anywhere else."
The program has a ripple effect, said PULSE director Joe Allen. "Pittsburgh has become a hot spot for young Mennonites, because the interns tell their friends what a great place Pittsburgh is." Allen is Catholic, and has done similar work with Jesuit institutions. PULSE doesn't require the interns to be Mennonites, but they should be open to faith exploration and development. "There is no religious test," said Allen, "but because most of the recruiting is done at Mennonite colleges and universities, the majority of the interns have been Mennonites."
Interns receive a modest stipend and share a home on Stanton Avenue in Highland Park. "We offer a counter-cultural antidote," said Allen, "to the rampant individualism and materialism that dominates modern American culture. By focusing on the Mennonite values of sustainability, justice, stewardship and peacemaking, we seek to demonstrate the viability of a community-based model."
Mennonites typically come from a rural background and believe in a "theology of the land," said Stahl-Wert, who grew up as a farm hand in Lancaster "on the wagon, behind the bailer and in the chicken houses. Mennonites are a place-focused people, and in a city setting they have a sensibility for urban spaces."