Glorious Glendorn
Escape to the great outdoors
Photographs by Roy Engelbrecht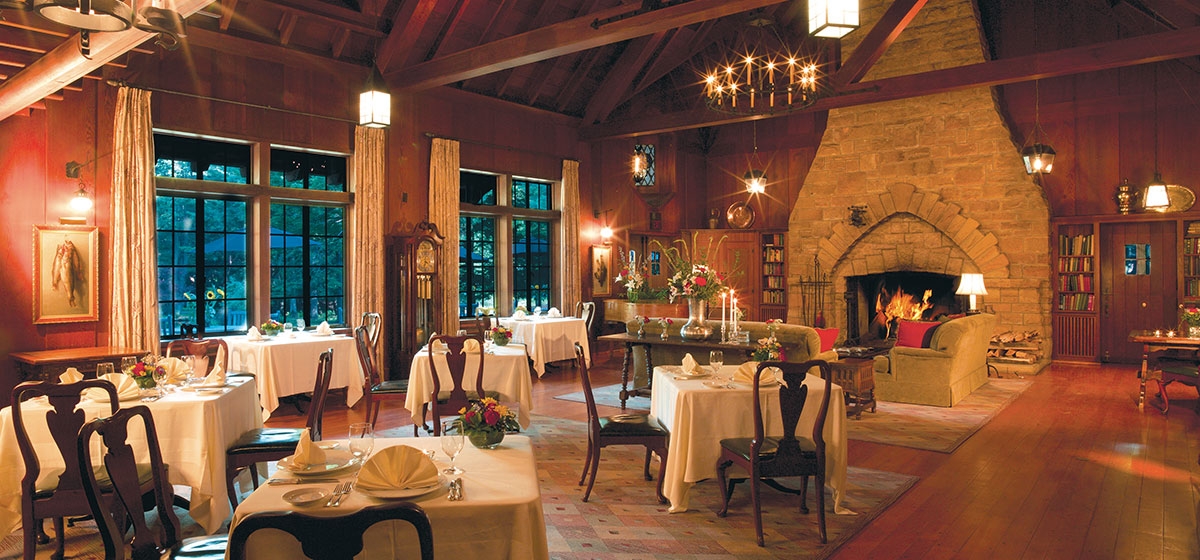 August 20, 2010
The monogrammed silver vanity set sits, as it has for decades, on the dressing table in Miller's Cabin. There aren't many resorts that would leave such a family heirloom lying around, but then again, there aren't many resorts like The Lodge at Glendorn.

---
---
Nestled in the woods of northwestern Pennsylvania, the 1,280-acre retreat is just minutes from Bradford, an hour from Erie or Buffalo, and a three-hour drive from Cleveland and Pittsburgh along sleepy, scenic highways. When you arrive, it's almost as if you've driven backwards in time. The bucolic forest setting remains virtually unchanged since Clayton Glenville Dorn bought the property and built the first cabin there in 1929.
Of course, back then, much of the land was clear cut of its splendid timber, a fate that may well have struck a second time if Cliff Forrest had not intervened. The Pittsburgh businessman bought Glendorn at auction in November of 2009, a purchase made more with his heart then his head.
"I had been a guest up there four or five times, and my first visit to Glendorn just kind of blew me away," Forrest remembers. "I never heard of it, and it was just so spectacular. It was astonishing to me what was there—it was as nice as it gets." Eighty years of protected custody have enabled the trees to flourish, the streams to run clean and wildlife to abound. Hundreds of miles of trails are available for hiking and biking on the property and nearby in the Allegheny Valley Forest, and complimentary horseback riding and snowmobiling help guests to explore the region in all seasons.
The variety of outdoor pursuits that first attracted the Dorn family now includes trap and skeet, hunting, cross-country skiing, drift boat trips, three miles of privately managed trout angling with Orvis guides, and nearby golf and skiing at Holiday Valley and Holimont, the nation's largest private ski resort. A pool, tennis courts, croquet lawn, game room, and other activities ensure that no guest will lack diversion.
Yet what has made Glendorn legendary since opening to the public in 1995 is something far more difficult to achieve: peace and quiet. One of only several dozen Relais & Chateaux luxury properties in America (there are 475 in 55 countries), Glendorn embodies this prestigious association's criteria: courtesy, charm, character, calm and cuisine.
Much like Blackberry Farm in the Smoky Mountains, The Point in the Adirondacks or the White Barn in Kennebunkport, Glendorn offers luxury in the guise of simplicity. There's nothing flashy or even all that modern about the resort, and its appeal will be lost on those who require multi-jet showers and cutting-edge design. What it does have is history, beauty, superb dining, all the comforts of home—and the feeling of being one of the family. Glendorn's new GM, Chris Hampton, is a fourth-generation club manager who came from the Oakmont Country Club and finds a similarity between the two. "The one thing I really liked about Glendorn, kind of like Oakmont, is you're a name here, not a number," he says. "Some of the large resorts are just a factory—you get people in and out. We really want people to feel like this is an extension of their home, their vacation home, where the staff knows your name."
It helps tremendously that Glendorn is relatively small—10 guest cottages, plus two suites and two guest rooms in the main lodge, which is called the Big House. This was the first structure built by the family patriarch, who was affectionately known by his six children and many grandchildren as Bondieu.
C.G. Dorn made his fortune in oil using a technique he developed called back-flooding to revive exhausted oil fields. Forest Oil thrived during the Depression, and Dorn wanted a place where his family could gather on the weekend and during the summers. A staff kept the Big House at the ready, with a chef, maids, guides and other employees present to ensure a relaxed visit. But as the family grew, the Big House wasn't big enough. The children began to build their own cottages on the property—small cabins scattered here and there within easy reach of the main lodge, but more private. Their names and belongings still grace the cottages, which feature vintage furnishings and numerous family mementoes.
"What's remarkable is they left everything," says Forrest. "In the trap house they left all these knives that [Dorn's son] Forest collected that date back to the '30s and '40s. All these great family artifacts were left. The character of how this place was 50 years ago is still here."
Each cottage is unique, and they range in size from one and a half bedrooms to the largest, Richard's Cabin, which has nine and a lower level game room in the works. All the things a guest would expect to be fresh are, including the crisp, monogrammed sheets, thick towels and good mattresses. But family photographs and old prints decorate the walls, the chairs testify to many hours spent resting by the 43 working fireplaces, and a hodgepodge of worn books offer charming companionship.
With the passage of time, the Dorn family and Bondieu's 140 heirs spread across the country. Even after the decision was made to share Glendorn, the family still kept control and a desire to drop in any time, eschewing advertising or other avenues that might increase business. Consequently, it became expensive to maintain.
"Glendorn needed some updating and investment," remembers Forrest. "Over the last several years the family was reluctant to invest." When it came up for auction in four parcels last year, the timber companies circled like wolves, hungry for the outstanding black cherry that covered the land. As the owner of Rosebud Mining in Kitanning, Forrest had many contacts in the lumber industry. "The company that did the first assessment said they had never seen a more beautiful and pristine timber property in Pennsylvania," he says.
Adds Hampton: "The only people who were coming to look were logging companies who were going to shut down the place. The Dorns wanted the place to go to somebody who could keep the tradition alive. The photo albums are unbelievable, and the family left them here so guests could see the history of the place."
Under the new ownership, extensive repairs and upgrades have already been made, and more are planned. Richard's Cabin has been designed as a place for corporate retreats, as well as large family gatherings. More than $500,000 is being spent on turning the old playhouse into a small conference center; full spa facilities are going into the pool house; and the horse barn and tack house have been beautifully restored.
But the best of Glendorn can only be experienced. Executive Chef Joe Schafer has worked at Lake Placid Lodge, Triple Creek Ranch and The White Barn Inn, and his menus combine classic French techniques with seasonal ingredients and local products. Meals are optional and include a sumptuous five-course dinner that might feature hamachi with coconut, ginger and lychee, lobster, veal with truffle, ribeye and a warm raspberry soufflé. Guests gather for cocktails in the Great Room or may request dining anywhere on the property. A favorite spot for breakfast (warm chocolate chip muffins!) is the enclosed stone porch with its hickory chairs and magnificent George Hetzel painting, newly purchased by Forrest to complement the sweeping views.
"The vision I have is purely for the preservation of Glendorn," he says. "To try and keep this history intact and improve the overall experience. It has such unique aspects. It can be the best of its kind, one of the greatest retreats in the northeast. That's the goal."