Keepers of the Flame
City of steel or city of glass? Pittsburgh shows its wares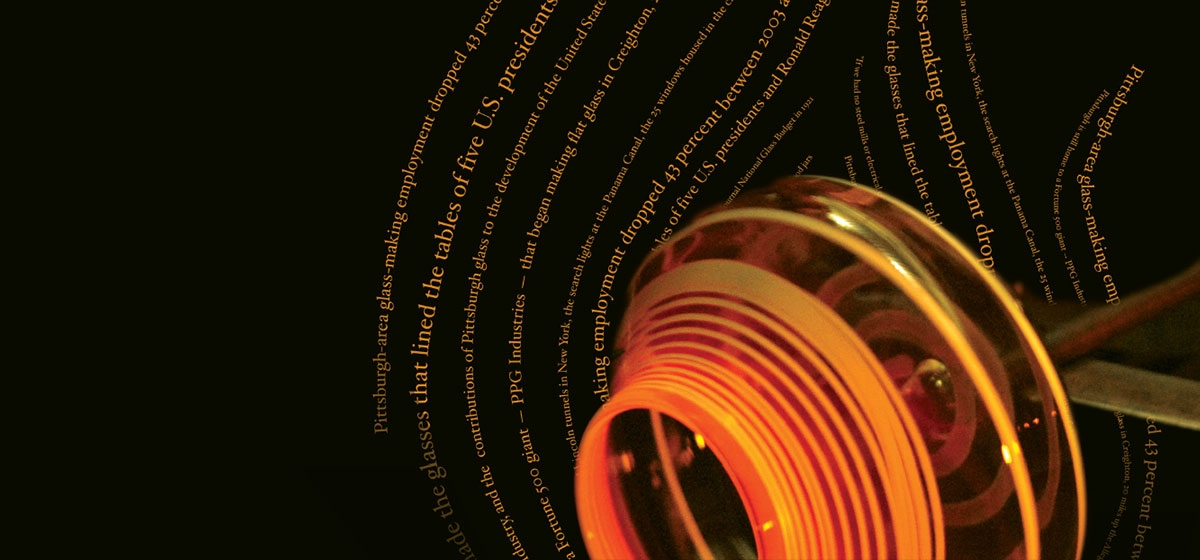 February 20, 2007
Standing in his new South Side studio, a patchwork of windows letting in the mid-day light, glass artist Drew Hine reaches for a map to illustrate his connection to the early days of Pittsburgh glassmaking, an industry that emerged 210 years ago from a red-hot amalgam of sand, ash, lime and coal.

"It happened right next door," says the lanky 28-year-old, known for coaxing whimsical decorations from 2400-degree ovens. "Pretty wild."
Tracing the 19th-century plots with his index finger, Hine points to the block between 16th and 17th streets once occupied by Crystal Glass Co., one of 76 glasshouses pushing out thousands of bottles, windows and tableware every week in the same city neighborhood, somehow supplying half of all glass in the United States. In a house next to the Crystal factory lived glass blower James McKee and presser Washington McKee, both members of a famous glass-making family that came to the South Side in 1834.
And there, on the McKee plot, almost a century and a half later, is where Hine and his 27-year-old partner Jeannine Manint bought a two-story home and began building a 1,300 square-foot glass making studio, outfitting it with six handmade annealer ovens, a sprinkler system, a gas line, three handmade reheating chambers (called "glory holes") and a $35,000 furnace. The two-year project required $100,000 ($65,000 more than they expected to spend) and Hine almost gave up and left town due to the many complications and hurdles involved. Manint urged him to stay, to bring glass making back to the South Side, saying "we have done so much. We just can't go."
And so Hine and Manint became keepers of the flame here in Pittsburgh — part of a small but committed group of artisans and commercial glass makers trying to shape, bend and magnify Pittsburgh's reputation as a center of glass making, artistry and industry.
A critical window of opportunity exists in 2007, a chance for Pittsburgh's glass scene to achieve greater transparency in front of a large audience. Fifteen hundred artists from across the country will be here June 7-9 for the 37th annual Glass Art Society conference — the fulcrum for an array of events dubbed "Glass 2007" by 70 different organizations interested in promoting Pittsburgh's place in the glass blowing world. The event sure to attract the most attention is a melding and weaving of glass and vegetation at the Phipps Conservatory & Botanical Gardens. Some of the glass pieces will weigh thousands of pounds and will be suspended among the plants. All will be designed by 65-year-old Seattle sculptor Dale Chihuly, chief impresario of a studio art glass movement that began on the West Coast three decades ago.
Blinded in one eye, Chihuly employs a team of artists to complete the work he designs; his largeness of talent and extent of eccentricity invite comparisons to Andy Warhol, a Pittsburgh-born artist who was as much a marketing wiz as he was a painter.
Some credit Chihuly salesmanship for returning the luxury glass market to a height last scaled by Louis Comfort Tiffany a century ago (The Carnegie Museum of Art showed Tiffany's Gilded Age lamps and windows earlier this year and as a legacy of Pittsburgh's industrial-age largesse, Tiffany's work is incorporated in the decorative windows of six area churches, from the Calvary United Methodist Church on the North Side to the Trinity United Presbyterian Church in Uniontown).
The Phipps-Chihuly exhibit opens May 12 and runs through the end of the year. Officials expect as many as 300,000 people in town to view Chihuly's work.
While Chihuly is here, world-famous sheet glass sculptor Therman Statom will also be in Pittsburgh to work with children at the Manchester Craftsmen's Guild and the Neighborhood Academy, a summer school program for city kids. And well-known French artistic light producer Lucette De Rugy will wrap several buildings Downtown in an array of precise, colorful, computer-generated light as a way of drawing more attention to the year-long glass celebration. "Glass is translucent, and light is a way to enhance it," said De Rugy during a late January stop in Pittsburgh.
The hope of Pittsburgh's glass promoters is that visitors lured here by the Chihuly iconography or De Rugy's lighting spectacle will also discover that Pittsburgh is home to one of the hottest studio glass scenes east of Seattle — thanks largely to the evolution of the Pittsburgh Glass Center. Founded five years ago in Friendship and modeled after Chihuly's Pilchuck Glass School in Seattle, the center is a classroom, a gallery and a hot shop where rookies or advanced "gaffers" can melt glass at 2,400 degrees Fahreneheit, reheat the material in some of the largest "glory holes" ever built and then fuse, slump and cast the material at temperatures ranging from 1,300 to 2,200 degrees before sandblasting, etching, cutting and polishing it. A flame-working area is visible from the street — the cause of rush-hour tie-ups along Penn Avenue.
The glass center already has a national and international following. More than 1,000 students and artists from 35 states and eight foreign countries have taken classes since the center opened in 2001, and 25 artists have moved to Pittsburgh permanently so they can teach and do their work there. The 28-year-old Hine was one of the center's first teachers in 2001, moving here from Detroit. His new studio on the South Side, Vessel, opens in March, available for others to share. Two other artists from North Carolina, Clare Kelly and Anthony Schafermeyer, recently purchased a building in Millvale, and they too are working to create a separate glass-making studio.
A third local artist, Gary Guydosh, has a studio in Lawrenceville. Two of the glass center founders, Kathleen Mulcahy and her husband Ron Desmett, had wide followings as glass artists prior to 2001, but they wanted the center — and Pittsburgh — to become a national destination for master glass blowers and even inspire people to try their hand at the art form.
"Our goal," said Pittsburgh Glass Center spokeswoman Paige Ilkhanipour, "is to be like another Seattle." Or like another Pittsburgh. The Pittsburgh of a century ago. Or two centuries ago. Glass was Pittsburgh's first industry, and the contributions of Pittsburgh glass to the development and decoration of this country are as significant as the city's legacy of iron or steel. Most people don't know that Pittsburgh pushed out half of the country's glass supply in the late 1800s and early 1900s, or that, as the country expanded West, Pittsburgh supplied many of the nation's first home and storefront windows, street lamps and food jars.
"If we had no steel mills or electrical concerns, we might be known as the 'glass city,'" declared the trade journal National Glass Budget in 1921.
Most also do not know that Pittsburgh made the glasses that lined the tables of five U.S. presidents (Madison, Monroe, Jackson, Hoover and F.D.R), and produced the jelly-bean jar that sat so famously on Ronald Reagan's desk in the Oval Office. Nor do most know that the opaque glass lining the Holland and Lincoln tunnels in New York, the search lights at the Panama Canal, the 25 windows housed in the crown of the Statue of Liberty all rolled out of Pittsburgh factories.
"It really was America's Glass City," said Anne Madarasz, author of "Glass: Shattering Notions" and curator of an exhibit at the Senator John Heinz Pittsburgh Regional History Center that traces the history of Pittsburgh glass making back to its origins in 1797, when Pittsburgh was a frontier town of 2,400 people.
It began on the South Side, where James O'Hara and Issac Craig built the Pittsburgh Glass Works near the site of today's Duquesne Incline, taking their sand from the bottom of the river, coal from Mount Washington (or, "coal hill") and relying on forests and quarries to supply the ash and lime. "Our market is plentiful and cheap and our Climate is healthy," wrote Craig, in 1801. By 1840, Pittsburgh was the pressed glass capital of the U.S., and as techniques improved and factories became more efficient, between 1870 and 1930 Pittsburgh became "the epicenter for glass making in America," Madarasz said.
People "forget that the story of glass in Pittsburgh is an industrial story and that the Pittsburgh market was the mass consumer. It is the story of making a lot of something, making it cheaply, making it well and selling it to a mass American public."
But a slow decline helped along by the rise of alternative materials (plastics and aluminum), rising production costs, Prohibition, the Depression, foreign competition and the high cost of natural gas (common fuel for glass makers) eventually squeezed out scores of local glass makers, leaving Pittsburgh with about two dozen factories at the end of the 20th century, after starting with 100.
Employment in local glass factories dropped 43 percent between 2003 and 2006, with only 2,207 still working for such companies in mid 2006 — 1,084 in Allegheny County, 792 in Beaver County and 331 in Westmoreland County, according to the state Department of Labor & Industry.
Despite the many problems, Pittsburgh is still home to a Fortune 500 giant — PPG Industries — that began making flat glass 20 miles up the Allegheny River from Pittsburgh, in Creighton, 119 years ago. Founded by the combination of John Ford, an impulsive entrepreneur who had failed with two previous factories in the state of Indiana, and John Pitcairn, railroad executive and cost-conscious financer who put up $200,000 to start the operation in 1883, PPG now employs about 33,000 people and operates from a neo-gothic crystal palace Downtown designed by the late architect Philip Johnson who himself lived in a "glass house" in New Canaan, Conn. Defying the many failures of U.S. plate glass companies, PPG became the first successful U.S. producer of flat glass, the first not to wither before European competitors. PPG quickly achieved dominance domestically and might have been larger if Ford had not left in 1896 for a rival in Toledo. During the 20th century, PPG was a major participant in America's pell-mell expansion, producing glass for automobiles, office buildings and department stores. Today, its glass is everywhere in Pittsburgh (PNC Park and Heinz Field are two recent examples), it still has that plant in Creighton and it sells more than $2 billion of glass per year, around the world.
Beyond PPG, Pittsburgh is still home to an array of other specialty glass makers. World Kitchen still makes Pyrex bake ware in Charleroi, occupying a plant that opened in 1893 as a maker of glass lamp chimneys. Anchor Hocking Specialty Glass still churns out its wares in Monaca, where the tradition of local glass making dates back to 1880. Traco still makes windows from its plant in
Cranberry. Jeannette Specialty Glass makes glass refractors, reflectors and outdoor lighting in a town once known as a "city of glass."
And Kopp Glass in Swissvale makes aircraft lenses and night vision glass used by the military, along with traffic lights and signals.
And there are people around Pittsburgh who want to save what is left and turn it into something new. Consider Bill Kelman, who lives in Bell Acres. A Scottish-born 39-year-old businessman with an MBA from Duquesne University, Kelman has rescued two Pittsburgh-area glass plants.
His purchase of L.E Smith in 2005 saved the Mount Pleasant firm, one of this country's last hand-pressed glass makers, from certain extinction. After firing the furnaces back up in 2005, the company employs between 15 and 40, supplying clients such as Martha Stewart and Williams Sonoma with hand-pressed punch bowls. Instead of wilting in the face of Chinese imports, Kelman plans to sell L.E. Smith's products in China later this year from a Shanghai boutique, figuring that new wealth in that country will be drawn to American imports.
Having made it to 2007, L.E. Smith now can celebrate its 100-year anniversary. "I like the story behind this company," Kelman said.
His other turnaround was in Shaler, home to the 112-year-old Glenshaw Glass Co. The glass bottle maker nearly went under in 2004, when it admitted to employees that it had little money left and then suffered extensive damage during a devastating 2004 flood.
When the plant shut down and went into court receivership, it employed about 300. In October 2005, Kelman bought the Glenshaw assets for $3.8 million. He spent a "significant amount" on flood clean-up and added a 220-ton furnace, enough for Glenshaw to reopen early January with 35-40 workers making glass bottles for a wine company and materials for a packaging company.
With the recent shakeout of so many glass companies, Kelman feels he has a competitive advantage, citing a drop in natural gas prices, a sudden shortage of glass containers in the U.S. and the difficulty of importing glass bottles from overseas. "The glass companies that are left have the opportunity to do rather well."