Giddy up, let's go!
Hitching the team for a sleigh ride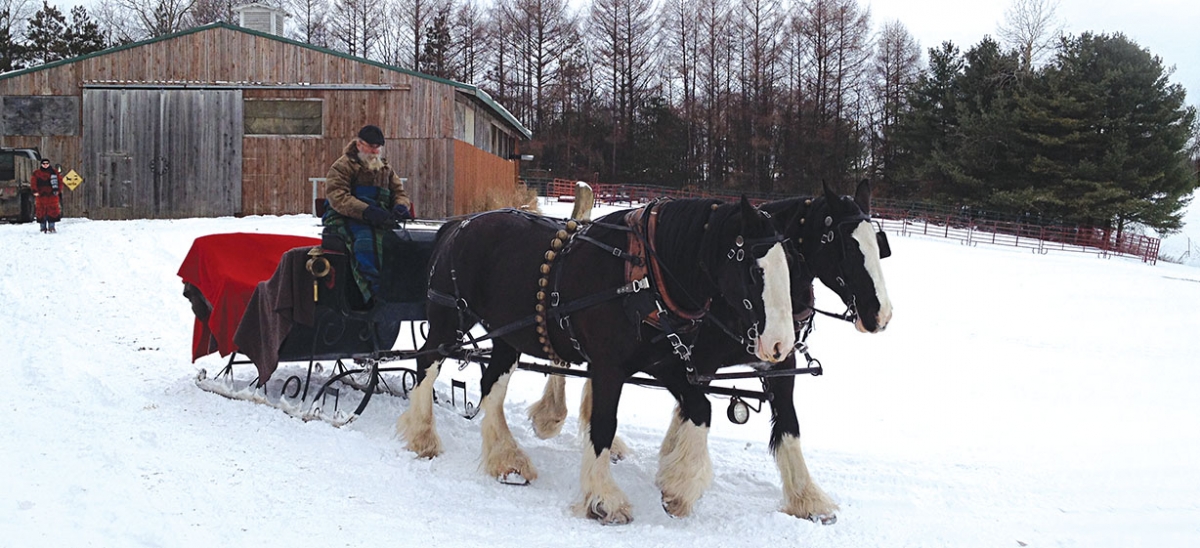 November 21, 2014
Horse-drawn sleigh rides. These icons of old-fashioned winter are lauded in carols and featured in Currier and Ives lithographs. And a great one is available just northeast of Kittanning, in Cowansville. Denise and Flavius Brinsfield grew up with a love of horses. Denise enjoyed an equine way of life, both riding and driving horses.
Flavius has been a blacksmith and farrier for almost 50 years. His family has been affiliated with these professions since they came here in 1640. (He does demonstrations and teaches classes in blacksmithing and farriery at Woodland Forge at the Woodland Center for Arts and Crafts at Camp Lutherlyn in nearby Prospect.) Their backgrounds, interests and passion have culminated in Dragon Run Forge & Livery, which has been operating more than 15 years.
Their rural property abuts state game lands, and the aura as one drives up their secluded lane is one of a slower, peaceful existence. Stabled in their barn are two breeds of horses, Shires and Morgans. They hitch these gentle giants to a four-person sleigh complete with jingling bells. While it's important to dress appropriately for the weather, the Brinsfields provide thick, cozy blankets to ward off the chill. Sleigh rides last approximately half an hour—perfect for returning without frostbite! There is little evidence of civilization on the sleigh rides, and you might catch a glimpse of a wandering deer or fox. For an even more special experience, Dragon Run Forge & Livery provides romantic nighttime rides with the trail illuminated by glowing lanterns. (Just the thing for a marriage proposal…)
Dragon Run Forge & Livery also offers seasonal, foliage wagon rides, providing up to eight guests the opportunity for an eight-mile, three-hour trip on roads traversing the Brinsfield and game land properties. They provide a scenic observation of the seasons from the glorious colors of autumn to the bursting buds in spring. Riders can take along a lunch and stop on the way for a picnic in warmer weather.
Dragon Run Forge & Livery is available for weddings, proms and other special occasions as well. A unique offering is a horse-drawn caisson, appropriate for a military or government funeral.
The pace is relaxed, and rides are scheduled with plenty of time so guests never feel hurried. The Brinsfields prefer to focus on quality, not quantity, and all rides are private and by appointment. They also offer customized gift certificates, which make a perfect gift for that hard-to-buy-for individual. So, this winter, embrace the snow and visit Dragon Run Forge & Livery. It's the ride that's worth the drive!
For more information, visit dragonrunforgeandlivery.com, or call 724-525-6532.