Getting Vaccinated Gains Popularity
Photo by Steven Cornfield on Unsplash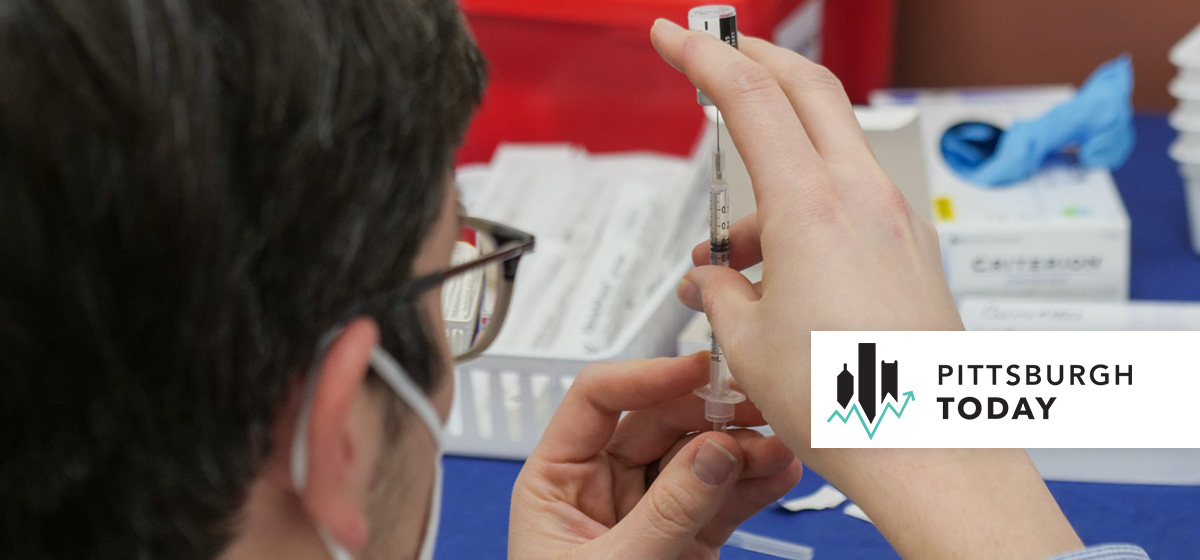 February 15, 2021
Supplies are short and the roll-out of the COVID-19 vaccine is slow, but the willingness to get the shots is sharply rising across southwestern Pennsylvania, a new survey suggests. And hesitancy over getting vaccinated is fading the most among non-whites.

Some 60 percent of southwestern Pennsylvanians said they were ready to get the shot in January, according to a regional survey done by the Allegheny Conference and Schmidt Market Research.
Only 26 percent of people in the region felt that way in November, when two U.S. drug makers announced they had developed vaccines effective at preventing COVID-19 infection.
A small, but consistent group aren't interested in getting vaccinated. In January, some 16 percent of people in the region said they have no intention of getting the vaccine—the same share of the population who felt that way back in November.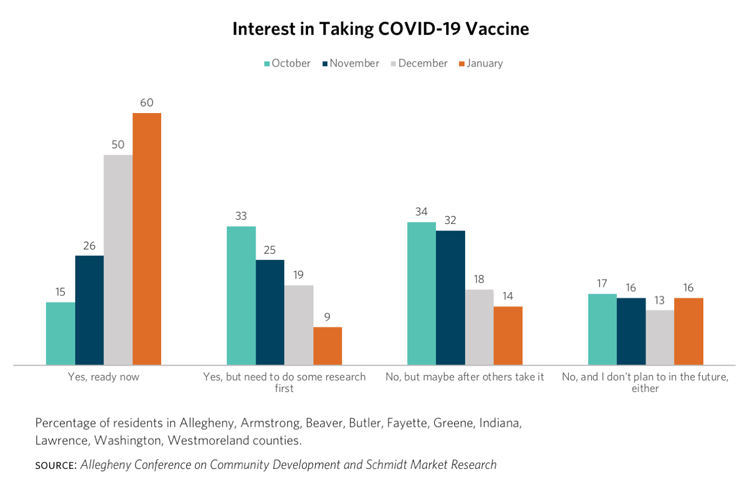 Nearly 3 in 4 residents aged 55 years or older will definitely or will likely to get vaccinated. They are the age group most at risk. People 65 and older account for 90 percent of COVID deaths in Allegheny County and for 60 percent of people who are hospitalized with the virus, according to health department officials.
The most dramatic change in attitude toward vaccination is among non-whites, who have gone from being the least willing group to get vaccinated to the most willing. In October, only 21 percent said they would definitely or likely get the shots. By February, 75 percent felt that way.
The survey also suggests a political divide in the willingness of residents to get vaccinated with a much larger share of Democrats than Republicans saying they'll definitely or likely get the shot.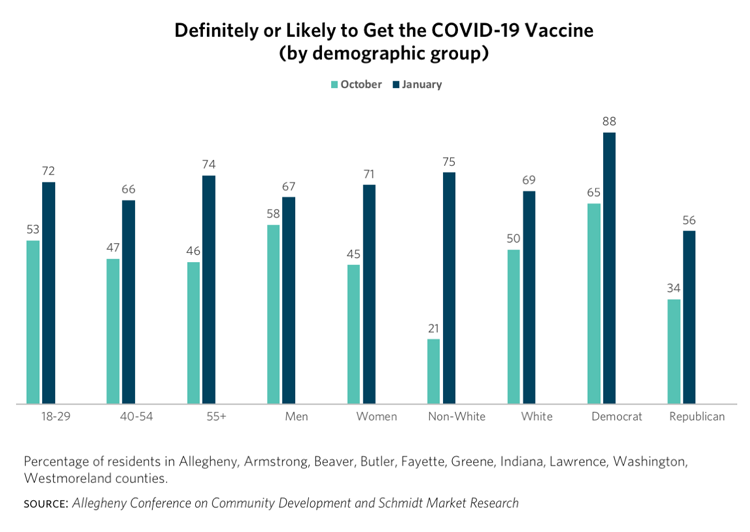 Demand for the shots has greatly outpaced supply of the vaccine since December, when the Pfizer and Moderna vaccines were approved by the U.S. Food and Drug Administration. Vaccine campaigns have also encountered logistical challenges, communication glitches and other issues.
In recent weeks, limited numbers of vaccination appointments for eligible residents were filled within minutes during online registration sessions in Allegheny County. Vaccination under Phase 1A is restricted to health care workers and other frontline workers, such as long-term care staff; people aged 65 and older; and those aged 16–64 with conditions that increase the risk of severe illness from the virus. "Vaccine supply remains our biggest challenge and biggest barrier to vaccination," Allegheny County Health Department Director Debra Bogen said last week.