A Friend in Need
The University of Pittsburgh's latest Rhodes Scholar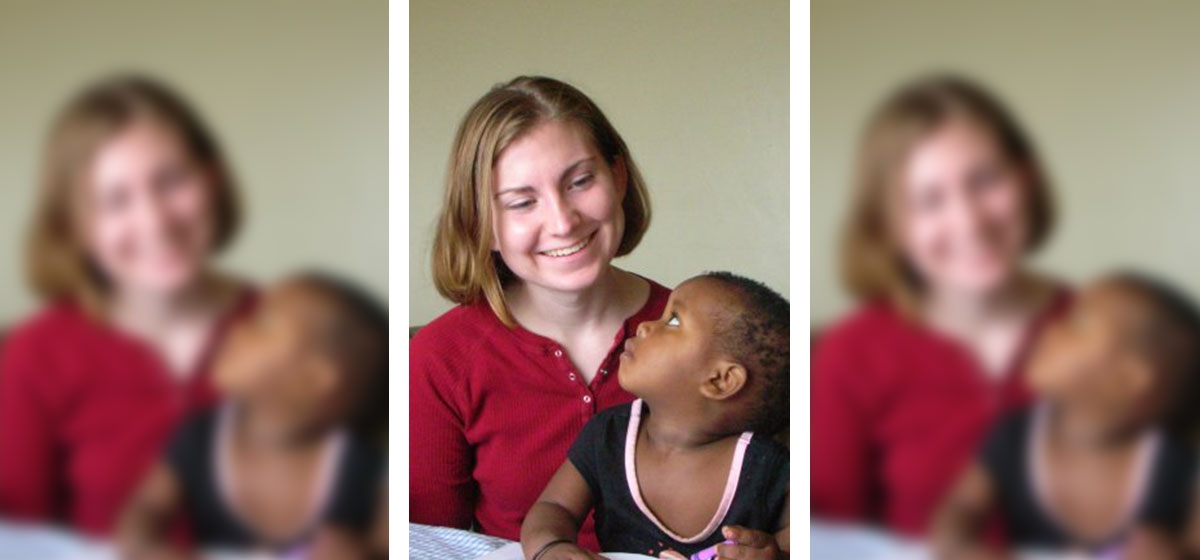 February 21, 2010
Eleanor Ott grew up in a family that encouraged her to pursue her passion in life. What that passion was didn't become clear until after she left her Lawrence, Kan. home as a high school valedictorian with a college scholarship.

She discovered it among refugee families from Iraq, Burundi, Somalia and other desperate lands whose struggle to rebuild lives disrupted by conflict she had witnessed firsthand. And she discovered this passion for improving the condition of the world's 15 million refugees while in Pittsburgh, of all places.
In October, that passion will take her to Oxford University in the United Kingdom, where she will study forced migration and other refugee-related issues as a 2010 Rhodes Scholar, the latest of six University of Pittsburgh graduates to have been awarded the prestigious scholarship in the past 26 years.
Earning high academic awards is nothing new for Ott, who is 23. When she came to Pitt, she did so on a Chancellor's Scholarship, which paid for her tuition, room and board. In 2008, she won a Truman Scholarship awarded to students in public service fields and received a Truman-Albright Fellowship that sent her to the U.S. Department of Health and Human Services in Washington, D.C. after her 2009 graduation to work as a research analyst.
But it was the Chancellor's Scholarship more than anything that put Ott on the road to Oxford. The scholarship was the deciding factor in her choosing to attend the University of Pittsburgh, where she excelled as a student in the school's Honors College. And, she says, "it was in Pittsburgh where my interest in refugees was really sparked."
She was raised in an academic family near the campus of the University of Kansas, where her late father, Michael Ott, was an art professor. He died when Eleanor was 10. Her mother, Genna Hurd, is a research associate at the university's Institute for Policy and Social Research, where she has worked for more than 20 years. Her stepfather, Greg Hurd, is an independent filmmaker, producer and writer. The question was never whether she would go to college, but what and where she would study.
Money was an issue. "I knew I would have to get a scholarship somewhere; I couldn't afford to pay a lot out-of-pocket." Applications went out to Drake University, the University of Minnesota, the University of Virginia, Brown, Princeton, Pitt and, in her backyard, Kansas. Pitt initially offered a partial scholarship and in her heart had the edge. But financially, the University of Kansas held the upper hand with its offer of four years of study paid in full. It was only when Pitt upped its offer with the Chancellor's Scholarship that the deal was sealed.
"I absolutely loved the Honors College. That was one of the attractions. Another was that I didn't know for sure what I was going to get a degree in, and Pitt offered so many opportunities within the university and the community at large."
Once enrolled, Honors College faculty and administrators encouraged her to let her interests guide her academic exploration. She did so with a vengeance, earning bachelor's degrees in chemistry, French and history during her five years at the school, as well as learning Swahili and two Arabic dialects and studying the roots of the refugee crisis in Africa, ethnic strife, and other issues related to her emerging field of interest.
But it was her extracurricular activities that offered more intimate insight into the world that, as it now appears, will define her career.
Her first exposure to refugees, their circumstances and challenges came as a volunteer tutor for a Schenley High School student whose Somali Bantu family had been resettled in Pittsburgh. "One of the interesting things about this family was that even though they were part of a larger Somali group in Pittsburgh, they spoke a different language," Ott says. "So, a lot of the high school students completely ostracized the girl I was working with because they viewed her as from a different tribe. One of the things she needed was a friend, someone she could talk to."
Ott offered that friendship, along with instruction in English and reading that she delivered in the student's home. After working with the Somali student for a year, Ott was invited to witness the young woman's induction into the National Honor Society.
Her skills working with this hidden population in Pittsburgh were immediately apparent to Raihan Izimbetova, a caseworker for Catholic Charities refugee services in the Diocese of Pittsburgh, where Ott was an intern in 2008. "She stood out because she was very enthusiastic and passionate about helping refugees. She was very friendly, creative and culturally sensitive, which is important because we work with so many different populations." Perhaps the strongest evidence of her abilities to connect with refugees, Izimbetova says, is the fact that many of the families she worked with in the city continue to ask about her.
Izimbetova first met Ott when she was recruiting volunteers to tutor refugee students in the Pittsburgh Public Schools and other local school districts. Ott, at the time, was co-president and education chair of FORGEPitt, a refugee advocacy organization she helped found in 2005. Her work with Catholic Charities included helping refugees from Iraq, Burundi, Burma and other nations get their footing in America and involved everything from helping them with food stamps, green cards and Social Security to teaching them basic life skills—which, in the case of those who've spent years in primitive refugee camp conditions, could include the most ordinary of tasks, such as how to flush a toilet, turn on a stove or keep food in a refrigerator.
Ott had more than an abstract understanding of the conditions refugees endure in the camps before she signed on with Catholic Charities. While many of her classmates spent the summers of 2006 and 2008 at home waiting tables or working retail to earn a few dollars for school, Ott spent hers at the crowded, dusty Kala refugee camp in Zambia, home to some 20,000 displaced men, women and children. Most of the refugees had fled homes in the Democratic Republic of Congo, a nation gripped by violence, disease and political dysfunction after years of civil war.
Her gift of donated computers doubled the size of the camp computer lab and was well received by the refugees. Once in the camp, however, she realized that other projects she had envisioned, such as setting up a mentoring program for special needs children, most likely couldn't be sustained.
So she listened to the refugees themselves for other ideas. She brought books to the camp library. When she learned few refugees even knew of the library's existence, she launched a reading program and promotional campaign. When she learned that many teenage girls were dropping out of school, she started a program that awarded them an outfit of clothing for completing a reading course. When she learned parents felt an education was lost on children with disabilities so there was no point to sending them to school, she helped equip the camp school to teach special-needs children skills their parents could appreciate, such as cooking, sewing and bike repair.
It was work of this depth that, along with her academic accomplishments at Pitt, led her to become one of 32 Rhodes Scholars selected from a field of 1,500 American men and woman in November. When she arrives at Oxford this October, it won't be for the first time. When she was 5 years old, her father temporarily swapped jobs with a British art professor and moved his wife, Eleanor and her two older brothers to Coventry, England for a year. At some point, they visited the Oxford University campus. "I don't remember it," Ott says, "but apparently my mom said, 'One day, maybe one of you will be a Rhodes scholar.' "
This time around, she'll be a bit busier. She plans to stay two years and earn a master's degree in forced migration at the university's Refugee Studies Center and another in evidence-based social intervention.
After that, her path is uncharted. The career Ott envisions is one that puts her in a position to effect changes that benefit refugees on a larger scale than what she helped accomplish in Zambia. When she dreams big, it's on a global scale as the United Nations High Commissioner for Refugees or, perhaps, as the U.S. ambassador to the United Nations. At the very least, she is developing the pedigree. Current U.S. ambassador to the United Nations, Susan E. Rice, was also a Truman Scholar and a Rhodes Scholar.