Downtown!
Achieving the good life in an evolving urban setting
Illustration by Dan Marsula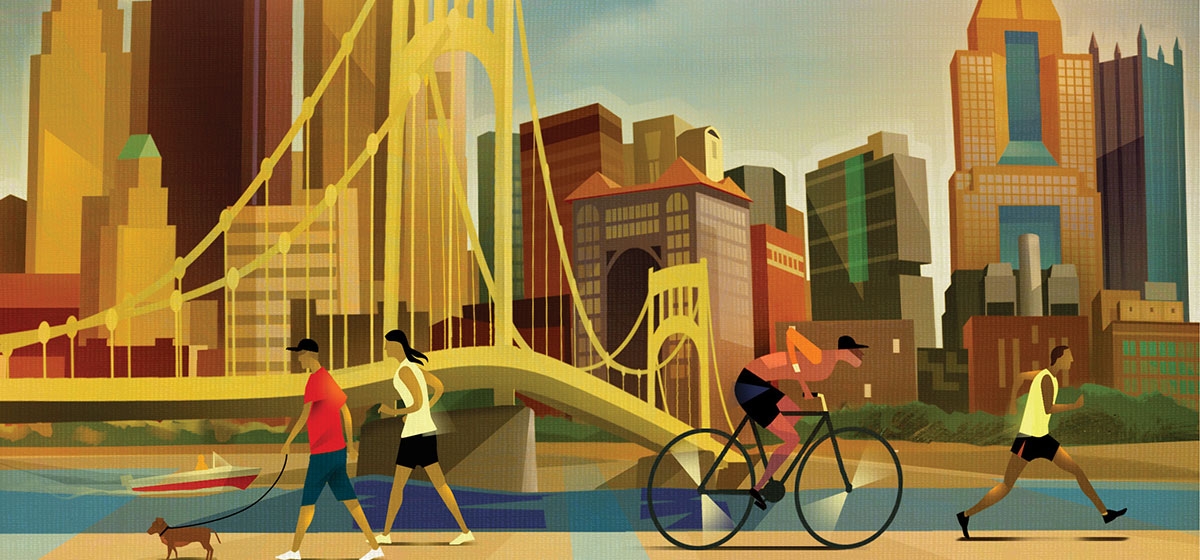 August 20, 2012
I moved to Pittsburgh with my wife, Audrey, on May 1, 1972 when I accepted a job with The Hillman Company. We moved here from sunny Denver, Colo., and in our first month, it rained 28 days. We thought it was among the dumbest decisions we had ever made, but we've lived here the past four decades—30 years in Shadyside where we raised our four children. We have always considered Pittsburgh an excellent home for families. It's safe and friendly, the schools are good, the sports teams are world class and the cultural facilities are robust for the region's modest size.

When Audrey and I became empty nesters in the late 1990s, we discussed downsizing and relocating to Downtown. And after several years in a large, empty older home, which required significant maintenance and upkeep, we began searching in Downtown.
During the early 2000s, only about 1,000 people lived in Downtown. Available apartments were scarce. After a year searching, we failed to find an apartment that met our needs or was of architectural interest. While visiting one in a poorly renovated, older building, Audrey remained silent throughout the tour. It was nondescript with beige walls, low ceilings and small windows. After we left the apartment, I asked Audrey how she liked the space and found her in tears. After this discouraging episode I abandoned any hope of moving to Downtown, but we still dreamed of downsizing. Then, during the fall of 2005, I was in Hong Kong on business when my cell phone rang. Audrey said she had found a beautiful loft apartment in the Strip District. She said it was perfect for us, but there was another buyer interested, and we had to make an offer that day.
Our offer was accepted, and I never saw the building or even a photo of it until I flew back a week later. Fortunately, Audrey and I see things the same way, and she was absolutely right; the apartment was ideal for our empty-nester lifestyle. It's in a six-story brick factory where Rudd water heaters were manufactured a century ago.
As luck would have it, we sold our Shadyside home quickly and found ourselves homeless for about six months. We rented a small suite in the Renaissance Hotel in the heart of the Cultural District overlooking the Allegheny River and PNC Park. I enjoyed walking to work and eliminating my automotive commute. We attended many more Cultural Trust performances and dined out frequently at the excellent nearby restaurants.
That was six years ago, and the quality of life in our new neighborhood has improved notably. When we moved to the Strip District in 2006, it was inconvenient and even perhaps a bit dangerous to buy a newspaper early in the morning. There were a dozen large, vacant buildings in the Strip, including the abandoned Armstrong Cork Factory, which has subsequently been successfully restored and converted into 298 apartments on the Allegheny. Today, all of the empty buildings in the Strip have been restored and converted into apartments, offices or retail space. Even the old schoolhouse on Smallman Street next to the 31st Street Bridge has been converted into attractive residential units. Most recently, the Otto Milk Co.—vacant for as long as anyone can remember—is now a first-class apartment building. There is a brand-new apartment building under construction on the corner of Railroad Street and 24th Street, and a new grocery store is opening nearby.
The Golden Triangle also has new apartment buildings, including the original PNC Bank building on Wood Street. I am told the old Alcoa building will soon become residential. Over the past six years, the number of Downtown residents has surged to over 7,000, a seven-fold increase. The influx has changed the fabric of daily life. Six years ago, Audrey and I rarely saw other people in the Strip District neighborhood. Today, they're out walking their dogs, jogging and biking. If you have never experienced the Strip District on a Saturday morning, you should come to Penn Avenue and mingle with the bustling crowd. From 24th Street to 16th Street, Penn is packed with street vendors and shoppers. The retailers offer an unusual assortment of food and items unavailable elsewhere, and The Pennsylvania Macaroni Company is among the city's best groceries. For Steeler fans, there is so much memorabilia for sale that you could decorate a small house with it.
When we lived at the Renaissance Hotel, I discovered the extensive network of jogging and biking paths along the Allegheny. Former Mayor Tom Murphy wisely installed a shale running path on the North Shore, a beautiful trail with fantastic views of the Allegheny and Downtown.
Two years ago I stopped jogging after a knee injury and have become a cyclist. I ride my bike across the 31st Street Bridge to Washington's Landing, continuing along the North Shore to Heinz Field. On sunny weekends the Allegheny, Monongahela and Ohio rivers are filled with pleasure boats, kayaks and rowing sculls. From our loft, I can ride to the Point or along the Monongahela River on paths without ever crossing a street. One of my favorite paths is along the east bank of the Allegheny between 37th and 43rd streets. The bird life is prolific, and I rarely see people, except the occasional fisherman. It's more evidence of the continuing greening of the city.
I recently served on the board of a company in downtown Denver and have spent time there over the years. In the early 1970s, the downtown area was a seedy ghost town with pawn shops and other undesirable retail; most residents lived in the suburbs. Decades later, when downtown Denver's population rose to 10,000, the area completely revitalized. Older buildings were converted into residential properties, and new loft apartments accommodated the growing demand. Retail soon followed, and the transformation has improved the quality of life for everyone, including suburbanites who drive downtown for the shopping and restaurants. Today approximately 17,000 people have relocated to downtown Denver.
Downtown Pittsburgh has all the ingredients needed to follow suit, and our own transformation is well under way. Thanks to the Cultural Trust, the Cultural District offers a vibrant array of theaters and nightlife. Downtown remains the headquarters of large corporations and law firms that have prevented a mass business exodus to suburban office parks. And for people interested in moving there, two new apartment buildings in the Golden Triangle are under development. River Vue at 300 Liberty Avenue is undergoing a $45 million conversion into 218 rental units that will be available this fall. Nearby, the former Bell Telephone Building at 201 Stanwix Street will become 158 one- and two-bedroom apartments. I'm told they're renting quickly.