Development Boom On Hold
Virus brings delay and uncertainty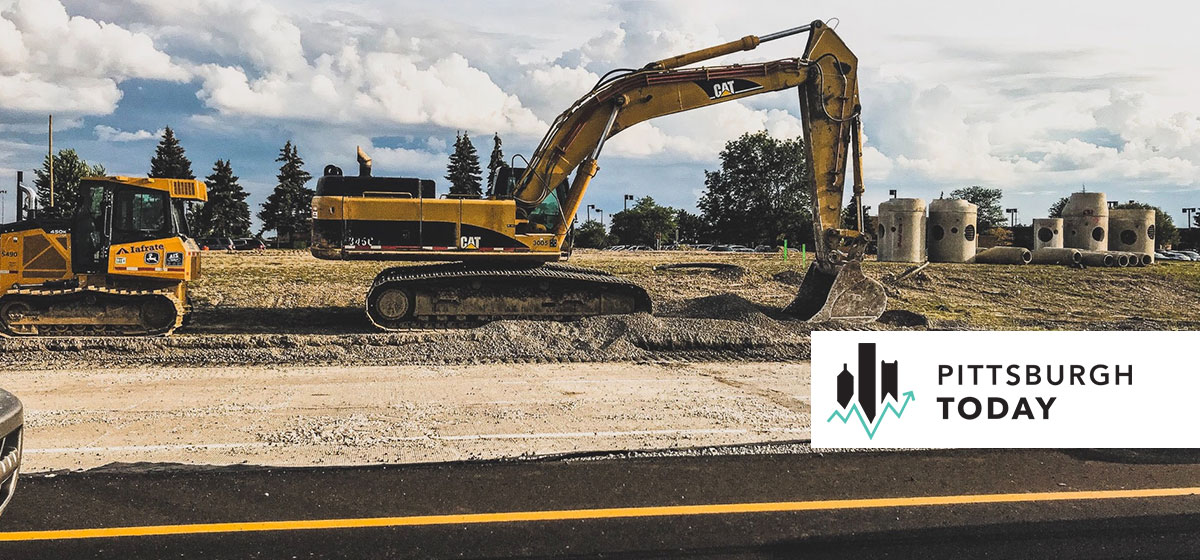 April 29, 2020
Pittsburgh's landscape was about to undergo a major facelift this year. The Strip District, Station Square, the lower Hill District were all to break ground on major commercial and multi-use real estate projects. Until COVID-19 arrived.

The sudden sweep of the pandemic across the region halted most new construction. Delays in building are compounded by other questions, such as how will shutdowns and social distancing affect tenants' ability to pay their rent.
"Like every industry, we've been heavily impacted," said Brandon Mendoza, executive director of NAIOP Commercial Real Estate Development Association Pittsburgh. "Some key projects were halted, like the projects in the Strip District. By and large, things were frozen. That hits each project and sector differently."
Commercial real estate has tenants in industry sectors ranging from construction, transportation and warehousing to medical labs and retail stores. And how the coronavirus recession impacts those businesses will be felt by commercial real estate. For some of those businesses, the coming months will be perilous. For others, the immediate future has yet to turn grim.
"The pandemic accelerates trends," said Herky Pollock, executive vice president at CBRE, a commercial real estate real estate services firm.
Retail on the edge
Retail in southwestern Pennsylvania and the nation was struggling well before the region reported its first coronavirus cases in March.
The sector shed 6.3 percent of its jobs from March 2015 to March of this year, according to Bureau of Labor Statistics data.
"Those retail companies and restaurants that were struggling before this are all but dead," Pollock said. "Those who were credit tenants in 2020 are on the watch list. People's capital and credit are constrained right now and that's going to be impactful."
But there are some bright spots for commercial real estate in the industrial and warehouse sectors. "Amazon, Walmart, Target, all of the major retailers and grocers have had to expand their logistics capacity almost exponentially right now," Mendoza said. "They're not trying to build all of that product on their balance sheets, so they're working with the commercial real estate world to build that product and operate it from the lease standpoint."
And the pandemic has led to more investment in the commercial real estate market for medical facilities and laboratories.
Big year interrupted
"Last year, I said that 2020 would be the largest development year in Pittsburgh's history and I still think that's going to be the case," Pollock said. "It may be a little slower to lease up those projects, but we're still going to see a ton of development."
Several projects worth hundreds of millions are ready to go whenever it is determined that it is safe to do so.
One is the Pittsburgh Penguins' development of the 28 acres around the arena in the lower Hill District. Others include McCaffery Interests' $62.6 million redevelopment of the produce terminal in the city's Strip District, and the mixed-use development on the city's North Shore between Heinz Field and PNC Park by the Pittsburgh Steelers, Pittsburgh Pirates and Continental Real Estate Company.
"The horse has left the stable and there's no turning back," said Pollock. "It's going to take some time and creativity to finish these projects, but they are still great projects just in a tougher time."
Rough rents
Collecting rent is a concern as the lockdown wears on, whether tenants are mom and pop stores or companies worth billions of dollars. Earlier this month, the Wall Street Journal reported that major corporations, including Tesla, Dick's Sporting Goods, Staples and Cheesecake Factory, failed to pay all or some of their April rent, when early repercussions of the pandemic were being felt.
"The status of tenants is the most important thing in the long run," Mendoza said. "Almost all businesses in retail and hospitality, except those that are essential, have been closed. Those folks are under huge financial strain and they have a hard time making their lease payments on the property that they're leasing."
Data so far are limited. Estimates of the impact of tardy rents vary widely and depend on the sector of the market.
The retail picture in the city and county varies, according to Pollock. But it is the hardest hit part of the commercial real estate industry. He estimated that only about 20 to 25 percent of retailers in the county were paying rent, with the market being propped up by the grocery stores and pharmacies that remain open. And the pandemic has dealt a hard blow to the region's struggling shopping centers and malls.
"I know of some shopping centers where 10 percent have paid their rent," Pollock said. "Regional malls are hugely impacted right now. It's probably between 10 and 20 percent of people are paying their rent. Regional malls are going to have to reinvent themselves. Most every department store is not going to recover or survive this."
But broadly across the real estate industry there is evidence to suggest the harm has been less severe so far. Mendoza said he polled NAIOP's Pittsburgh membership and estimated less than 5 percent of businesses failed to pay their April rent. "It hasn't been that bad right now, but that can change. A good economic plan on the other side of this is very important."
The commercial real estate industry so far hasn't received direct federal financial to help weather the crisis. Some small businesses in the region, however, managed to secure payroll loans through the federal Payment Protection Program, which was part of two stimulus packages passed by Congress last month. "We need to rebuild through public funding and landlord assistance," Pollock said. "We need to have a new normal out of this to allow the small entrepreneur to survive and thrive. Otherwise it's going to be a tough economy going forward."