Destination unknown
Roadtripping in search of a new hometown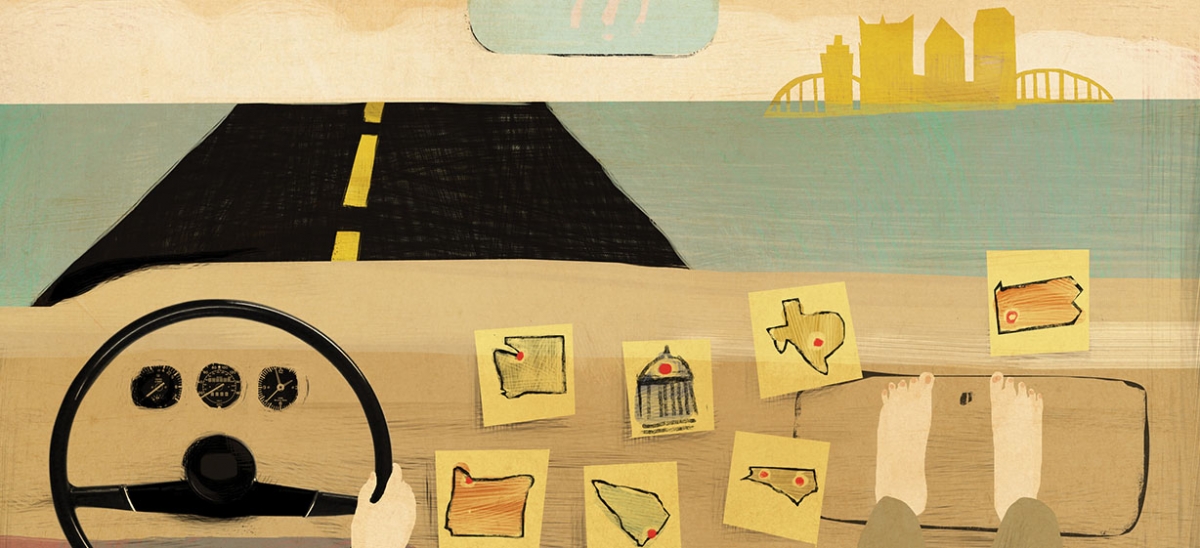 November 21, 2014
When I say I'm new to Pittsburgh, the questions start. Oh, for work? Does your husband have family here? Neither is true for me, and I tend to pause and say, "Well, this city is the reason that we moved here." If they leave too long of a gap, I always give in and say, "There was this road trip…"
Last year my husband, Patrick, and I were living in Boston, a city that had looked perfect on paper. He's a journalist. I'm a classical musician and writer. Boston had looked prestigious, creative, quirky. But after living there, we realized it was cold with reserve, its innovation stifled by constant intimidation. Also, rising rents were pricing us out. Worst, though we had started as a relaxed, laughing couple, we had grown colder, more worried, and exhausted.
We talked about moving. But what city? We had met in Denver, a city we both loved. We knew a handful of other cities fairly well, but many places remained a question mark.
In the end, we concocted a hasty plan. We had both largely transitioned to freelance jobs that we could do anywhere. We took the money we planned to spend on our hefty rent and started a savings account we named "The Freedom Fund." We printed out a map of the U.S. and each starred cities that we had never visited, but where we might want to live. Some were places that friends recommended, some were high-ranking cities on the "Best place to…" lists released by magazines. As we packed, the air felt lighter, and we both started laughing again. We put our things in storage, where they would wait for us to find our home. On our last day, we drank at our favorite Irish pub with our favorite friends. One asked us what tattoo we would get if we wanted to remember Boston. One of us said a middle finger. The other said an outline of the state of Maine, our place of refuge when the stress laid too heavily. But the image that would stay permanently with both of us was the dear people who saw us through our time there, and who celebrated with us when it was time to start the next chapter.
We arrived in Pittsburgh dazed, tired from packing, and stiff from the car. Pittsburgh, in many ways, was just a stop on the way for us—we only added it to our list after a few emphatic friends convinced us to swing by. It woke us, though, with its beauty. We wove in through the hills, and the skyline appeared seemingly out of nowhere. "It's so pretty," I said repeatedly.
After 10,000 miles of driving, we knew it was time to make a choice.
It was at a meeting with some locals who worked at Carnegie Mellon University that we heard a phrase that resonated with me: "If you work hard, you can make it." We heard there were deep endowments for the arts. We heard (and later confirmed) that people were abnormally friendly. We ate pancakes soaked with butter at Pamela's. We rode the incline, and walked around Mt. Washington, dreaming of having a garden. Patrick took off his shoes in the park, and we laid on our backs and looked at the sky. "I have a feeling this trip might work," he said.
We drove on to D.C., where the first thing Patrick did was change his shoes, swapping flip flops for work shoes. He was networking with another editor. I trudged around downtown during his meeting, sweating and not feeling like I could stop moving. Everyone was in suits, walking quickly, and staring at their phones. Afterward, we skirted through traffic, squinting to find our friend's apartment. Here was the familiar difficulty we knew from Boston—snarled traffic, tricky intersections, and small trips taking three times as long as you anticipated. Later that evening, we sat in a bar in Arlington, listening to friends give lukewarm reviews of their city. They lived in basement apartments with their kids. They lamented the turnover of the community. One friend simply gave it a "C." The next day we walked through neighborhoods, calculating potential incomes with the cost of rent. And as we looked for apartments near the new craft beer bar of the moment, we both stopped. Patrick asked me if I wanted to leave early. I felt I could breathe again. We tried not to run back to the train station, past the Segways touring Capitol Hill, off of the hot streets and the suits and the cell phones. It was time to go south.
Raleigh popped up on every city list I looked up, as well as being named flat-out "America's Best City." When we drove in, I kept looking for the skyline. We were all the way downtown and parked before I realized we had arrived.
Raleigh would continue to unfold like that. We ate at The Pit, an iconic barbecue place where our waiter talked us dry. We left full of food and laughs, but then wandered through downtown to find the rest of it a ghost town.
It wouldn't be until our second day that we found the small strip that we were looking for—a quirky local flip-flop shop, a cafe that managed to make fried snacks look foodie-perfect, and a craft beer bar. We talked with the shop owners and found they were ex-pats from LA and New York, looking for affordable rent and a place where they could own a storefront. They painted a picture of Saturdays—riding bikes and going to the farmer's market. The lunch crowd spilled out from their offices and it was a suddenly a real city, bustling and friendly.
After driving through the neighborhoods, we started to realize that as cute as the small downtown community was, the suburban sprawl and the family-oriented culture just didn't fit us. We decided, yet again, to leave a day early. I melted down, as if it had been a bad date. "I want to like it here!" I yelled unreasonably to our rainy windshield. But we were on to Charleston, S.C.
I learned that some cities invite you to see home. And some cities enticingly ask you to be a tourist. In Charleston, we started out by trying to go through the motions. Patrick met with a local magazine designer. We looked at houses. But soon the salty air hit our faces and curled my hair; we walked on boardwalks and ordered cold beers. At one point, I accidentally called Patrick my boyfriend, because it felt like we were dating again. A few nights in, as we sat in lifeguard chairs in an outdoor bar overlooking the ocean, we were jolted by a terrifying crowd scream. There was a touchdown on the television. Patrick's friend had informed him that everyone in the South is the same; they like just three things: "Barbecue, football, and God."
As the people screamed for the touchdown, I realized that of the three things that people love in the South, I was one for three. And though I loved being a tourist, I didn't know if I wanted to be more. In the end, I hung my ocean-drenched bikini in the back of the car to dry, and we decided it was time to head to Asheville, N.C.
I hoped Asheville would be like Boulder, Colo. Boulder was the first city I lived in as an adult, and I had loved its quirky, hippie vibe and the beautiful mountains. Asheville might be the original Boulder. The downtown is packed with tiny, proud-to-be-local stickered shops. Patchouli wafts from their doors. But it also has a not-too-secret reputation for being "$8-an-hour-Asheville." Talking with a composer who lives just outside of town, we learned that musicians regularly had to drive hours to gig around the region. The symphony, he said, was just "OK."
Asheville did remind me that there are still small, vibrant communities of folks embracing a different path. I remember a warm Friday night when we all gathered in the town square, people drumming and dancing. Ladies without bras shook and jiggled, their heads thrown back. In the end, we knew the community didn't feel quite big enough, that the jobs just weren't clear enough, and there wasn't the edge that drives both Patrick and me professionally. So we went west.
Austin was the closest I would have to a homecoming, growing up in Oklahoma. This was not a homecoming for Patrick, who is from upstate New York and looked with shock at the sidewalk as we walked around at night: "I can still feel the heat coming off of it!" (It had been more than 100 degrees that day.) We had each talked with local professionals who had been blunt; the freelance writing scene wasn't flourishing, and the pay was tough. The music scene, at least classically speaking, was cornered by college students.
In driving around the next day, we noticed that to live there we would be spending a lot of time in the car. The homes we could afford sprawled out to the edges of town. Everyone laughed when we pointed to the public transportation map. "No one takes that." We went to Rainey Street, an up-and-coming area that multiple people recommended. It was cute, but just one block. We went to South Congress, which we heard was more of the authentic side of Austin. It was a weekday lunch hour, and I found myself wondering where everyone was. We ate amazing tacos, we looked in small boutiques… and in less than an hour we felt done.
Later, we cooled off in our friend's pool, and we wondered. It felt as if we were searching too hard for something. "Why do I keep thinking about Pittsburgh?" I asked Patrick. Pittsburgh had felt so homey, and I kept easily picturing a Saturday riding bikes and shopping in the Strip. Patrick said he kept wondering if Pittsburgh was going to run away with this whole search.
That night, our friend invited us to the Salty Sow, an East Austin restaurant right up our alley with the tagline "swine, wine, and beer." He said it was 15 minutes away, and I pulled on my walking shoes. "In the car," Patrick corrected me. After, we finally got to drop off our cars and walk to a jazz club where I gave up trying to figure out the city, and drank so much that I barely could stomach the ride out of town. "Austin," I groaned, still wondering how I felt about it.
Our next contender was Portland, which meant we had a lot of time on the way to have fun. In California, we relaxed on Venice Beach, and gawked along the Pacific Coast Highway. I pretended to be a yeti in Redwood National Forest.
By the time we got up to Portland, we were relaxed. Our bellies were full of good craft beer. And we were in awe of its beauty. We loved the downtown. We loved the river. We loved the strips of tiny local stores that threaded through the neighborhoods. We both were ready to unload the car and sign a lease.
Until we stayed with a colleague of Patrick's, and his wife said, "People here… they are just nice enough." I tested the comment about friendliness throughout the city. I held the door for people at Powell's. They looked through me. I nodded to people on my morning run. They ignored me. It wasn't outright rude, but it felt like everyone was coated with something slick and haughty.
Everywhere we went, people talked about The Portland Gray. It would be cloudy and misty from October to the 4th of July. There was a frantic sense to be outside during one of the last sunny days. That night we watched "Portlandia," and neither of us laughed very much. It was spot-on in mocking the snarky snobbery. And while it was a show that usually made us laugh, it wasn't a show where we wanted to be the stars. We headed north to Seattle.
It only took a little over a day to feel Seattle's personality. We were teased by old-timers at a bar; a musician next to me reminisced about recording with bands down the street. It felt like a real city, where people had jobs and watched sports and went grocery shopping. Everything we wanted was there, but there were a few too many things we didn't want.
It does feel isolated to be in the Northwest when your community is spread across the country. We couldn't help thinking about our nephews in New York. The gray was even more pervasive than Portland; our friends told us that we might want to take "sun vacations." And even with learning about its artist-housing programs, it seemed just a little too expensive for us to step in as freelancers and thrive. It was the strangest no, but in knowing the city so easily, it was a decision we knew quickly.
After 10,000 miles of driving, we knew it was time to make a choice. It was clear that we were both ready to explore a new place, rather than return to a city where we had lived. We agreed that our finalists were Portland, Austin and Pittsburgh. As much as we loved Portland, we craved a genuine community rather than a stylized one. And though Austin's vibe had potential, we still couldn't pinpoint our sense of the city. We both agreed that Pittsburgh was the right city for both of us.
The fact that it was affordable wasn't just about money to us; it meant we could invest time into pursuing artistic dreams that don't necessarily draw a big paycheck. After living in a place like Colorado, which values play, and Boston, which values work, Pittsburgh was the perfect balance of East-Coast ambition and the frank friendliness of the Midwest. After a stop in Denver to see friends, we drove straight here, and within three days, found a small row house rental in Lawrenceville. Now that it's just over a year later, we've bought our own row house. Patrick and I are both lecturing at colleges; I'm performing with several groups in the city. Now when we meet new people, we talk about our lives as they are, not how we got here.
But we do try to remember. While we were wading through all the receipts doing our taxes this spring, a tax commercial narrated by John C. Reilly asked people to laughingly account for all the things they did during the past year. "We had an epic journey," I said to Patrick. "And it actually worked. We found home." "And I fell more in love with my wife," he returned. Which is the perfect ending for a story that starts with, "There was this road trip…."