Decorating the Silver Screen
Jan Pascale's path from Pittsburgh to Hollywood
Photo courtesy of Jan Pascale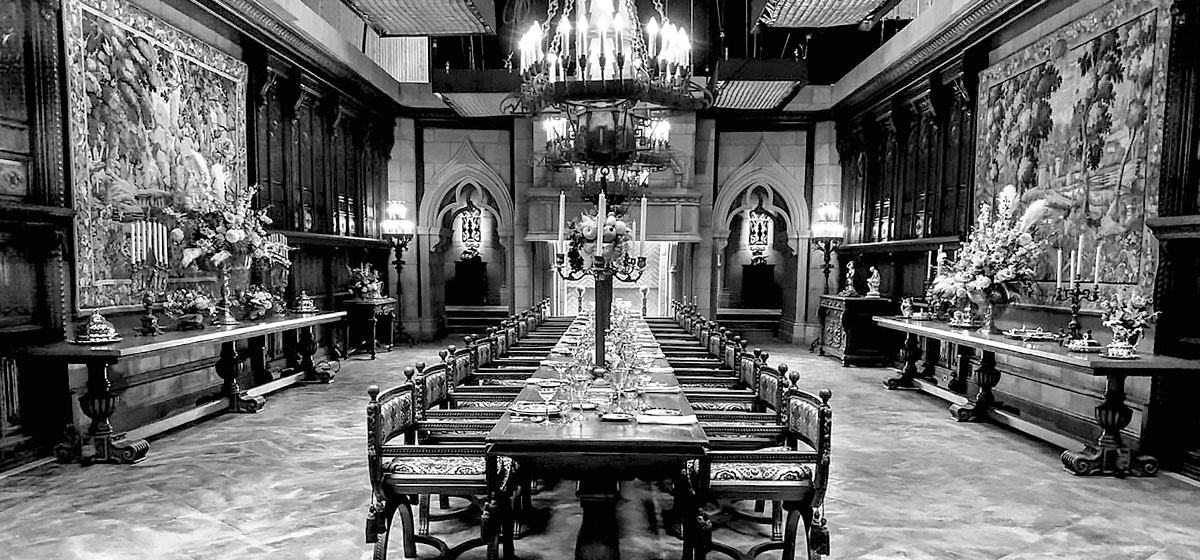 April 19, 2021
Jan Pascale would be really great on a scavenger hunt. Fifty place settings of vintage Blue Willow china? A candlestick telephone? Camera equipment from the 1930s? A lineup of old, clunky manual typewriters?

As a set decorator, she found all this and much more just for one movie, "Mank." As Pascale said, "We did a lot of eBay shopping."
The Beechview native got her start as a painter on "Mister Rogers' Neighborhood." She moved to Los Angeles in the mid-1980s and wound up an Oscar nominee. And since what is customarily referred to as "awards season" is in full swing, don't be surprised if Pascale is mentioned again.
Director David Fincher's tale of "Citizen Kane" screenwriter Herman J. Mankiewicz landed on some critics' 2020 best-of lists. The Netflix production, which stars Gary Oldman and Amanda Seyfried, has been lauded for its technical aspects. Pascale and production designer Donald Graham Burt's re-creation of 1930s Hollywood was shot in stunning black-and-white by cinematographer Erik Messerschmidt.
Pascale has been nominated for her second Academy Award; "Mank" scored 10 nominations, including Best Picture. Her competition includes an old friend: Bloomfield's Diana Stoughton, for "Ma Rainey's Black Bottom."
Others with local connections include Monessen High grad Frances McDormand (best actress, "Nomadland"), Carnegie Mellon University grad Ann Roth (costume design, "Ma Rainey") and Mercer native Trent Reznor has two chances for original score ("Mank" and "Soul").
"Mank" has already won a number of awards for set design, including the Critics Choice and Set Decorators Society of America.
Her many credits include Oscars best picture winner "Argo," "Vice," "Sicario," "Training Day" and the upcoming "Top Gun: Maverick."
The shorthand on set decorators: They work with designers who create the big picture. The decorator provides the more intimate details, from the look and color of furnishings to family photos on a mantel.
Wallpaper, knickknacks, plants and distinctive furniture are just part of the creation. The set decorator also has to have a brain for business, budgeting and keeping track of what goes into the whole process. Counting materials, rentals, fabrication and labor, decorating budgets on big films can run into the millions.
Sometimes, the audience is transported back in time, to a villa in pre-war Italy. Sometimes, it's the sticks-and-stones embodiment of a cartoon town called Bedrock for a "Flintstones" flick.
"It really is so exciting to just be able to create worlds and figure it out. We, as decorators, need to make the worlds inhabitable," Pascale said. "It has to make sense, it has to have some sort of relationship to what people are used to [seeing]."
And so much of what she and her staff track down—a large dining table here, curtains there—is either reclaimed from antiques houses or belongings stored in warehouses.
"I think we are the original recyclers," she said, laughing.
The pandemic makes sourcing materials all the more difficult. Normally, she and her assistants would be frequenting swap meets, antique stores and warehouses owned by studios that rent out, for example, sets of the Oval Office (she's done the White House at least twice, with the HBO series "Veep" and "All The Way," a taped play about LBJ, also on HBO).
One of her favorite sources is a North Hollywood prop house called History for Hire, where artifacts such as radios, artwork, tchotchkes and electronics from bygone eras are expertly categorized by era.
Need a pram? Its website lists dozens.
An added challenge on "Mank" was three other big projects set in the 1930s shooting at the same time, including HBO's "Perry Mason" and Netflix's "Hollywood." Pascale said, "We were always racing to get stuff."
Jay Hart, 2019 Oscar-winning set decorator for "Black Panther," lived in Mt. Lebanon and Richland when he was younger. He and Pascale are old friends. "She gave me my first job in Pittsburgh," he said, "then my first job in Hollywood."
On the night he accepted his award, he was seated next to her at the Dolby Theatre.
"And I'm thinking, 'We are both from Pittsburgh; how's that for yinzers?'" he said in a phone call from Savannah, where he's been in Georgia working on the Korean War film "Devotion."
As a third-term member of the Academy of Motion Pictures Arts and Science's board of governors, Pascale will be part of the (likely) virtual ceremonies in the weeks leading up to the April 25 awards.
It's a long, long way from her childhood in Pittsburgh. As a "semi-only child" (her brother was eight years older), she spent a lot of time playing in the finished basement, where shelves of her mother's Reader's Digest Condensed Books became building blocks for a sprawling series of "dollhouses."
"Any scrap box or discarded Kleenex box could become a sofa or bed in this new architectural wonder of stacked books," she said. "I'm sure I wrecked more than a few book bindings in the process."
In high school Pascale entertained a brief notion to pursue fashion design, yet was unsure what she wanted to do in life. Working in the theater sounded fun, but didn't seem like a viable option. After graduating in 1973 from St. Justin's on Mount Washington, Pascale went to what was then California State College to major in psychology. She dropped out.
She was working as the manager of a Hit or Miss ladies retail shop in Monroeville when she got a phone call from her then-boyfriend, Nick Tallo, floor manager on "Mister Rogers' Neighborhood," which shot in Oakland at WQED studios.
"Nick said, 'They need help on 'Mister Rogers,' so get your ass down here,'" Pascale said, laughing. "I think I owe my career to Nick."
Tallo noted, "I'm just so proud of her. I opened the door, but you have to have hard work and creativity to get through that door."
She learned color and grayscale from "Neighborhood" art director Jack Guest. That job led to others around Pittsburgh, including work on George A. Romero's 1985 "Day of the Dead," where she and Hart provided the zombie actors with leftovers (not always) fresh from the butcher.
"I had four different colors of blood that we made up that were edible: it was Fresh Kill, Dead Awhile, Way Dead and Really Dead," Pascale joked.
Two of her early mentors worked on that film: Cletus Anderson, who was head of the Carnegie Mellon University drama/design program, and Bruce Alan Miller, an art director who also went from Pittsburgh to Hollywood.
More horror ensued with the 1981 cult classic "Creepshow," which shot in western Pennsylvania and gave Pascale the chance to decorate the Stephen King segment with alien-looking plant life. She was also a scenic painter for the film, crediting "Creepshow" charge painter Ellen Hopkins Fountain as another mentor.
Work in theatrical productions around town taught her not only stagecraft, but leadership skills. While prepping a Pittsburgh Public Theater presentation of "Quilters" in 1983, she found herself handling new duties when the technical director abruptly left.
She recalled how she, two diversity trainees and the stage crew cobbled together huge quilts to adorn the otherwise stark set. They dyed fabric in huge batches, ran it through a wringer washing machine and hand-stitched the quilting pieces.
"It was one of the most amazing experiences," she said. "One day there was this union carpenter and he was sitting in the shop, his tool belt on the floor beside him, and he's sewing a butterfly. I still have that image in my head." A bonus of the experience, she said, was "I learned that I could be in charge." These days, she might command a staff of more than 50 people on larger projects such as "Maverick."
Pascale was involved with a series of ads for Iron City Beer when she decided to move west. That seemed a logical next step.
"I knew she was really smart, so when you have a chance to prove yourself, you do," Tallo said. "Next thing you know, she's in Hollywood."
Although the opening of Tom Cruise's "Top Gun: Maverick" has been pushed back to summer due to the pandemic, Pascale is already at work on her next project. It's light years from "Mank:" the Disney + Obi Wan Kenobi series starring Ewan McGregor.
Decor on a black-and-white shoot 15 years after "Good Night, and Good Luck" was hardly a re-run. For 100 years, set production knew what colors photographed well for black-and-white. Thanks to new digital cameras and filters, that's not necessarily so.
"Digital tweaks," she said. "It was the way the image was captured digitally, with the Red camera they used. So we shot everything [the decorators produced] in real life, then we shot it with the iPhone Noir filter."
Pascale once referred to herself as "the history girl" because she has worked in so many historic periods, including 1929, twice. That sense of time and place was crucial to her job on "Mank." Fincher, whose late father, Jack, wrote the screenplay, is an exacting director known for sweating the details.
"Fincher has an encyclopedic memory for stuff like that, so the pressure was on."
She and the director shared a surprising love of Pittsburgh. Fincher and wife Cean Chaffin, who was a producer on "Mank," lived in the city off and on when his Netflix series "Mindhunter" shot two seasons here.
"Talks about it all the time," Pascale said.
Even when she finds a perfect fit for what the director is looking for, there may be work still to be done.
Not everyone on the "Mank" set was as comfortable with those circa-1920s typewriters. "The funniest part was, casting couldn't find young gals who knew what they were and how to use them. I am not kidding," Pascale said.
Re-creating the Hearst Castle was a special challenge that involved crafting woodwork, chairs and tapestries as well as three huge dining tables.
On top of it all, the cinematography created a depth-of-field that mimicked that of "Citizen Kane," so even walls far in the background had to be well-decorated.
Pascale's long, well-decorated career has been based upon relationships with vendors and crew. In fact, her lead dresser (the person who supervises other dressers on the crew) for 25 years was Louise del Araujo. They're married now.
In an industry that runs on reputation, trusting those you work with is vital to success, Pascale said.
"I think it's about those kinds of relationships, with people who know what you're after and will be as detailed as we want them to be. They know I'm a fanatic about it."