The Decisive Decade
How and why did Pittsburgh finally turn the corner?
Photo illustrations by Cori Schipani, source photos: iStockphoto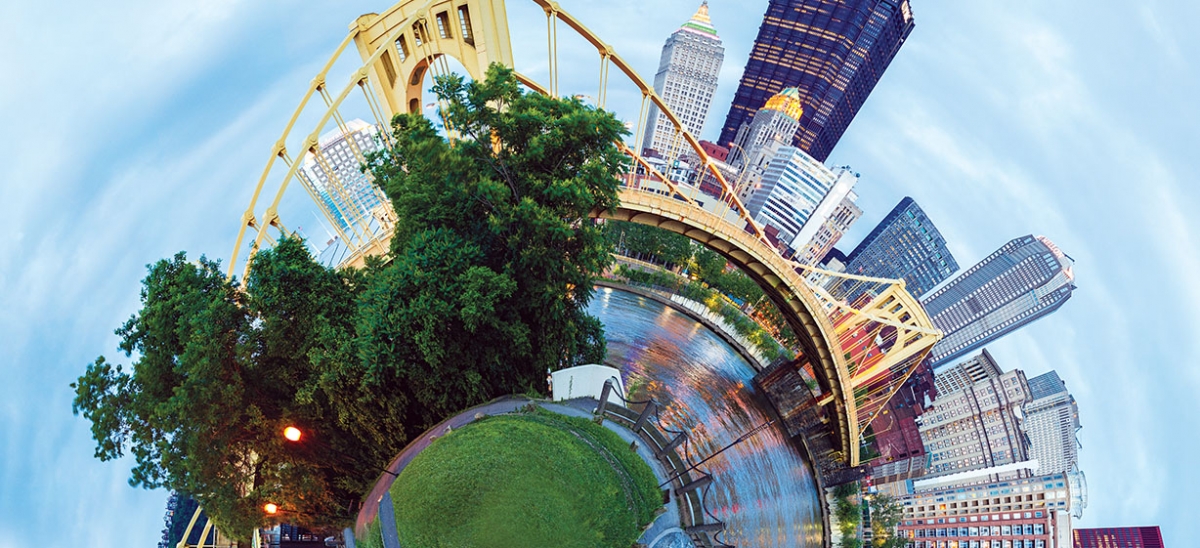 July 11, 2016
After going to college and law school in the south, Jack Barbour decided to return to Pittsburgh in 1979.
"When I said I was going back to Pittsburgh, everyone looked at me like I was nuts. They still may look at me like I'm nuts. But there's no longer that stigma about Pittsburgh," said Barbour, the CEO and managing shareholder of the law firm Buchanan Ingersoll Rooney.
"It used to be that if someone didn't have a Pittsburgh connection, people asked them why they were interviewing with us. We don't ask that any more."
Six years after Barbour returned, I arrived in Pittsburgh in July 1985 for a 12-week internship at the old Pittsburgh Press, I knew little about the city beyond the great Steelers and Pirates teams of the 1970s, and the fact that Pittsburgh had just been named America's "Most Livable City."
Rand McNally's accolade was nothing if not an eyebrow-raiser, and across the country, the jokes reverberated, including on the "Tonight Show," where Johnny Carson likened Pittsburgh to "Newark without the cultural advantages."
At the time, Pittsburgh was essentially flat on its back. My first front page story was one of the last bitter steel strikes, and radical labor groups were making news by throwing skunk oil on Shadyside Presbyterian Church members during a Christmas dinner. Young people had been leaving their hometown in the tens of thousands, moving to cities not in the grip of Pittsburgh's own version of a Great Depression.
Something else, however, was happening too. City fathers were finally heeding the advice of a leading local businessman who had issued a warning almost a decade earlier.
"We have a history of the private sector taking the lead on major regional issues in a way that I don't think is normal around the country."
— David Malone, President & CEO, Gateway Financial
" In the late 1970s , there was one l eading voi ce—He n r y Hi llma n—s aying 'You absolutely have to diversify," recalled Tim Parks, now senior director of business development at the law firm Morgan, Lewis & Bockius. "Henr y said, 'We may be doing fine now, because it's a nice part of the cycle, but it's al l going to end.' He was prescient. Wha t hap pened wa s t hat the 198 1- 83 recession was the straw t hat br oke the camel's back. And that was the beginning of trying to think about how the fabric of Pittsburgh's economy could be changed."
In 1983, Parks became the first director of what was then called The Pittsburgh High Technology Council. The Council wa s to signal the beginning of a new Pittsburgh, and it was met with skepticism.
"To the 'established' corporate community, th e idea that somehow Pittsbur gh could be a high-tech center—that notion was just a pipe dream," said Parks. "The drivers weren't h ig h-te ch entrep reneurs, because we didn't have many. It wa s those smaller but technically oriented industrial companies. They could see the possibilities. We had the raw materials in our knowledge centers, not just the universities but also the long tradition of industrial research centers. But we had to figure out how to marry that with genuine entrepreneurial drive, management and money.
"So we started marching along. In some respects, our message wa s so out there and dreamlike, but people went along with it. They would applaud us, but they didn't think it would amount to much."
In the early '90s after nearly a decade of straining for a ne w future that remained nascent at best, people often asked Parks when Pittsburgh would reach critical mass.
"When would we get to the point where growth of the tech community would be self-perpetuating—rather than being manufactured or contrived? I said, 'We' ll g et there, and you'll know it when we get there.' Now I think there's a feeling that we've gotten there. There's more work to be done— but there's a sense of arrival."
In 1995, the late Post-Gazette editor John Craig and I started a regional indicators project at the newspaper called PG Benchmarks, comparing Pittsburgh with 14 other re gions in dozens of mea sure s designed to create an accurate mirror for citizens and decision makers.
The idea was to let Pittsburghers know where the region stood and hopefull y, over time, to chart its progress. Back then, however, every time I wrote stories about how Pittsburgh was doing, I felt a twinge of guilt for continually depressing reade rs. We were last in nearly every eco n omic measure. We did have a good arts scene, thanks to the foundations, and low crime. And we had exceptionally low traffic congestion— because not much was happening.
In 2005, John restarted the project , now known as Pittsburgh Today. And slowl y and nearly imperceptibly, we crept up in the rankings. In May 2010, in what we didn't know would be his final written column, John made what seemed like a bold prediction in this ma gazine: "I am sticking my neck way out, but I bet that when we look back 10 years from now, the last two years will be seen as the tipping point for the Pittsburgh region, a time when we finally got four decades of negative history behind us."
He was right. As the Great Recession continued to batter formerly high-flying regions across the country, they looked worse and worse. And "boring" Pittsburgh, like the Picture of Dorian Gray, appeared better and better by comparison. Thanks to the "eds and meds," the Marcellus Shale and a strong financial sector, Pittsburgh was an oasis of stability with job growth, lower unemployment and a quality of life and cost of living that made people take notice. Young people began moving here, and a buzz began that's still growing.
Many point to September 2009 and the G20 Summit in Pittsburgh as the point of inflection, when the region reappeared on the world stage.
"It put Pittsburgh on the map," said Morgan O'Brien, president and CEO of Peoples Natural Gas and past chairman of the Allegheny Conference on Community Development. "It said to the world, 'Pittsburgh is a special place that has all these hidden gems.' People and businesses began to think about Pittsburgh, which they hadn't done since the heyday of steel. It put a spotlight on the research and technology being developed here, and we started seeing real tech businesses—Google, Uber and GE making major investments here."
"The G20 was so changing for us as a community—and people here finally began to believe it, too. It used to be that people who came to this region on a regular basis had a higher opinion of Pittsburgh than the people who lived here. That's no longer true. It's just so visible now. You'd have to be blind not to see it and deaf not to hear it.
"For me, it's almost like an episode of the 'Twilight Zone.' As a kid, my dad drove me down through South Side, seeing all of the cars and people working at the mills, with flames and smoke coming out. That was Pittsburgh. Now my kids live in apartments in those same places, with other young educated people with good jobs. And there were neighborhoods where your parents said you didn't want to go—East Liberty and Lawrenceville. And now when someone asks me where to go for a good restaurant, I tell them, 'Go to East Liberty—go to Lawrenceville.'"
Gateway Financial President and CEO David Malone described a recent dinner he attended with a contingent from Australia.
"They're losing a bunch of businesses, and one of the governors asked, 'How'd you guys do it?' While there was no master plan, the overall cause is probably the willingness of the business community to come together, set their own interests aside, and put their time, energy and resources into trying to move the community forward. That's pretty unique to this area."
Malone put his finger on one of Pittsburgh's most salient characteristics, its intact social fabric. People here have generally lived here a long time, and they identify with Pittsburgh. Pittsburgh matters to them. When a new CEO moves to town, other leaders put their arm around him and say, 'This is the way we do things here.' And the exec who doesn't pitch in is an anomaly who generally doesn't stay long.
Malone recalled working with the late Bill Dietrich on the Bass Masters fishing tournament. "Bill said, 'Well Dave, we have a great opportunity here, but we need $10 million, and you've got to find $5 million from your friend the governor.' People would never realize the impact that damn fishing contest had. But it was a beautiful day, and it played on ESPN for years, showing a clean city with all these rivers to fish.
"Go back to the convention center— the Heinz family put up money to attract architects with international reputations. And then once the building was drawn, it had to be funded. I couldn't count the number of meetings business leaders had with Gov. [Tom] Ridge to put the financing package together. Look back at Richard King Mellon and the smoke and flood control of the first Renaissance. Look at what the Heinz family did turning a red light district into the Cultural District. Look at the stadiums. We have a history of the private sector taking the lead on major regional issues in a way that I don't think is normal around the country.
"Some of it is serendipitous. Jim Rohr has his fingerprints on almost everything. To have his bank [PNC] become the fifth largest in the country, and he turns around and builds two buildings. The impact of those buildings on downtown is just remarkable. Without them, you wouldn't have Market Square. Without Market Square you wouldn't have all that life. Without all that life, you wouldn't have people moving downtown."
Barbour also mentioned Rohr and PNC, along with former University of Pittsburgh Chancellor Mark Nordenberg and former Carnegie Mellon President Jared Cohon as leaders "who believed in Pittsburgh and made significant efforts to improve the city. Certainly the lead that Pitt and CMU have taken in terms of generating research dollars has been a material element," Barbour said. "But it's also UPMC's and Highmark's role, and even Point Park—their Playhouse downtown is almost a crowning jewel. Now Nordenberg, Cohon and Rohr have been succeeded by Patrick Gallagher, Subra Suresh and Bill Demchak—so there has been a generational transfer that's going to keep the city moving forward."
As Malone noted, there remains work to do. "There's a big part of our community that's not participating in the growth—and that has to be resolved promptly. We have pockets, largely African American, where the dropout rate is beyond comprehension. If you don't graduate high school, all the other bad things happen."
African Americans hold only 7 percent of the jobs in the Pittsburgh MSA, the smallest share among 15 benchmark regions examined in a 2015 report by the Pittsburgh Workforce Diversity Indicators Initiative. A comprehensive quality of life survey published by Pittsburgh Today and Pitt shows unemployment among African Americans is more than twice that of other races and that African American families are far more likely to struggle to pay for utilities, food and other basic necessities.
"But Pittsburgh is tiny—we're talking about a few thousand people to start making the ball go the other way," Malone said. "We're small, and we work together. And we can fix it."
Dollar Bank has an unusual vantage point. It's Pittsburgh's oldest bank, but it's also a mutual company, which means it doesn't answer to stockholders and it doesn't bow to quarterly earnings pressure. In 2004, Dollar saw the lax lending standards that ultimately gave rise to the financial crisis in 2008, and Dollar decided not to participate. As a result, it didn't have the problems its peers did and was able to take a larger lending role during and after the financial crisis—and help keep the ball rolling in Pittsburgh.
Dollar's CEO and Chairman Robert Oeler grew up in Duquesne, the son of a steelworker, and he put himself through Pitt working in the mills. He's spent his whole life in Pittsburgh. Oeler remembers the lows well and now sees the dramatic changes.
On a beautiful spring day recently, he was walking through Market Square, and, like the rest of us, he was amazed by the activity and vitality.
"Even in the darkest days, I always thought Pittsburgh was a great area," Oeler said. "And what makes the area is the people. And that hasn't changed. Change is gradual here. It's been a slow process, taking almost 35 years. Can we continue on the path that we've seen especially in the last 10 years? Yes, I do think we can."