Dantry, Dunn, Wertz, Gentile, Jannetta, Lee, Campbell
Noting the Passing of Prominent Pittsburghers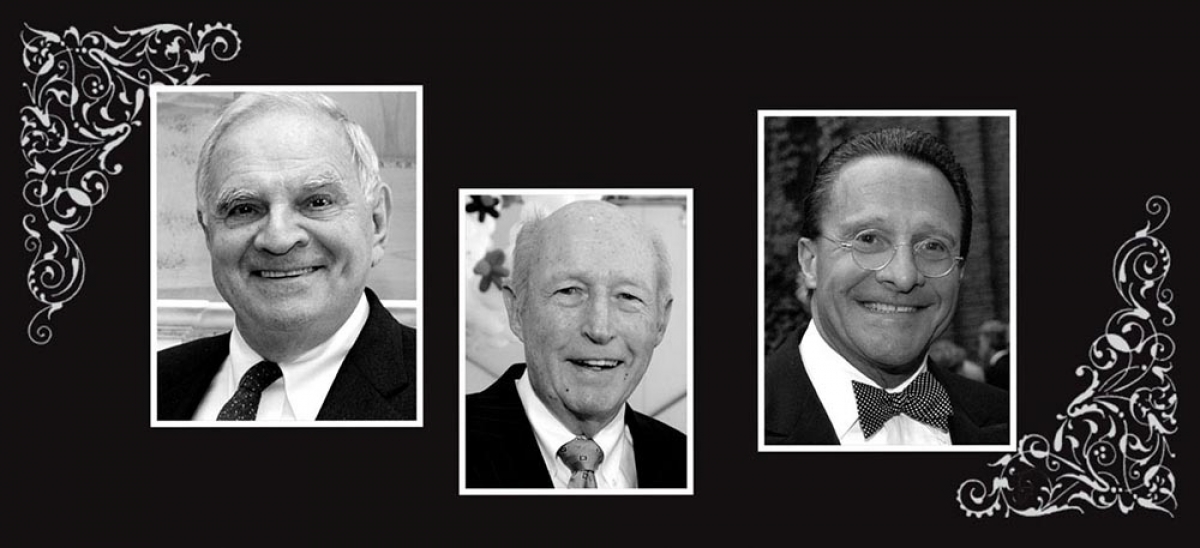 May 20, 2016
Jay Dantry, 87
Dantry was a leading light of Pittsburgh's literary scene through his bookstore, Jay's Bookstall, which he opened in 1959 and ran until it closed in 2008. The eclectic store on Fifth Avenue in Oakland attracted giants from the literary world for readings and signings including Margaret Atwood, E.L Doctorow, Stephen King, John Updike and Kurt Vonnegut. A former employee was Pulitzer Prize-winning writer Michael Chabon. The small space had books from floor to ceiling, and the well-read proprietor recommended books to customers of all walks of life.

James "Jimmy" Dunn, 80
Dunn was a lawyer and former Allegheny County District Attorney who had friends all over Pittsburgh. Dunn's law practice mainly comprised estate, trust and real estate. A local Central Catholic High School graduate, he was known around the city for his trademark colorful clothes and his gregarious nature.
Ron Wertz, 78
Wertz was the former executive director of the Hillman Foundation. Known as a kind and gentle man with high expectations and standards, Wertz was hired by Henry Hillman to oversee the Hillman family's philanthropic efforts. In that role, he played a key part in the development and advancement of numerous regional nonprofits including the Children's Museum, the Hillman Cancer Center and Hillman Hall of Minerals and Gems at the Carnegie Museum of Natural History, among many others.
Gary Gentile, 69
Gentile was one of, if not the, best family lawyers in Pittsburgh. A partner at Gentile, Horoho & Avalli, he took on some of the region's highest profile divorce cases, and was routinely recognized as being one of the best lawyers in
Allegheny County, Pennsylvania, and the nation. A past chair of the 12-member Pennsylvania State Court Disciplinary Board, he began his career as assistant public defender for Allegheny County and went on to serve as the director of the Juvenile Division and later as chief counsel for the Homicide Division. A nationally recognized squash doubles player, Gentile was a man of good will and generosity who entertained his wide circle of friends and acquaintances with an irrepressible sense of humor.
Dr. Peter Jannetta, 84
Dr. Jannetta was considered to be one of the greatest neurosurgeons of his time for pioneering advances that shaped the field. During his neurosurgical residency in 1966, he moved a blood vessel that was pressing on the trigeminal nerve—a revolutionary treatment that stopped spasms and facial pain and was then expanded to treat numerous other conditions. That microvascular decompression procedure guided the field of brain neurosurgery for decades. He became chairman of Pitt's neurosurgery in 1971 and joined Allegheny General Hospital in 2000. He was the recipient of numerous awards, and he recently donated major pieces of modern art to the Westmoreland Museum.
James Lee, 94
Lee rose from working at a Texas Gulf Oil refinery to become CEO of the company. His tenure running the company was marked by pressure from corporate raider T. Boone Pickens. Lee, who valued decency and integrity, fought Pickens. Ultimately, however, the actions led to the controversial merger of one of Pittsburgh's most historic companies—the Mellon-founded Gulf—with Standard Oil of California, which became Chevron. The largest corporate merger in American history at the time dealt a devastating blow to Pittsburgh with the loss of some 1,500 jobs and a major corporate headquarters. Lee was a community-minded leader who served on the boards of the Pittsburgh Symphony, West Penn Hospital, Pittsburgh National Bank, Carnegie Mellon University and Joy Manufacturing Co.
William Campbell, 75
A Homestead native and son of a nightshift millworker who taught school during the day and later became school superintendent, Campbell rose to become head football coach at Columbia University, where he had been captain of the team, and later a successful Silicon Valley business leader who advised top executives in the tech industry. Known as "Coach" because of his football days and his legendary business acumen, he was a close confidante of Steve Jobs at Apple and others at Amazon, Google and Intuit where he was chairman of the board until January. He kept his ties to the Mon Valley, donating millions to schools, sports programs and community projects there.