COVID Hammers Consumer Confidence in Pittsburgh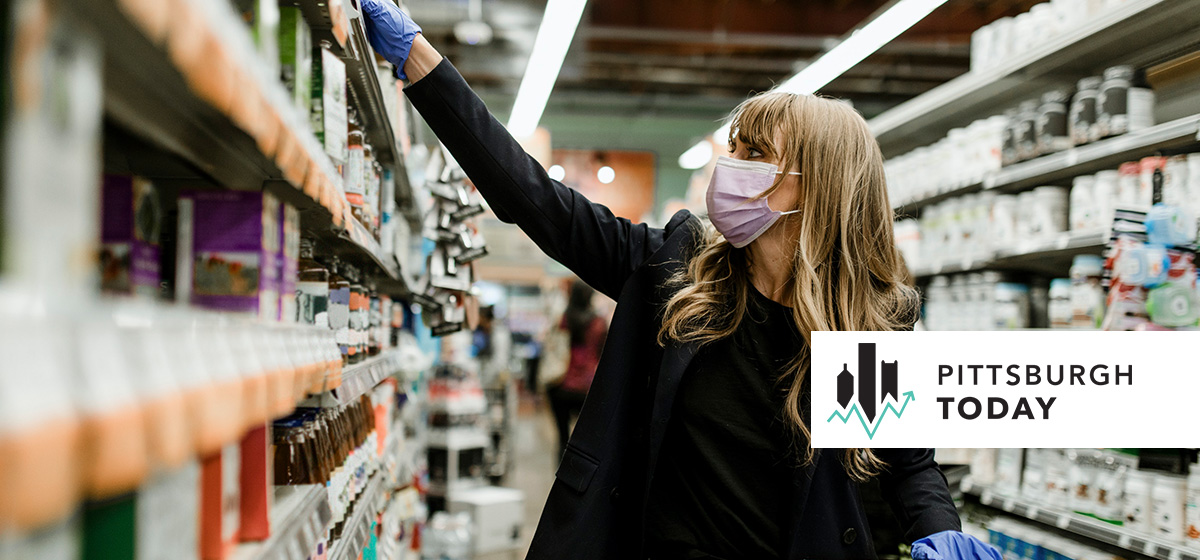 October 9, 2020
The COVID-19 pandemic has beaten down southwestern Pennsylvania's confidence in the local and national economies, employment and personal finances. Even with sentiment rising in the past two months, the outlook of most consumers remains bleak.

Confidence has swung wildly since March as consumers for the first time learned what life is like during a global pandemic, according to surveys by the Allegheny Conference on Community Development and Schmidt Market Research that cover 10 southwestern Pennsylvania counties.
Seven months into the pandemic, they've experienced abrupt changes at work and home, the closing of churches, businesses and public places, widespread layoffs, the optimism of relaxed social restrictions, the reopening of more businesses, the disappointment of a resurgence of COVID infections and the realization that the end to the turmoil is not yet in sight.
It's been a rollercoaster ride that could gnaw on consumer sentiment for months to come.
"I think there will be less optimism," said Vera Krekanova, chief strategy and research officer at the Allegheny Conference. "One day the news is positive, the next day it's negative. We haven't seen spikes in confidence with announcements like schools reopening, or that we may be closer to a vaccine. People start feeling this is going to take a long time. They're less willing to believe things will get better soon. It's been seven months. Everybody is tired of it, and people will be less optimistic just because of that."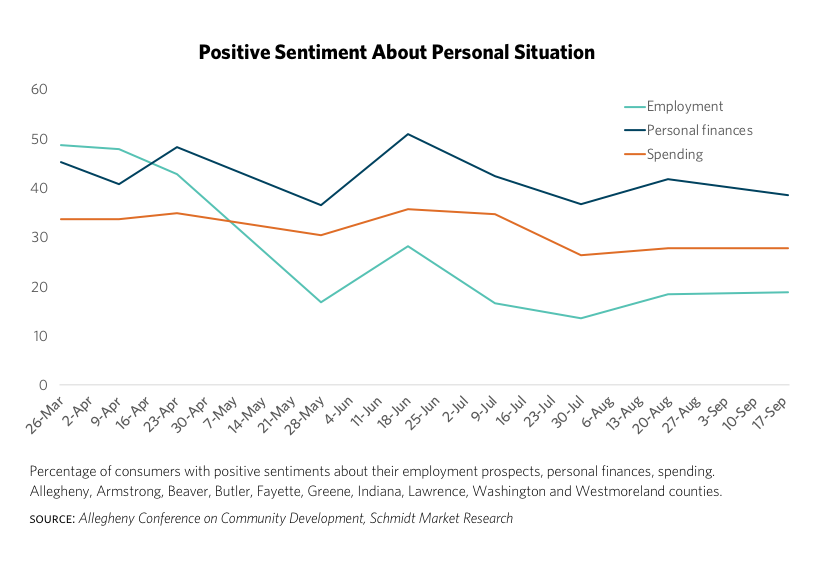 An upswing, for now
Every measure of consumer confidence was higher in mid-September than it was in mid-July, the surveys show. Some of the largest gains have been among consumers with positive feelings about the regional and national economies and business conditions.
Still, consumer confidence remains weak overall.
Only 19 percent of consumers feel good about their employment prospects. Less than 14 percent feel good about business conditions. Only 16 percent have positive feelings about the regional economy and only 23 percent feel the same about the national economy.
Even when confidence was at its highest during the pandemic, fewer than half of consumers felt good about the regional economy and barely half had positive feelings about their own financial situation.
Employment concerns began to mount in May. Since then, people have felt much better about their personal finances than their employment prospects. More than 4 in 5 consumers are worried about employment. "There's a lot of fear among people, even those who have jobs," Krekanova said.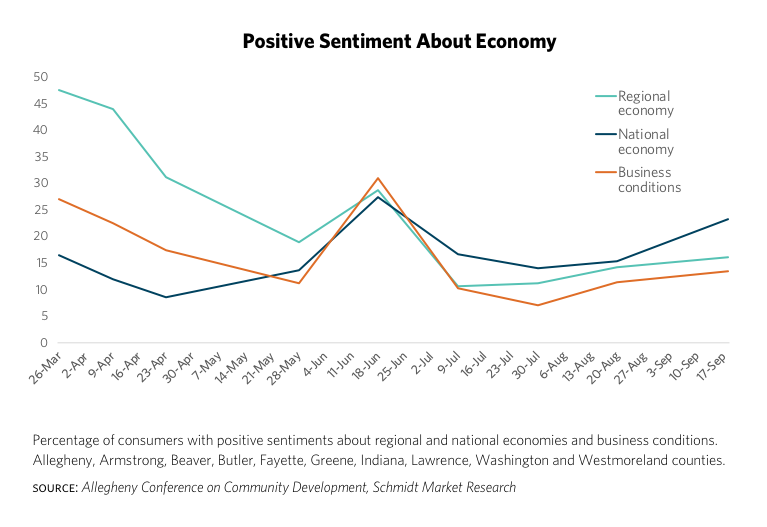 Erratic trend
Consumer confidence has traveled a hard road of peaks and valleys, buffeted by stay-at-home orders, business closures, spikes in infections and rising deaths, economic reopening and news of vaccines in development that could bring the international nightmare to an end.
Confidence in the regional economy was slow to turn sour early in the pandemic. At the end of March, nearly 48 percent of consumers felt good about local economic conditions, while only 16.5 percent felt the same way about national conditions. State and federal pandemic relief funds to help businesses and the unemployed cushioned the initial blow.
But confidence fell sharply near the end of April and into May, when more businesses were closed, more jobs were lost and social distancing became a term familiar to all. It rebounded briefly in June, when the region reopened into the "green" outbreak control stage and summer arrived, then sank to its lowest levels when infections spiked, before starting to recover.
Many questions surround the prospects of a continued recovery in consumer confidence. Is another surge of sickness coming when COVID collides with the flu season? Will another federal stimulus package be passed to help sustain struggling businesses and families? Will consumers spend on more than essentials?
Consumer spending sentiment is weak overall. But it's held steady compared to feelings about employment and personal finances. Nearly 35 percent of consumers felt good about spending in September, which was about the same number who felt that way in March. Their spending plans lean toward buying durable goods, such as a car, in the next six months. "There aren't many services to spend on," Krekanova said. "Even if you have money to spend on going to events, restaurants, arts and cultural, they're not fully functioning."
Most consumers are willing to spend money on getting out of town and taking a break from it all. The spending plans of 65 percent of local consumers include taking a road trip.