COVID-19 Survey: Allegheny County Residents React to the Pandemic and Shutdown
Illustration via rawpixel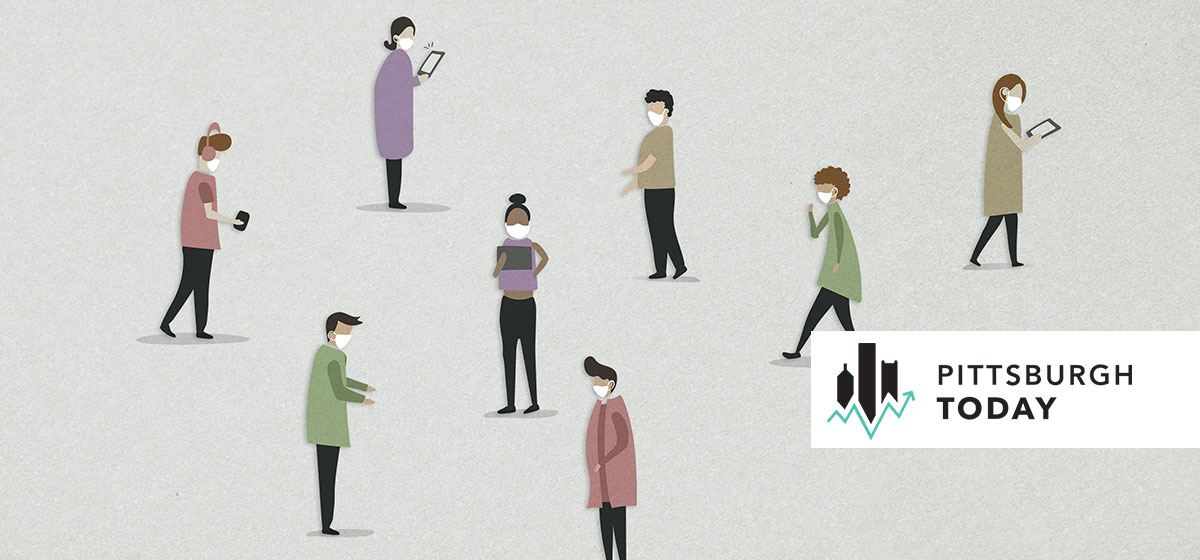 June 8, 2020
Stay-at-home orders, business closures and other social distancing measures taken to slow the spread of the coronavirus in Pennsylvania were appropriate and necessary in the eyes of 70 percent of Allegheny County residents surveyed last week.

More than two-thirds reported they've suffered no or only minor financial losses as a result of the COVID-19 pandemic. And even as restrictions are lifted, more than a third of those surveyed said they will continue the social distancing habits they practiced during the initial lockdown.
The online survey was conducted June 2–4 by Pittsburgh Today and the University Center for Social and Urban Research (UCSUR) at the University of Pittsburgh. It was offered to county residents who participate in the UCSUR Research Registry and 1,385 completed it. The survey data was not adjusted to make the sample representative of the demographic characteristics of the county.
Their responses to the 10-question survey offer a glimpse of local experiences during the pandemic and public perspectives on issues ranging from the seriousness of the virus to how government officials have handled the crisis.
The threat is real
Those surveyed left little doubt how serious they feel the coronavirus pandemic is. More than 76 percent described it as a "very serious" public health problem, while another 19 percent said it was a "somewhat" serious problem. Less than 1 percent believe it's not a problem at all.
The older the residents, the more likely they were to see the virus as very serious. And African Americans who took the survey were more likely to describe COVID-19 as a very serious problem than whites by a 92-percent-to-75-percent margin.
Nearly 52 percent of residents surveyed are extremely or very concerned about getting the virus and suffering serious health outcomes. People over the age of 75 are the most concerned. Nearly 59 percent of residents earning less than $25,000 a year are extremely or very concerned about getting the virus, while 41 percent of those earning $150,000 or more felt the same way.
A consistently low rate of new coronavirus led to a second loosening of social and business restrictions last week, allowing many previously shuttered businesses, such as restaurants, to reopen with limitations.
But 34 percent of those surveyed don't plan on changing the social distancing habits they adopted in March, when stay-at-home orders were imposed. About 53 percent said they'll still avoid crowds and keep their distance from others, but will otherwise go about their lives as usual. Another 9 percent aren't worried about getting the virus and plan to resume normal lives.
Financial impact
Few said they've experienced serious financial hardship, so far. Less than 9 percent of those surveyed said the pandemic has resulted in "devastating" or "significant" personal financial losses, while 19 percent describe their losses as moderate.
On the other hand, nearly 46 percent said they haven't suffered financial harm and another 22 percent described their losses as minor. For 4.5 percent of those surveyed, the pandemic has resulted in personal financial gain.
Others haven't been as lucky. Nearly 23 percent of residents surveyed report they've either lost their job or had their work hours reduced. Nearly 53 percent said their investments have suffered, numbers driven by those with incomes of $75,000 or more. Some 8 percent said their businesses were harmed. And 12 percent have incurred greater costs, such the expense of caring for others.
African Americans surveyed were twice as likely to report having lost their job than whites and three times more likely to have incurred greater costs due to the pandemic. And 41 percent of people in the lowest income bracket—under $25,000 a year—experienced greater expenses.
Remote and liking it
The pandemic kindled the largest ever shift to working remotely as offices emptied out in March under strict social distancing orders. It appears to have caught on.
Nearly 36 percent of those surveyed want to continue working remotely. Another 40 percent would like the option to work remotely, at least part of the week, after the pandemic ends. Only 24 percent of those surveyed didn't like working from home.
When will it end?
Most of those surveyed don't expect to return to the office soon. Nearly 62 percent think it will be another six months to a year before life returns to the way it was before the pandemic. And 22 percent believe the changes to their lives brought on by the outbreak are the new normal.
Less than 6 percent are optimistic that a return to pre-COVID days is only a couple of months away.
African Americans surveyed tended to be the least optimistic. Nearly 47 percent believe life will never return to the way it was for them before the pandemic.
Pandemic policy
The abrupt social distancing restrictions upended life in the county, state and nation, and as the weeks dragged on, sparked controversy and debate over their necessity and scope, sometimes heated. But not so much among the Allegheny County residents surveyed.
Seven in 10 felt the restrictions ordered by the state, including orders to stay at home and the closing of non-essential businesses, were necessary and appropriate. Another 10 percent believe the measures were necessary at first, but were allowed to stay in place too long.
Less than 6 percent of those surveyed described the restrictions as excessive and extreme and believe they'll prove to be more harmful than the health outcomes of the virus itself. It's a point of view that people who don't have a college degree are twice as likely to have compared to college graduates—and one twice as many men than women hold.
Reset button
As disruptive as the pandemic has been to everyday life, most Allegheny County residents report the changes haven't been all bad.
More than one-third of those surveyed said the pandemic slowed down their lives and allowed them to focus more on their health. Four in 10 report spending more time with their family. And almost half said the coronavirus has helped them clarify what is important in life.