Consumer Worries Mount as Pandemic Toll Worsens
Illustration via rawpixel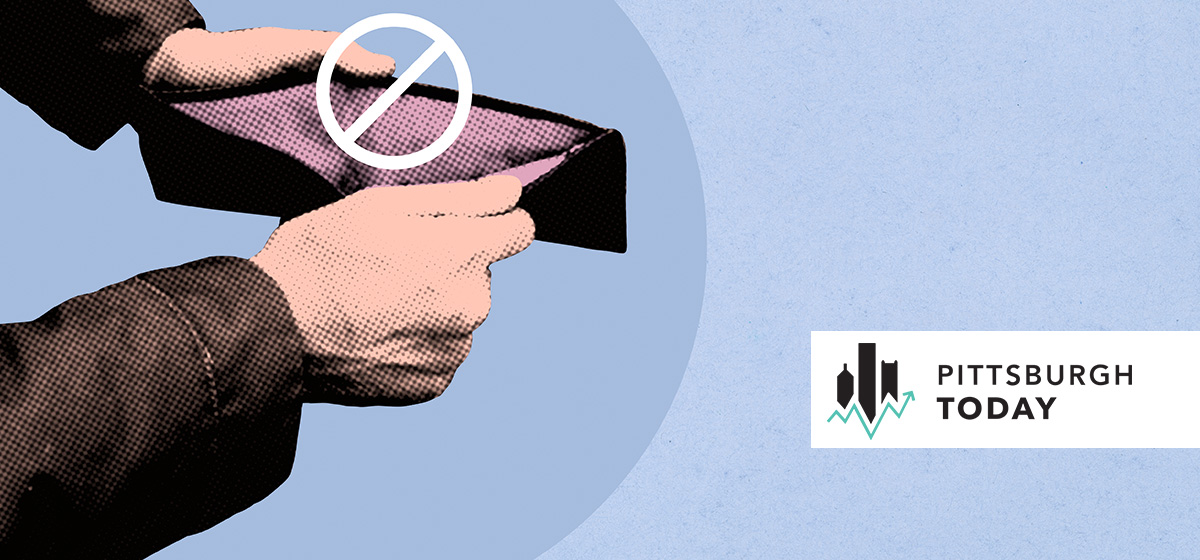 December 21, 2020
Southwestern Pennsylvania businesses face the prospect of a rough holiday season with a large share of shoppers expecting to spend less than they did last year as the relentless COVID-19 pandemic continues to wear down consumer confidence.

Confidence in the economy, personal finances and prospects for employment fell in November to some of the lowest levels since the pandemic arrived in the region in March, according to a survey covering 10 southwestern Pennsylvania counties done by the Allegheny Conference on Community Development and Schmidt Market Research.
Consumer confidence has waxed and waned throughout the pandemic, usually coinciding with changes in the spread of coronavirus cases in southwestern Pennsylvania and steps taken to slow the outbreak.
November was no exception. As a resurgence of the virus pushed caseloads to new heights, confidence among consumers tumbled to levels not seen since July, when their optimism was at its lowest. Even news that a COVID vaccine by drug makers Pfizer and BioNTech excelled in clinical trials failed to brighten consumer sentiment.
Only 14 percent of those in the region expressed confidence in the region's economy in the survey that ended Nov. 20, which was lower than a month earlier. Confidence in the national economy fell. Only 8 percent of consumers were confident about business conditions, down from 18 percent in October.
Consumers also expressed growing concern about their personal situations. In November, they were significantly less confident about their employment, personal finances and spending plans than they were a month earlier.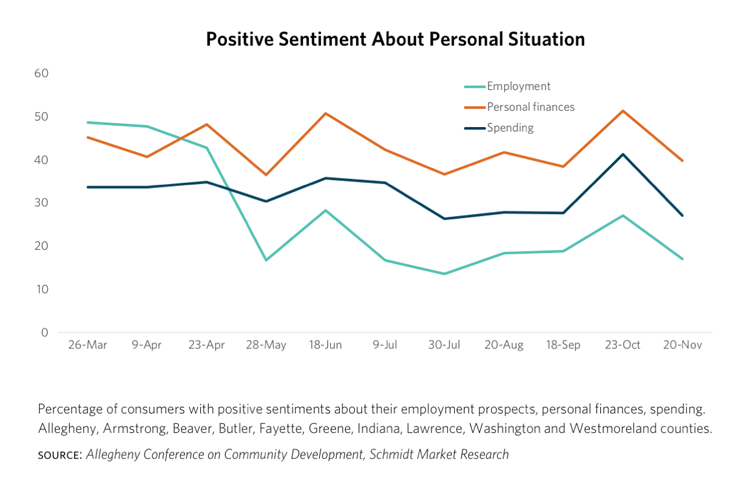 Only 17 percent of consumers felt good about their employment prospects—a sharp drop from October that ended a three-month streak of gradually growing optimism. And their outlook for the next six months darkened. Less than 40 percent felt good about their personal finances as they looked forward, down from 52 percent who expressed such optimism in October.
Such loss of confidence is reflected in plunging consumer spending sentiments in November, an ominous sign for retailers heading into the prime holiday shopping season.
Positive sentiments among consumers about their spending plans hit a pandemic high in October, when more than 41 percent felt good about them. By the last week of November, only 27 percent still had confidence in those plans. And their outlook for spending in the coming six months took a similarly steep dive.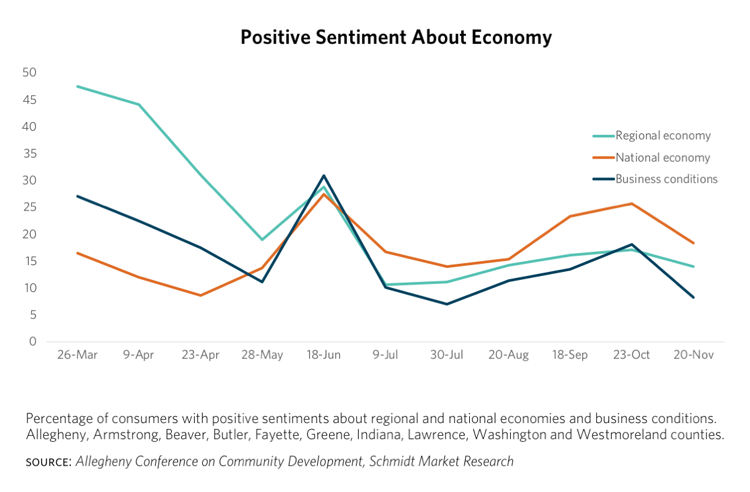 One consequence is they've likely been less willing to open their wallets during the year-end holidays, the survey suggests. While 57 percent of the region's consumers expected their holiday spending to be the same as last year, 41 percent planned to spend less and only 2 percent said they'd spend more.