Chagrin Falls
A charming respite east of Cleveland
Kenneth Sponsor for Shutterstock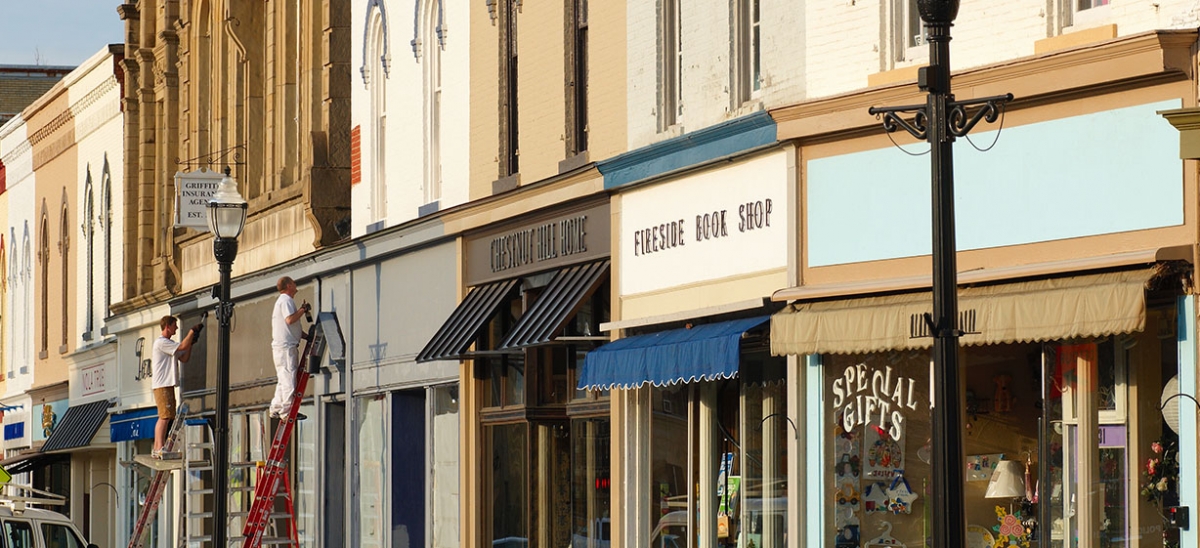 August 21, 2014
Sometimes it's nice to escape to a place with a slower, more relaxed pace—a quaint community that isn't teeming with chain stores and traffic, where kids ride their bikes into town to have a cone and hang out with friends. There is a town, just this side of Cleveland, that fits the bill—Chagrin Falls, Ohio.

Settled by the Chagrin River and incorporated in 1844, the two-square-mile village has abundant green areas perfect for hiking, biking and picnicking, and, of course, there are the actual falls. This natural 150-foot waterfall provided power for saw, grain, paper and woolen mills that enabled the city to thrive and grow.
Today, Chagrin Falls (population 4,000) has immaculate brick and clapboard homes in neutral shades of white, taupe and grey, with black shutters and tidy yards displaying seasonal flowers and waving flags. It has a nationally acclaimed school district (whose senior athletes are each recognized with a poster in the window of a local store), and the police department's classic 1957 Chevrolet leads parades. People stroll in yoga attire or smart outfits; everyone says "hi" and seems to be in a good mood. Visitors might have the impression that residents are genetically blessed with straight teeth, good skin, perfect bodies and great looks—in short, inhabitants of cinema's Stepford or Pleasantville. But even though it evokes a blend of Norman Rockwell and a Hallmark movie, Chagrin Falls is historic, contemporary, friendly, artsy, charming, funky and fun.
Fall features the Chagrin Documentary Film Fest and the Sunday farmer's market (June-October). In winter, the area twinkles with lights, abundant decorations and lake-effect snow, providing the perfect atmosphere for a carriage tour or holiday tree lighting. Spring brings the House and Garden Tour, the Blossom Festival and a plethora of flags and bunting. And summer has everything from art shows to "Yoga by the Falls." Events from polo to show jumping have made Chagrin Falls a popular stop on the equine circuit. Musical, theatrical and artistic opportunities abound. (The Chagrin Valley Little Theatre is one of America's oldest community theaters.)
Among its famous natives are comedian Tim Conway, Bill Watterson (creator of "Calvin and Hobbes"), Stone Temple Pilots lead singer Scott Weiland and Olympic gold medal swimmer Diana Munz. When it comes to dining, there are no golden arches or 31 flavors here. Options range from a hearty breakfast at Yours Truly to a tasty lunch at West End Bistro (don't miss the bittersweet chocolate mousse) to more substantial fare at Gamekeeper's Taverne, and just about every restaurant has outdoor dining. The Chagrin Falls Popcorn Shop, housed in an 1875 storefront, has been serving delicious popcorn, local ice cream and candy since the 1940s. (George W. Bush stopped on a 2004 campaign visit.) The 1960s-themed Dave's Cosmic Subs franchise was founded in Chagrin Falls, and the original shop still serves groovy subs on freshly made bread. Be sure to stop by for a delicious dessert at Main Street Cupcakes.
Chagrin Falls is a shopper's delight, with all sorts of boutiques offering unique clothing—notable among them are Sanity, Toni in Style, Peter's Store for Men and Find Me—as well as gifts, antiques and decorative accessories. Many Pittsburghers are familiar with the upscale men and women's store, Cuffs, which, in the 1980s, started carrying Hermès ties, scarves and accessories. In 1993, Cuffs became Hermès' first privately owned boutique, carrying ready-to-wear designer clothing, custom-made suits and bench-made shoes, hard-to-find candles, perfumes and gifts, fine wine and art.
The locally owned Olive Scene features 45-50 extra virgin olive oils and aged balsamic vinegars, many infused with delicious natural flavors. Blood orange or Persian lime olive oil and dark chocolate or lemongrass mint balsamic vinegar are just a few examples of their selections, all of which are available to taste and pair. Chagrin Hardware & Supply, family-owned since 1857, is an old-fashioned, wood-floored establishment that is the antithesis of a big box store in quantity and variety of items sold. The Village Herb Shop emphasizes live and dried herbs, aromatherapy, botanicals, natural products, fragrances, teas and more in an 1880s Victorian building. Fireside Book Shop, Elementarie baby boutique, The Little Monogram Shop and White Magnolia home furnishings are just a few of the outstanding specialty shops.
If you can't fit it all into one day, book one of the 15 beautiful rooms at the Inn of Chagrin Falls. Built in 1927 by Clarence Crane (inventor of Life Savers candy and father of poet Hart Crane), the inn is casually elegant and offers excellent service. With some rooms featuring fireplaces and jetted tubs, it's no wonder they have a huge return business.
In any season, Chagrin Falls is worth the drive.
For more information, visit: yourhometownchagrinfalls.com.