Cafe Raymond
A special place in The Strip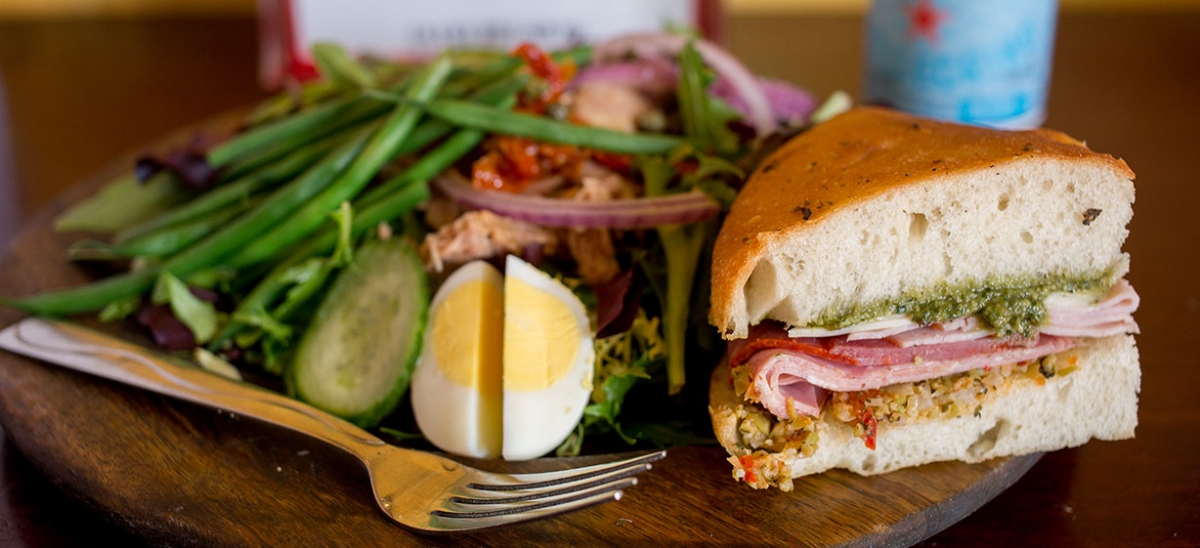 February 21, 2014
Some neighborhood joints acquire an aura, off the beaten path or tucked away on some dicey back street, lending "insider" status to those who can get you there for a special lunch or evening out. A little bit like playing hard to get, this geographical inconvenience makes any great joint that much more enticing.
Cafe Raymond, in the heart of Pittsburgh's Strip District, does not suffer locationally, but it is open a mere three and a half hours around lunchtime on weekdays, with a couple extra breakfast hours on Saturday and Sunday. And, for Cafe Raymond, it is this small window for patrons that adds to the allure.
Regular customers generally start their days by deciding to eat at Cafe Raymond, and then plan their schedules around that. Many are from the Strip and other city neighborhoods during the week, but they travel from afar on weekends, meeting friends, gathering in regular groups.
Ray Mikesell started cooking for his family when he was 10, trained in local bakeries, and did a long stint at Breadworks on the North Side, where he grew up. Ray then took his experience to Baltimore, where he ran the Stone Mill Bakery for 11 years before he and his wife, Marie, decided they needed to raise their three kids in the 'burgh.
Ray's simple rule at his 10-table cafe is to "use the freshest ingredients to get the best product." With the soul of a baker, he makes his own breads, rolls and pastries. The dressings and his soups, stews and gumbos are made from scratch.
Ray makes the classic sandwiches: jambon and brie on buttered baguette, muffuletta on focaccia, pastrami with Swiss on rye, pan bagnat, and a BLT, for starters. There are five classic salads: Niçoise, chicken Caesar, tomato mozzarella, Mediterranean and chef's salad.
Thursday is the only day you can get a burger at Ray's, and he only makes 25–30, which means that the cognoscenti call that morning to reserve one. The foundation of Ray's burger is equal thirds of beef, bacon and pork, finely ground together, perfectly grilled, topped with "the sauce" and homemade butter pickles.
And every week, this basic burger gets a different special treatment, like the Santa Fe Burger with Hatch chili peppers or the "Blues" Burger with blue cheese, hickory-smoked bacon, lettuce, red onion, tomato, and blue cheese sauce.
Other specials are announced on Ray's website and Facebook, updated frequently by the chef himself, but they are also bandied about the neighborhood. When a group of serious Italians recently debated meatballs at nearby La Prima Espresso, each proclaimed their mama's to be the best, but all heartily agreed that Ray's are right up there.
On Saturday and Sunday mornings only, Ray makes ricotta pancakes, so good that some customers call to reserve these, too. Some weeks they are made with blackberries or raspberries or pumpkin spice, whatever suits Ray's fancy.
Ray is a burly guy with an easy smile, always in chef's shorts and apron, working the kitchen, offering customers small tastes of something that he might be preparing for a catered event for hundreds that night. Or he's crisscrossing Penn Avenue, loading crates of sandwiches into his van for an office party.
One day, shortly after closing time, a lady who had just missed the window of opportunity appeared at the front door and shook it so hard that the handle fell off before she turned away. She looked familiar, with the determined demeanor of someone who had eaten at Ray's before.
With those limited hours and the small batches of gems like Ray's hamburgers and his ricotta pancakes, it may seem like Ray is playing hard to get. Or it could be that Cafe Raymond is simply too hard to forget.
Cafe Raymond, 2103 Penn Ave., Pittsburgh. Tues.–Fri. 11 a.m–2:30 p.m.; Sat. 8:30 a.m.–3 p.m.; Sun. 9:30 a.m.–1 p.m. 412-281-4670. caferaymond.com