The Bulldog Pub
Rebirth in Morningside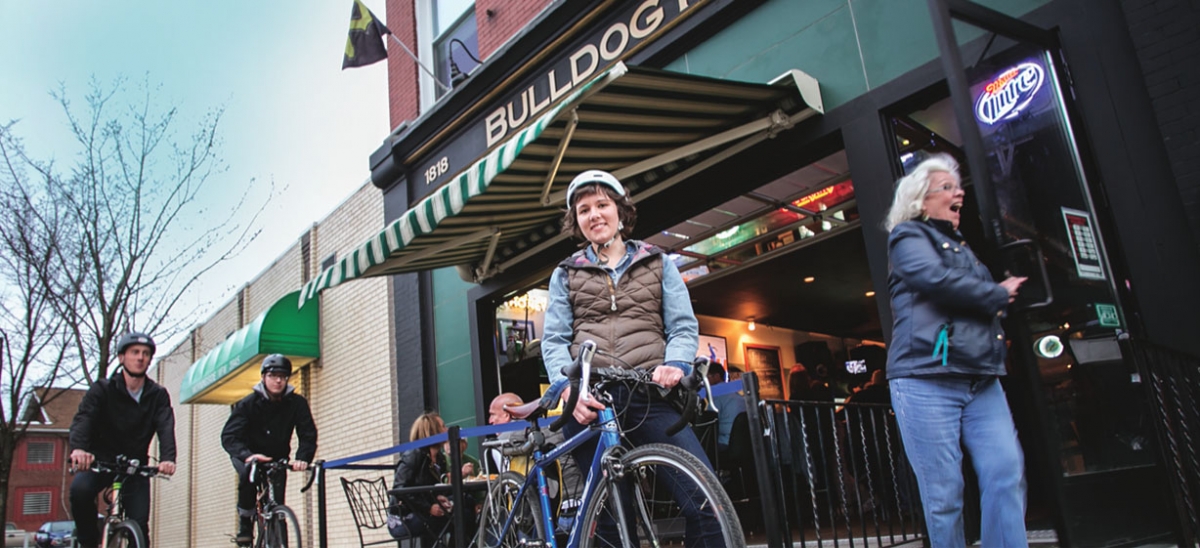 May 20, 2015
This place has roots. decades before it became the Bulldog Pub, the little neighborhood joint on Morningside Avenue was Petrilli's Tavern. Opened during Prohibition, it was a basement speakeasy while groceries were sold in the upstairs storefront. After the scourge, the grocery became a proper barroom.
The men of Morningside worked tough, physical jobs in those days—police officers, firefighters, mill hands—stopping after their shifts for a cold one and and a shot. In the 1960s, Terry Golden and his schoolmates would fetch their fathers from Petrilli's when supper was on the table, a daily ritual for working-class families.
The original Petrilli's had changed owners and names several times after it was sold in 1992, and by 2010, it had pretty much run its course, bound to disappear, or be rescued. So, when Golden learned that the old place was for sale, he made the deal.
After teaching physics and biology all day at CAPA High School, Golden worked nights for months, remodeling but saving the best of the past, a labor of love. The original bar is still there, along with the old hat hooks, just under the front lip.
A garage door now opens to a few sidewalk tables on warm days, and there are a couple of picnic tables in the side yard. And, for the first time ever, there is a proper kitchen, with a menu like the neighborhood, a mix of old and new, the future of Morning side.
Appetizers include favorites such as fresh-cut russet potato fries, onion rings and fried zucchini. But there is also a petite wheel of brie, baked in phylo, and served with clover honey and fresh fruit.
To build your own burger, you pick the patty—turkey, black bean or a half-pound of Angus beef. The chicken wings are big, with a choice of 10 sauces, some traditional, some exotic.
The star of the dinner salads is the blackened Ahi Tuna Caesar Salad. But there is also a classic Pittsburgh steak salad with fries, cheddar cheese and greens.
There are Reubens and Rachels, and a top-selling double-decker club. Captain Jack's Almost Famous Fish Sandwich, panko-breaded cod, will be famous soon. And there is a Zucchini Parmesan Sandwich, with provolone and marinara.
But according to Golden, the best thing on the menu, is the "Joe Natoli Melt," named after the renowned coach of the Morningside Bulldogs, the legendary youth football team that is the namesake of the bar. Like hundreds of neighborhood kids, Golden played for the Bulldogs, and it shaped his life, gave him a real chance.
"There was never any doubt what this place would be called once we reopened," Golden says.
The walls are covered with old photos of the coaches and players, team jerseys and a few bulldog statues. It is still the place to stop for a cold one, but now there are 54 craft beers and six drafts that rotate, except for the ever-present Harp and Guinness.
Golden is here almost every night, along with his chef and manager, another Morningside guy, Frank DePhillips. They will tell you that there is a sense of place here, the knowledge that friends and family still matter and the past still counts for something.
On a warm August night, the Bulldog Pub was packed with neighbors, stalwarts and hipsters, and whole families happy to celebrate the rebirth of their beloved neighborhood joint.
Nine-year-old John Keyho showed up with his parents, looking for a cold pop and some chips. Spotting the only empty barstool, he bolted for it, squeezing through the crowd, hopping up to place his order. Years ago, another John Keyho, a city beat cop and the grandfather the boy never knew, would stop at the old Petrilli's Tavern every night after his shift, before heading home a few blocks away. And that had been his stool, his usual place at the bar.
Things like that happen in a real neighborhood joint.
The Bulldog Pub, 1818 Morningside Ave., Pittsburgh, PA 15206, 412-404-2275, bulldog-pub.com.