Bringing Back Pittsburgh's Steps
Photo by Charles Rosenblum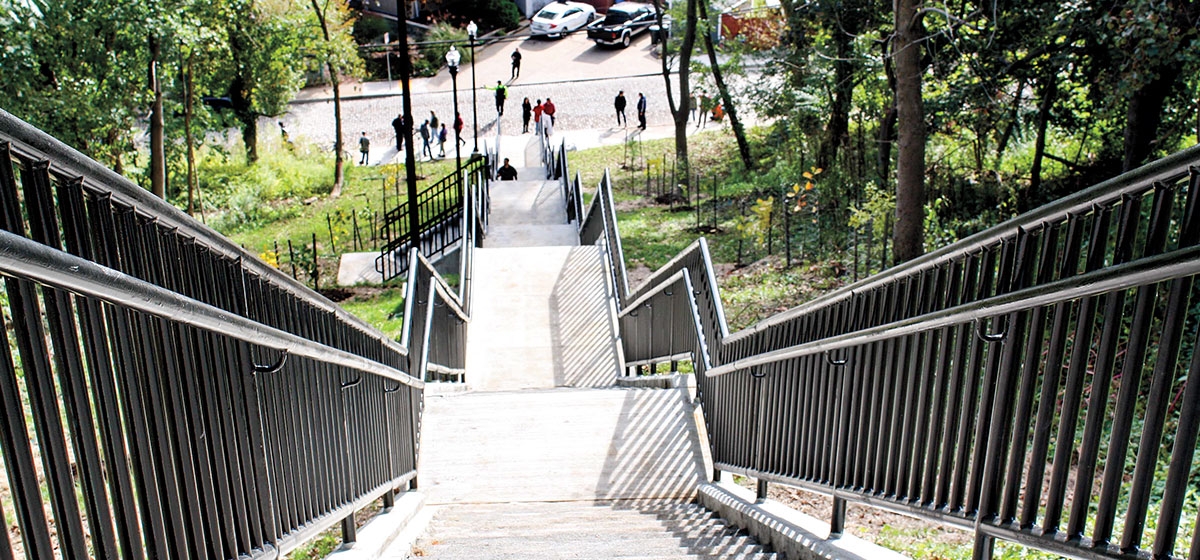 July 29, 2019
Along Schenley Drive in Oakland, the Frick Fine Arts building looks like a Renaissance villa, well suited to the grandeur of the adjacent Carnegie Museums and Library in the cultural part of Oakland. At the parking lot in back, though, you find the public steps down to Joncaire Street, a descent of 130-some treads into a neighborhood of narrow row houses on tightly angled streets.

While the Joncaire steps connect two contrasting vignettes of historic Pittsburgh, they have renewed 21st century credibility. Opened in April 2018 after a federally funded $770,000 renovation, they have a runnel—a foot-level groove for pushing bikes as recommended by Bike Pittsburgh. Newly planted trees are sponsored by the Oaklander Hotel to underscore their tourist appeal, with consultation from Tree Pittsburgh. And now this staircase and hundreds of others city-wide have been comprehensively mapped, photographed, and assessed in freely accessible web-based data. Pittsburgh's steps are ready for the future.
It wasn't always that way. When Bob Regan moved to town from Boston in the late '90s, he was immediately captivated by the steps of Pittsburgh, a neglected asset, he thought. Regan explored the city, searching for more of them. As a software mapping expert, he started mapping them and creating a database. "The steps can be seen as not only a result of the city's topography, but also its rich cultural history," he writes.
Pittsburgh's steps date back at least to the late 19th century—they can be identified in Sanborn fire insurance maps of 1884. But where the first stairs were privately owned, the city quickly got into the business to facilitate public access over difficult topography. Records show the city was building steps from 1911 (and probably earlier) into the 1950s when concrete construction was replacing existing structures more often than creating new ones. But our drastic decline in population after 1950 and increased emphasis on car travel meant that much of this singular infrastructural network fell into decline. In just the past few years, the budget for steps was $200,000 per year—nowhere near enough for maintenance, let alone repairs.
Regan initially documented around 712 flights (which he later increased to 739)—much more information than the City had at hand in the early 2000s. He published The Steps of Pittsburgh in 2004 to share his data and enthusiasm. His Pittsburgh Steps of 2015 is a revised and updated volume. Some step-intensive neighborhoods already resonated with Regan's enthusiasm. The South Side Slopes, whose 68 flights of stairs are more than double that of any other neighborhood, organized Step Trek in 2001 to bring visitors on a path covering around 2,500 steps. Fineview's Step Challenge has been a similar event since 1996.
Yet struggles continued. The city demolished most of the Monastery Street steps in 2013 to the dismay of the South Side Slopes Neighborhood Association, whose board president Brian Oswald was among many lamenting the loss. That neighborhood's Cologne Street steps were removed in 2015.
But the city was also shifting its attitude toward the steps and seeking new resources. A $384,000 grant from the federal Transportation Alternatives Program made the Joncaire step rebuild possible as part of growing interest in multi-modal transportation. 2016 brought support from the City Accelerator, a program of the Living Cities and Citi Foundation to advise how to administer and financially support the city's steps.
Kristin Saunders, principal transportation planner with the City, undertook a comprehensive study of the steps. Her team conducted a series of community outreach meetings to gather comments and surveys about how the steps are used, by whom, and how often. Also, each set of steps was evaluated in terms of several parameters including proximity to schools, commerce and transit, nearby population density, and length of associated detours. Each staircase received three subsidiary scores and an overall score. A report summarized the findings in May of 2018. An associated website includes explanations of the study and the process, as well as an interactive map showing all of the steps. Users can click on any stairway to see its scores and photos. There are over 800 sets of steps on the updated site pittsburghpa.gov/citysteps/.
Perhaps best of all, the city is now allocating much more money to step repair and maintenance. The 2019 budget shows $1.43 million going to this cause. And the next candidates for repair are precisely known because the numerical assessments are all in place.
The additional funding and documentation would be welcome on their own, but the activity is also paying additional dividends in inspiration and visibility. A new local landscape architecture firm, Merritt Chase, recently published speculative design studies to turn sets of Pittsburgh steps into adaptable, multi-use amenities for recreation and public gathering. Principal Nina Chase says, "We were inspired by the existing steps," to imagine enhanced uses. Data made available by the city facilitated design and documentation of new ideas.
While the designs first appeared in the local real estate publication, Beaux Arts, an Instagram posting brought the attention of an editor with Landscape Architecture magazine, which published the Merritt Chase designs for Pittsburgh steps to a national audience.
Chase acknowledges that moving forward could be a challenge for infrastructure that is publicly owned, but positive feedback from a broad audience has encouraged her to explore what could be possible. Only a few years ago, the steps seemed neglected and underappreciated. Now that they are well-documented and better funded, they are the objects of admiration and imagination.