Breaking the News
Pandemic pushes ailing local news outlets to the brink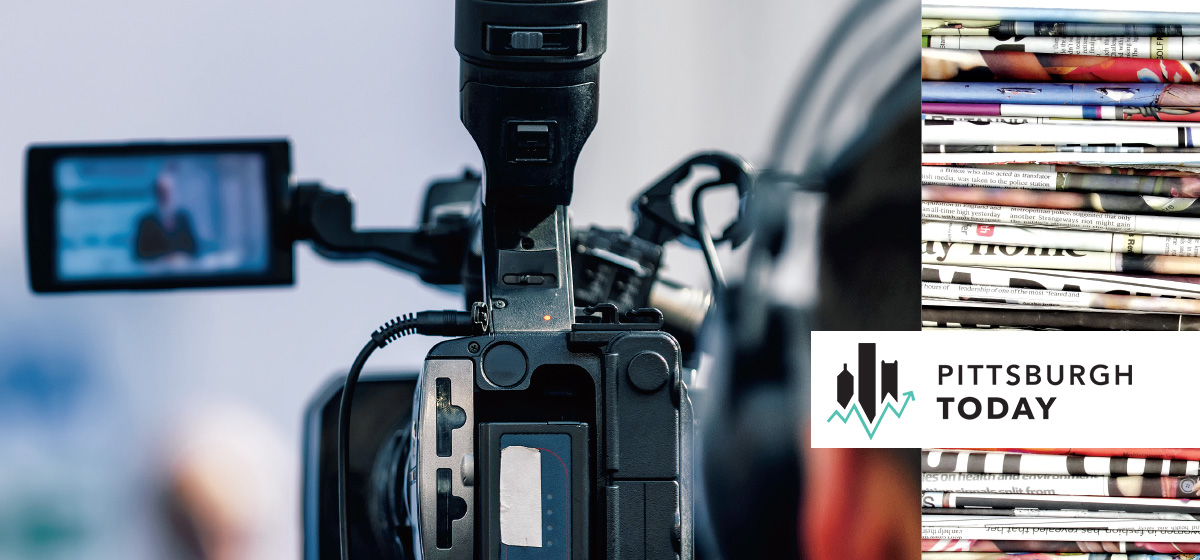 April 5, 2021
With their traditional revenue models already suffering a long-term structural decline, local media operations have been further weakened by the government lockdowns and economic havoc accompanying COVID-19.

Or as Tom Melia, Washington director of PEN America, the 99-year-old nonprofit that protects free expression, put it: "The pandemic has accelerated almost every contributing factor to the demise of local news across the country."
For those who see local journalism as indispensable to the region's civic, cultural and intellectual life, a survey of local news outlets provides cause for increased concern. While the pandemic hasn't affected every outlet equally, several of the region's leading news organizations reported diminished revenues over the last year and expressed uncertainty about when, or if, the sector will fully recover.
Advertising represents the most significant revenue source for most local media organizations, and in the past year, struggling businesses across the economy have reduced their advertising budgets. By far the hardest hit is the leisure and hospitality sector, which includes the restaurants and live events that provided the bulk of ad revenues for many local news organizations.
"Our revenues have driven off a cliff, smashed on the rocks below and then burst into flames," said Charlie Deitch, editor and publisher of the alt-weekly Pittsburgh Current. "We have stayed in business by the sheer will of the people involved. During the pandemic, we received one $5,000 journalism grant from the Facebook Journalism Project and $5,000 in emergency funding from the Google News Initiative. We also received about $10,000 in donations from our very loyal and supportive readers."
Deitch said the organization has been operating in "survival mode" since March thanks to a small group of dedicated freelancers, "who quite frankly, give way more of their time than I can pay for. All we can do is keep kicking, stay afloat the best we can and then see what the world looks like post-COVID. Vaccines are coming, but the restaurants, venues and promoters we've relied on aren't going to be able to return to their pre-pandemic spending. Most of them are in the same boat we are. Even if this virus could be essentially wiped out by summer, I don't know if we, or any media company, are going to be able to get back to business as usual."
At Trib Total Media, President and CEO Jennifer Bertetto said, "When the non-essential business shutdown order occurred in March, we lost half a million dollars in revenue within an hour of the announcement. Our 2020 revenue, when compared to 2019, will be down about 26 percent overall."
Last spring, the company combined its two remaining print editions, The Valley News Dispatch in Tarentum and the Westmoreland edition, and reduced printing of its other local editions for several months. Bertetto said most of the company's pandemic-related layoffs were on the production side, and in the absence of new commercial printing accounts, she expected them to be permanent. "At this time, I don't have a firm grasp on when the revenue might return to pre-pandemic levels, but experts in the industry suggest they will not return in 2021 or maybe ever."
The Pittsburgh Post-Gazette declined to offer specific financial information. "Like virtually every legacy media organization in America, our company has felt the impact of this pandemic," said Stan Wischnowski, executive editor and vice president. He said the Post-Gazette has not had layoffs, but 14 journalists accepted buy-outs in July. "What makes coverage of this pandemic unique for us is that our journalists are not only covering all facets of the crisis, but they are experiencing the ravages of the pandemic like everyone else. Our staff understands that this is likely the most important public service we will ever perform as journalists."
While the Trib and Post-Gazette have some subscriber revenues and copy sales to cushion the blow, the free Pittsburgh City Paper relies solely on advertising. "When the pandemic hit in March, we saw about 60 percent of planned advertising cancel immediately, then another wave of about 10 percent or more ad cancellations," Editor in Chief Lisa Cunningham said. In July, the paper furloughed six employees and laid off one full-time position, going from 19 employees to 12. Two furloughed employees returned in August. But in October, furloughed Managing Editor Alex Gordon took his own life. "It's left our small staff in a depression that's very hard to describe," Cunningham said. "During a year of this pandemic, already dealing with a smaller staff, and now losing one of our colleagues to suicide… this has been the very worst year I could have ever imagined."
Beyond ads, the pandemic also has cut off other key revenue streams for some local news groups. "The events that we produce are significant for us," said Evan Rosenberg, market president and publisher of The Pittsburgh Business Times. "We have shifted many of those events from in-person to virtual, and while the community and our sponsors have responded positively, it has still impacted our revenue." Rosenberg said other revenue sources, including specialized reports, remain strong. "Subscriptions are up, readership is up, and reader engagement is up."
Business Times Editor in Chief Jennifer Beahm said readers "couldn't get enough of our coverage of the Paycheck Protection Program. When the program launched, businesses had many questions about how it worked, where to get funding and what happens after they get funding. We've done a lot more breaking news this year—more than ever before—and a significant chunk of that has been to help businesses navigate all of the ever-changing restrictions and rules at the county and statewide level."
Nonprofit news ventures have felt the economic pain as well. "We are about $1 million behind in underwriting revenues for 2020, though we have been able to make up much of that thanks to continued strong support from our members," said Terry O'Reilly, president and CEO of the Pittsburgh Community Broadcasting Corporation, which manages WESA. "We were forced to eliminate two positions on the sales and marketing side in response to the pandemic, but at the same time made new investments in our newsroom to keep that service strong when it was needed most."
At Public Source, the fiscal year runs from July 1 to June 30, so they don't yet have a full accounting of the last year. The nonprofit, which receives grant support as well as donations, hasn't had staff reductions, but Executive Director Mila Sanina said, "We definitely had to recalibrate our reporting efforts to cover the pandemic. Reader need for current information about the pandemic has driven us to publish updates more frequently, which isn't something we did a lot in the past. You can take any beat, be it education, public safety, environment, economic development—all of them have been affected by the pandemic and have been examined through the equity lens. We really do not know what the media ecosystem is going to look like after the pandemic is behind us. The pandemic will definitely affect some parts of the media landscape and we need to save what's vital for understanding our neighbors and communities we care about."
The region's leading broadcast news outlets, including KDKA and WPXI, did not respond to requests for comment. At WTAE TV, President and General Manager Chuck Wolfertz declined comment. Pittsburgh Magazine, NEXTpittsburgh and Table Magazine did not respond to requests for comment.
At Pittsburgh Quarterly, second quarter revenues declined significantly, but the second half recovery was surprisingly strong, said Editor Douglas Heuck. "Being quarterly, we're very lean in general, so we had no layoffs, but we certainly did some belt-tightening. Our subscription numbers remained strong. We've also never relied on restaurant advertising, and the relatively few retail advertisers we have are the region's strongest so they actually did well last year. Most of our losses came from the arts and cultural sector. It's been a very difficult time for them, but many continued advertising given that we reach their donor base." Heuck said that the most disappointing part of 2020 from the magazine's standpoint was that a major initiative about Pittsburgh's future called Pittsburgh Tomorrow "launched just ahead of the pandemic and largely got swept into oblivion by it."
Saving local news?
From 2004 through the end of 2019, the number of newspapers in the United States declined by 25 percent. In Pennsylvania, total daily and weekly newspapers decreased by 29 percent, while circulation decreased by 40 percent, according to research from the Hussman School of Journalism and Media at the University of North Carolina, Chapel Hill.
Print local news outlets accounted for the vast majority of closures as they lost readers and advertising revenue to rapidly growing digital publishing companies such as Craigslist, Google and Facebook. In a report published in late 2019, PEN America warned that the loss of local news "represents a crisis for American democracy."
In the last decade, a wide body of academic research has detailed how disappearing local newsrooms harms the surrounding communities. Citizens are less informed and engaged, politics becomes more partisan and governments engage in more frivolous spending.
Other studies show that the general public is largely unaware of the dire state of the news media, compounding the issue. According to a 2019 national study from Pew Research Center, 71 percent of adults believed their local news outlets were doing "very" or "somewhat" well financially.
However, as PEN America's Tom Melia said, "Members of Congress have become aware. There's potential for them to act."
Following years of research and advocacy from groups such as PEN and The Brookings Institution, a growing number of lawmakers in Washington, many of whom depend on local news coverage to campaign and reach their constituents, are calling for a fundamental rethinking of how the nation supports local news.
Sen. Brian Schatz (D-Hawaii) introduced the Local News Commission Act of 2020 in September. Drafted in collaboration with PEN America, the bill calls for the creation of a Senate commission comprising an even number of Republican and Democratic appointees to study the problems facing local media and recommend solutions.
"The reason to do the commission is not so much that we're going to learn more, but that it becomes a consensus building mechanism," Melia said.
In July, U.S. Rep. Ann Kirkpatrick (D-Ariz.) introduced a bill entitled the Local News Sustainability Act in the House Ways and Means Committee. The legislation would create three tax credits to subsidize local news: one for subscribers, one for advertisers, and one for the newspapers themselves to preserve or hire new reporters. The legislation has attracted some bipartisan support in the House. So far, Congress.gov lists 58 Democrat and 20 Republican co-sponsors.
Internationally, a growing number of lawmakers are demanding that Facebook and Google pay for the local news their sites use. In December, Australian lawmakers began final negotiations for a law, widely expected to pass, that would force the two tech giants to pay local news organizations a fair rate for using their content. A few weeks earlier, Facebook agreed to pay millions of pounds to British news publishers after the threat of a wider regulatory crackdown. Similar negotiations with EU nations are ongoing.
In October, U.S. Sen. Maria Cantwell (D-Wash.) released a report calling for similar measures in the United States. "Congressional action is needed to help local news survive the global pandemic and onslaught of unfair practices by the dominant online platforms," she wrote. "Local news needs new laws and regulations to make sure it can compete fairly and provide its true value to local communities and American democracy."