Breaking the chain
Will Pitt football find stability with another new coach?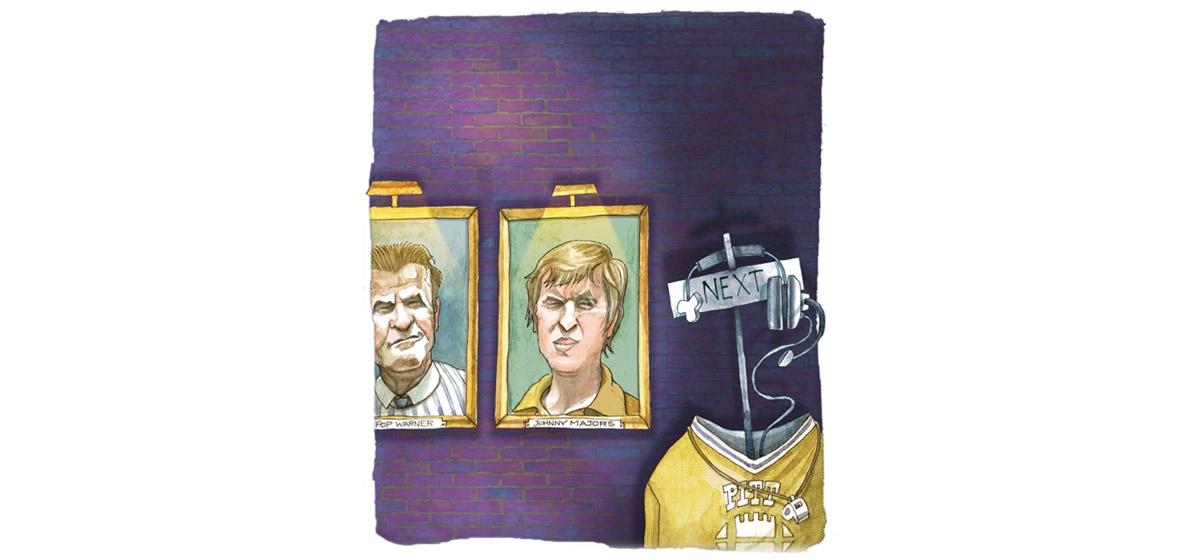 August 21, 2015
With the approach of autumn, we come to yet another era in Pitt football. Meaning another new coach. Over recent decades, this means that you barely get to your seat with your beer and pompon before there's another one. It may be a strain, but coaching at Pitt seems something like Sisyphus, of Greek mythology, who was doomed to forever roll a big stone up a hill, only to have the damn thing roll back down every time.

Next man up with the stone is Pat Narduzzi, former Michigan State defensive coordinator, making his head coaching debut. He's inherited a Pitt team with some of the most exciting talent in years. But a "but" popped up.
Tyler Boyd, 20, spectacular junior wide receiver and surely NFL-bound after this season, was hit with a DUI in June. A short while later, Jaryd Jones-Smith, huge sophomore offensive tackle, suffered a knee injury and will miss the season.
Pitt once was a regular national power. Pop Warner (1915-23) rang up a record of 60-12-4 and three national championships. He was followed by Jock Sutherland (1924-38), who went 111-20-12 and won five national championships. Sutherland was followed by a to-the-bone de-emphasis of football and the Dark Ages.
For many, modern Pitt football began with Dave Hart (1966-68), mainly because he was charged with pulling the program out of a long slump, and also for high-voltage enthusiasm. Hart went 1-9 for three straight years, including the ignominy of the running clock episode at Notre Dame in 1968. Ara Parseghian, then Notre Dame coach, said he wasn't showing mercy. "We didn't have lights," he said. "Officials were afraid we would run out of daylight and not finish the game, and wondered if we could let the clock run. I said if it was OK with the Pitt coach, it was OK with me." (ND won, 56-7.)
Hart led off a parade of coaches like the procession of "begats" in Genesis—12 coaches and four interims, and some of them compelling case studies.
After Hart, Carl DePasqua (1969-72) finally took the job nobody wanted, and he found out why. He didn't have a winning season in four tries. Pitt finally bailed out of the restrictive "Big Four" (with Penn State, Syracuse and West Virginia), thus triggering a revival. Johnny Majors (1973-76), with Tony Dorsett running the ball, went 33-13-1 and won the 1976 national championship, then went back home to the University of Tennessee. His chief assistant, Jackie Sherrill (1977-81), went a remarkable 50-9-1 in his five years, including the last three at 11-1 each. (Pitt summoned Majors back in desperation in 1993, but the magic was gone.)
Then things got bizarre. Pitt athletic director Steve Pederson ousted native son Dave Wannstedt (42-31) and hired Mike Haywood, who had been 1-11 and 9-4 in two years at Miami of Ohio. "…a man of integrity and character," Pederson announced, and next Haywood was arrested on a domestic violence charge. The Haywood Era lasted 16 days. Next came nimble-footed Todd Graham and his revival tent show. "…a dream come true," said Graham zipping in in 2011 and zipping right back out after a 6-6 season.
Next came Paul Chryst (2012-14), an assistant at the University of Wisconsin. "This is a destination job for me," Chryst said on arrival. His real destination, however, was back home at Wisconsin, where he returned after three dreary seasons.
Which brings us to the spirited Pat Narduzzi. "You can win a national championship here," he said. So did Pop Warner, Jock Sutherland and Johnny Majors. But then, so did, oh, 20 or so others.