Bon appétit!
Three French bakeries bring delectables to Pittsburgh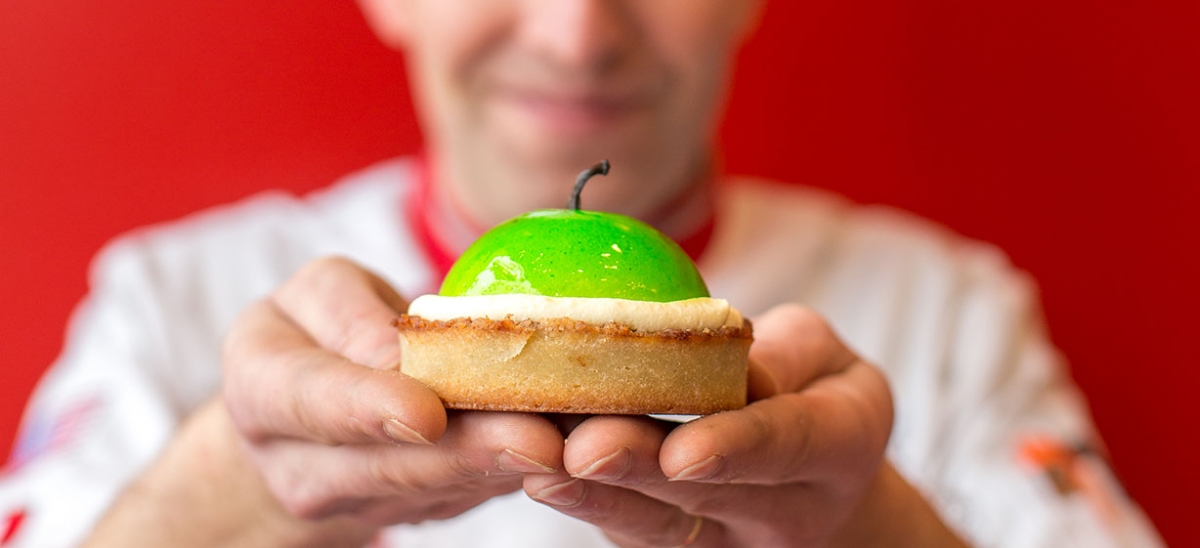 February 21, 2014
Who wouldn't love to spend April in Paris? However, if France isn't in your immediate future, you can still enjoy its delectable treats right here in Pittsburgh. These three patisseries are like children; you love them all, but each has its own special talent.
---
---
The granddaddy, and the one that has proven that this region would support the concept, is Jean-Marc Chatellier's French Bakery in Millvale. Chatellier is from the Brittany region of France, an area that embraces butter more than cheese. (The famed Fleur de Sel sea salt is harvested in the Breton town of Guerande and used in local butter.) Chatellier is a third-generation baker, having had his earliest training at his father's boulangerie, or bread bakery. He subsequently completed a formal education, then a four-year apprenticeship with a master pastry chef before coming to the U.S. He met his Shaler-born wife in California, and she brought him here.
Chatellier was the executive pastry chef at Shadyside's beloved La Normande restaurant and then at the Nemacolin Woodlands Resort. In 1992, he opened his bakery in Millvale for its location at the center of Allegheny County. The tiny shop has evolved over 22 years, and Chatellier and his adept staff turn out classic French specialties as well as some popular American items, all infused with generous amounts of butter. His array of colorful, gluten-free, French macarons is both tempting and delicious. The little meringue-like almond cookies are sandwiched around creamy buttercream or ganache and infused with natural flavors such as salted caramel, lavender-poppy seed, Nutella, and rose-raspberry. The popular Breton cakes are a traditional, buttery shortbread. The Hungarian nut and poppy seed rolls combine an ethnic favorite and Chatellier's talent, with amazing results. There are everyday items like crusty French bread, flaky croissants, savory quiches, Danish pastries, creamy truffles, cookies and tarts. Fall brings pumpkin pies; winter, bûches de Noël and New Year's pretzels; and by spring, it's wedding season. Beautiful buttercream and marzipan-decorated wedding cakes compete with croquembouche, a traditional French wedding dessert, which is a cone-shaped tower of custard-filled cream puffs, coated with caramelized sugar and decorated with marzipan flowers and Jordan almonds. Jean-Marc Chatellier's French Bakery will have what you want, but order ahead or go early—quantities are always limited to whatever is freshly made.
A more recent addition to the bakery scene is Lawrenceville's La Gourmandine Bakery and Pastry Shop. The neighborhood shop has a great vibe, as local police get lunch to go, neighbors pick up loaves of bread for dinner, and people from all over choose from the tempting display cases. For the past four years, owners Fabien and Lisanne Moreau have been hand-crafting sweet and savory creations in their little patisserie on Butler Street. They, too, are not shy about their use of butter. The French-born couple ended up in Pittsburgh because of familial connections—Lisanne's mother is a native.
They make an incredible array of treats, with a focus on traditional French specialties. The offerings are pieces of art that taste as fabulous as they look. On the savory side, there are quiches, classic French sandwiches, Brie-cheese tarts and steaming soups. Their breads evoke memories of the best French boulangeries—hearty ryes, focaccia with black olives, and traditional and rustic baguettes. On the sweet side, La Gourmandine has individual pastries (chocolate éclairs, choux à la crème and Paris-Brest), mini pastries (various fruit tarts, marquise and l'opera cakes), and holiday favorites—both traditional and contemporary bûches de Noël, as well as Viennoiseries (baked goods with a rich or sweet flavor/texture such as fine brioche, pain au chocolat and croissants). Of special note are the almond croissants, filled with almond cream, topped with slivered almonds and dusted with powdered sugar. These addictive concoctions have just the right amount of chewiness and flakiness to transport you to France even if don't have a passport. If some of these options seem foreign to you, make a visit to La Gourmandine Bakery and Pastry Shop and experiment. The busy shop will confirm that you have made the right decision.
Finally, the new kid on the block—Gaby et Jules Patisseries et Macarons. Open since August, it's the latest venture of Frederic and Lori Rongier and Master Pastry Chef David Piquard, co-owners of the popular East Liberty French bistro, Paris 66. The Rongiers lured Chef Piquard away from a 20-year culinary career in France to become the pastry chef at Paris 66. Before long, patrons were as enthusiastic about the macarons and desserts as they were the restaurant's bistro food and classic ambience. Realizing that Piquard's talent needed more accessibility, they bought the site of the former Oliver's Flowers in Squirrel Hill, which gave form to the dream. The upscale, shiny red exterior is reminiscent of a fine Parisian shop; before you cross the threshold, you know you're in for a luxurious experience. Glass cases reveal chilled, white marble counters displaying pastries like works of art.
And then there are the macarons. Piquard trained for these delicacies at the famed Ladurée in Paris. (Louis-Ernest Ladurée's grandson, Pierre Desfontaines, is generally credited with creating the modern-day macaron in 1930, and the store's distinctive mint green exterior is iconic.) Their macarons take five days to make, and are available in numerous varieties, from white chocolate-basil to passion fruit-chocolate to Earl Grey. And seasonal favorites such as peppermint-white chocolate, eggnog or gingerbread tempt the senses with their colors, scents and flavors. They can even be assembled into a new take on a wedding cake. Then there are traditional treats such as fruit tartlets, Napoléons and Le Royal chocolat, the latter flecked with edible gold leaf. Each creation looks almost too good to eat! There is also a limited offering of bread and croissants. Look beyond the showroom, and you'll see Piquard and his staff through the window, donning their chef's toques and red aprons as they bake. Beware, now that the secret is out, strangers on the street will covet what you clutch in their distinctive red boxes.
These three bakeries are the best gift from France since the Statue of Liberty! Bon appétit!
Jean-Marc Chatellier's French Bakery, 213 North Ave., Millvale, 412-821-8533. La Gourmandine Bakery and Pastry Shop, 4605 Butler St., Lawrenceville, 412-682-2210. Gaby et Jules Patisseries et Macarons, 5837 Forbes Ave., Squirrel Hill, 412-682-1966.