Blockbuster!
How PNC secretly acquired the parcels for its new downtown headquarters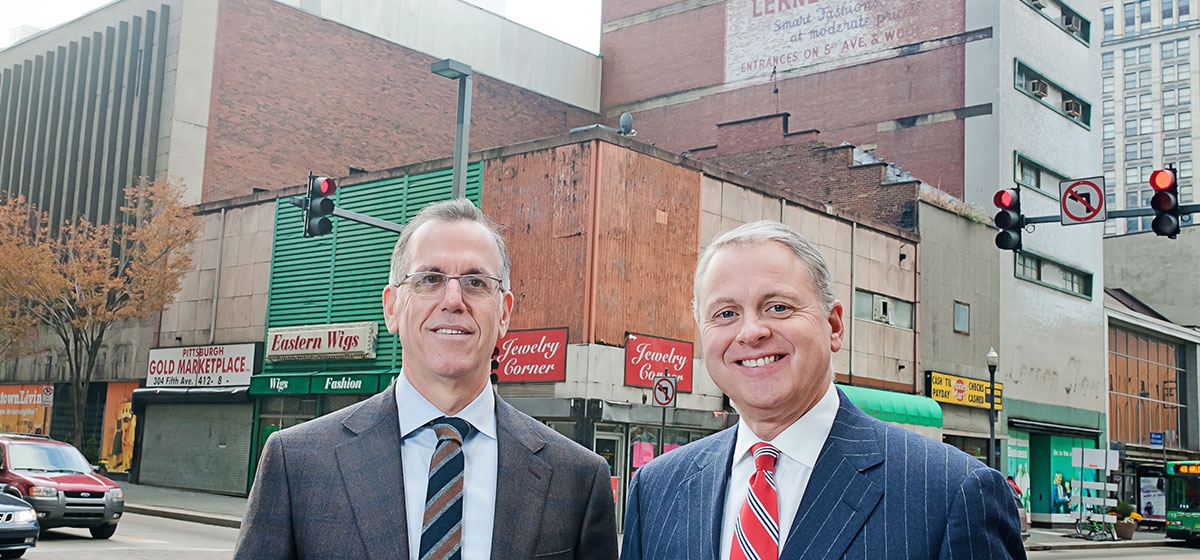 November 19, 2011
There were no hidden tape recorders, car chases or safe houses involved, but you can almost hear the theme music from "Mission Impossible" when Gary Saulson, PNC's director of corporate real estate, describes the steps he took to veil PNC's purchase of almost a block of downtown Pittsburgh.

The transactions along Wood Street between Fifth and Forbes avenues would be necessary in order to make way for PNC's new headquarters—the Tower at PNC Plaza. And to ensure they came off, Saulson drew a ring of silence around the project from the beginning.
He limited the circle of those in the know to the PNC board and top executives, plus a half-dozen people in his broker's office. He hired a trusted local broker, Keefe Ellis, with offices in the building next door, and swore him to secrecy. Saulson made sure all the title companies, surveyors, and inspectors who looked at the buildings reported back to Ellis, not PNC. He made sure that Ellis deflected questions from sellers that neither confirmed nor denied PNC's involvement, and made sure PNC's spokesman did the same with reporters. And he set up phony companies with names he conjured up—at least once to tease reporters who were hot on PNC's trail.
"We had to keep it quiet," said Saulson, sitting in his office that looks west from Two PNC Plaza to the Point. "We felt if PNC became publically tied to this it would negatively affect our ability to acquire the property." A native of Phoenix, the 54-year-old Saulson has been working in Pittsburgh for 21 years. He generally enjoys his job, but the cat-and-mouse involved in the headquarters project made it especially enjoyable. "We couldn't talk to the city or anyone for fear it would leak out. And it's a real small, tight-knit business community here, so it took a lot of discipline [to keep it quiet.] So I became like the puppeteer, talking to Keefe on the phone several times a week, because I couldn't meet with the owners myself."
Ellis, 55, grew up in Point Breeze and has worked in real estate here since 1980. "When we set this up, we made sure there wasn't a trail that could lead back to PNC. I had everyone in this office scared to death to talk about it," he said chuckling.
Getting started
The stealth project began in the summer of 2009, near the end of PNC's last big downtown venture, the construction of Three PNC Plaza. Knowing Three PNC would essentially be full the day it opened, Saulson, PNC Chairman Jim Rohr, and other top executives had discussed the need to add even more space for PNC's growing ranks.
They chose the run-down half-block of Fifth, Forbes and Wood, and in August 2009, Saulson called Ellis. They'd known each other for years, and when PNC had sought to acquire property for Three PNC several years ago, it learned that Ellis's firm, LangholzWilsonEllis, Inc., already held the options on much of the property it wanted for its new skyscraper. They quickly worked out a deal. Saulson also knew that Ellis had experience amalgamating a bunch of smaller properties for one big project. Ellis had done similar—but not hidden—work to help the Sports and Exhibition Authority buy the land needed for the David L. Lawrence Convention Center, Heinz Field and PNC Park.
"The perfect assemblage would be if you could sign everyone on the same day and they don't talk to each other," said Ellis. "That didn't necessarily happen here."
In January 2010, the PNC board of directors approved the project's location and a budget "north of $20 million" to buy slightly less than an acre of land spread among nine parcels. The budget acknowledged that while none of the properties had previously sold for more than $1 million, PNC would be paying a lot more than that for most of them.
"The serious impediment was that these properties—except for one—were not being marketed for sale," Saulson said. "And one of our principles was to never let someone own the hole in the doughnut" by ending up as the one holdout who drove the price for one piece out of whack with the other parcels.
Working in PNC's favor, however, was an essential fact: "For most of these owners, it was a one-time bite of the apple," Saulson said. "In a bad economy, they had a buyer who could write them a check."
What lay ahead was a series of individual negotiations made more difficult by the need for secrecy. Not counting properties that PNC eventually purchased from the Urban Redevelopment Authority, most of the properties had been owned by the current owners for decades, one since 1943.
"Some of them figured, " 'If I own this crummy property and someone wants it, it must be worth more than I thought,'" Saulson said. "So, there was not an easy transaction among them. Every one had a twist or turn before it got done."
One of Ellis's first calls was to Rob Stephany, executive director of the URA. "I let them know I was working on the properties down there," Ellis said. "I just told them, 'Please don't do anything with those properties before talking to me.' But they didn't know any more than anyone else outside of PNC."
Yarone Zober, Mayor Luke Ravenstahl's chief of staff and chairman of the URA board, said "we had some guesses" about who Ellis was representing. "It could only have been so many people who could do something like this. But in our heart of hearts I think we thought PNC would be the one." With that guess in mind, the URA agreed to hold onto the properties until Ellis's work was done. That took care of three of the parcels.
Six easy pieces
Of the remaining six, only one was officially for sale: the old Lerner's of New York store with entrances at 306 Fifth Avenue and 440 Wood Street. The property had been largely vacant since Lerner's—a holdover from the days when Fifth Avenue was the region's major retail corridor—pulled out in 2001 after 58 years in the building.
"It was a pretty good investment for our family," said Harvey Cohen of Newton, Mass. His wife's grandmother, Sadie Garfinkel, originally bought the building in 1943 as the only Pittsburgh property in the family's land trust. "From 1943 to 2001 Lerner's paid rent every month, every time. Over the 58 years we probably took out 10 to 15 times our investment."
But after Lerner's closed and the block decayed, Cohen, 65, a semi-retired dentist who oversees the family property trust, struggled to find long-term tenants or serious buyers until Ellis came calling in the winter of 2010. "They tried to be sneaky about it, but it was pretty obvious what they were doing," Cohen said of Ellis and his secret client. "But, if it benefitted me, I didn't care how they did it."
The property was bought May 11, 2010, by an entity called Carol Jean Management LLC, a name Saulson conjured up by using the first and middle names of his assistant. Cohen's family took the final price—$3.139 million—and immediately used it to buy another property in a so-called 1031 exchange, which under IRS rules allowed them to defer any capital gains taxes on the sale. They were happy to make the sale. "That corner was disgusting. I'm glad to see it going to someone who will clean it up. When I come to Pittsburgh in the future, I'll be able to go see PNC's new tower and say, 'Gee, that was ours.' That'll be nice."
In June 2010, Ellis agreed to pay $3 million for another parcel, which backed up to Cohen's property in the middle of the block and had been owned by the Schiller family for decades. The L-shaped property at 307 Forbes Avenue had been two buildings melded into one years ago, including the corner building at Wood and Forbes.
Having one of the corner parcels and a nearly fully-leased property gave the Schillers some leverage, Ellis said. "The Schillers got more per square foot [than the Cohens], but it was income-producing property and Lerner's had been vacant. Also, when you're talking about pulling together property, corners are important because they have duel frontages."
Knowing that, the Schillers also asked Ellis to do some free work for them. They, too, wanted to turn their sales money into a 1031 exchange, as the Cohens had, and they wanted an income-producing property somewhere in the region. He found them one, though he wouldn't say where. The Schillers—who also own another corner parcel across the street at Wood and Forbes—did not respond to calls for this story.
On June 21, 2010, the Schiller sale went through to another of Saulson's elaborate fake names, this time Autonomous Investors LLC, which was actually a misprint from his original idea for the entity. "I wanted it to be 'eponymous'—you know, the name speaks for itself?" Saulson said.
Ellis said the joke was that even that may have been wrong. "People were saying, 'It should have been 'Anonymous,'" he said with a laugh.
The Schiller sale was significant for another reason. It caught the eye of veteran Pittsburgh Post-Gazette reporter Mark Belko. On July 15, 2010, Belko wrote that the Schiller property had been sold and all the tenants kicked out by an unknown owner going by the name Autonomous Investors. He noted that some of the business owners thought it must be Point Park University—which already owned a number of parcels in the neighborhood—but Point Park denied it.
"So I started doing some research on Autonomous Investors and noticed it was set up in a way that you couldn't ID who the true buyer was," Belko said. "And then I learned the Lerner building was sold to another strange group. I knew there was something happening, but I didn't have enough to write about at that point."
Two months later, the Kashi family sold its property at 444 Wood Street for $700,000 to another of Saulson's creations—Kimross Real Estate LLC, named after the street on which a PNC executive lives. Though the Kashis only paid $285,000 for the property in 1997, next to the purchase of the reduced-rate URA properties, it was easily the cheapest of the purchases for PNC.
Kashi, whose family also owns the building housing Kashi Jewelers across Wood Street, thought he got a good price—until he learned what was happening and who the buyer really was. How did he feel when he learned it was PNC that bought his property? "Cheated," he said with a laugh and a knowing smile. "They were very smart to do it that way—that's PNC! I was the only sucker who sold for so little."
He wishes he had gotten more, "but if it's worth more, then that benefits me anyway," said Kashi, 68, an immigrant from Israel who came to the United States 33 years ago, first to New York before landing in Pittsburgh. Seven years ago his family bought the six-story, turn-of-the-century building where the jewelry business is located. They never got around to renovating the upper floors, which remain vacant. Now, with all the new and renovated development surrounding them, Kashi plans to begin work soon.
The sale of the Kashi property—also using a hard-to-track LLC incorporated in Delaware—made it clear to Belko that something big was happening on the block. A week later, on Aug. 18, he wrote a story entitled, "Who's Playing Monopoly on Wood Street?" He named PNC, U.S. Steel and Point Park as possible buyers and started a deluge of local news interest.
"At this point in time I didn't pick up my own phone," Ellis said. "I didn't want to have to talk to anyone about it, even the TV crews who started showing up in our lobby." The other sellers, already aware one entity was orchestrating this, "were aware of Mark's stories. At the time they were like, 'Who's Kimross? And who's Carol Jean? And how are they related to Autonomous?'"
When sellers pressed him about the buyer behind the curtain, Ellis had a stock phrase: "You need to judge this deal in terms of this deal alone."
At the end of August 2010, three parcels remained, but just two sellers. It included the most important deal on the block: two parcels owned by Marx Realty & Improvement Co. out of New York City that not only included the western edge of the property at 318 Fifth Avenue—which was half of the Rite Aid store there—but also the other corner parcel on Wood, at 300 Fifth Avenue.
"I've watched a lot of reruns of Super Bowls on that corner," Ellis said of the well-known Black and Gold Forever souvenir shop that sat there until recently.
Leonard Marx, the late company founder, had owned both parcels for decades and had contemplated trying to redevelop both of them for years, at one point talking to the Cohen family about a joint project along Fifth Avenue. Although it never came to fruition, Marx Realty—which would not comment for this article—used the idea of their own redevelopment as leverage.
"Both properties were fully leased," Ellis said. "And they had the corner, on which they alluded to plans they had to build new there. That helped them."
So on Dec. 15, 2010, PNC (via Kimross Real Estate, LLC) agreed to pay Marx Realty $8.35 million, split equally among the two parcels. At more than $1,000 per square foot, the smaller corner lot likely was the most expensive property in the city's history.
"It sounds like a lot of money," Ellis said. "But it depends what you're building there and what income you're getting. We're blending all these costs for an 800,000-square-foot project, with an overall square-foot-cost—when you look at it like that—of less than half of $1,000 per-square-foot."
For the final parcel, owner Rite Aid believed PNC was behind the transactions as the Feburary 2011 close approached. After the Marx purchase, half of the building was in the bag, and PNC believed that the struggling drug company needed to find cost savings. Rite Aid officials would not comment for this story, but last fall they told Ellis, "We're not going to be the reason this project isn't developed. But come back when you're nearly done." On Feb. 24, 2011, Rite Aid agreed to sell 314 Fifth Avenue for $3 million.
Part of the celebration involved a bit of twisted inspiration from Saulson, using a new entity he created for the final purchase—Wright-APU, LLC.
"First, I wanted 'Rite' spelled differently. Then I wanted the Finnish word for 'Aid' because when we bought it we were finished. Get it? I had my assistant Google the Finnish word for 'aid.' But another meaning of the word was 'dung.' So I found another Finish word—'apu'—that means 'coming to the aid of others.'"
Ellis laughed at the memory. "When Gary told me the name, he said, 'Let's see if the reporters can track this one down.'"
By then, it was assumed that PNC was behind the purchases. "PNC was one of the few players in town who could do something like that," said Mark Anderson, a broker who handles downtown real estate for Pennsylvania Commercial Real Estate Inc.
With the URA selling its three parcels to PNC for the cut-rate price of $1.1 million, the total acquisition cost ended up at $19.2 million for less than an acre. Or as Saulson saw it, "under budget." For Belko, the May 23 press conference that confirmed all he had written "was immensely satisfying. I'd written all these stories, but I didn't know till then it was going to be their world headquarters and this unique green building."
For Saulson and Ellis, who lived the events of the stealthy acquisition for almost two years, it marked the end of a project unlike any other for both men. As Ellis said, "If you're lucky, there's a handful of projects in your career that you have an opportunity to work on that hopefully make a difference in the city you grew up in."