Bend of the 'burgh
Jacob Bacharach's debut novel pens Pittsburgh as a galactic vortex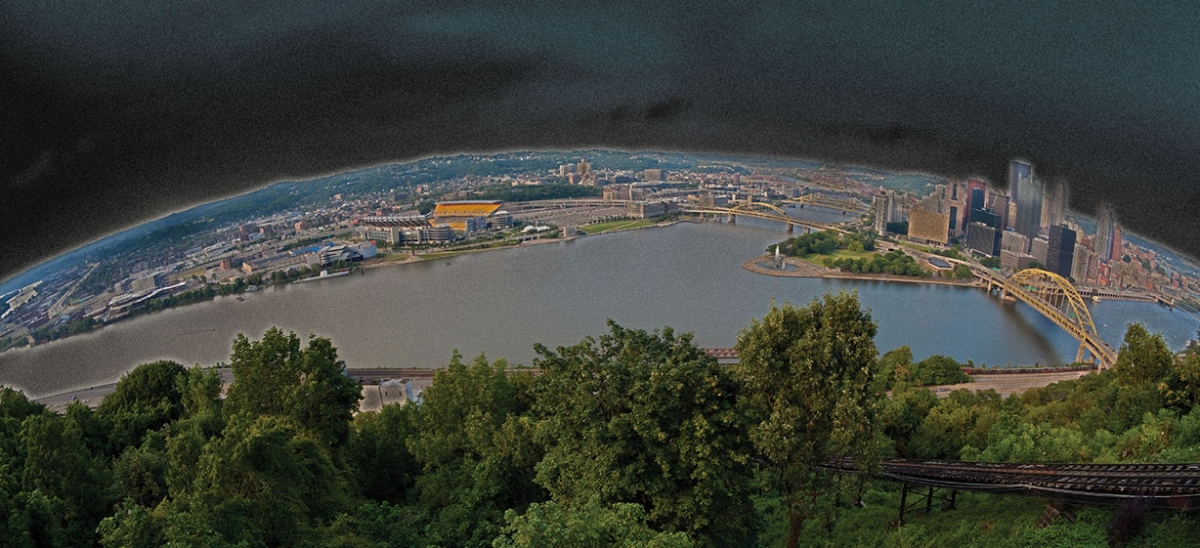 May 21, 2014
Pittsburgh has enjoyed some nice national media buzz in recent years. We're so livable, we're hipper than Portland, we're the next foodie destination. But Pittsburgher Jacob Bacharach's debut novel could blast the city's profile into an otherworldly dimension. "The Bend of the World"—a highly enjoyable comedy of modern manners—imagines our cozy town as the fulcrum of a vast conspiracy to control the powers of the universe.

The casual reader will be enchanted by Bacharach's crisp prose and the arch social observations of his narrator, 29-year-old Peter Morrison, the offspring of an old Sewickley family that was rich some generations ago but is now merely well-off. Pittsburgh readers get the kick of seeing familiar sights filtered through Bacharach's imagination: The Pitt-UPMC zone of Oakland is "a pile of immense, mismatched buildings that climbed the hillside like a stepped ziggurat and from whose satanic bowels there emitted a constant Luciferian thrum"; the South Side Slopes are "reminiscent of an Adriatic hill town, suggestive of a militarily defensible poverty."
Cracking the cosmic scheme that ensnares Peter, however, requires attention. It took me two or three readings and lots of Internet searching of obscure references to get a handle on the kaleidoscopic (sometimes hallucinogenic) goings-on, but it was time well spent.
The world-weary Peter has a nebulous management job at Global Solutions (slogan: "Solutions for a Global World"). His new artist girlfriend has two first names, Lauren Sara, and is "in a phase of feigned poverty" as a grad student at Carnegie Mellon. Peter's best friend since sixth grade at Quaker Valley is Johnny Robertson, who came to the "weedy little town" of Leetsdale to live with his grandparents because his parents were hopeless meth-heads in Florida. The suave and sinister Mark Danner beams into town, in the employ of a Dutch multinational called Vandevoort IRCM, to devour the hapless Global Solutions. His alluring girlfriend is a formerly almost-famous artist, Helen Witold, who is on a cocaine-fueled downward spiral.
Johnny lives above Margaritaville on the South Side, a full-time overweight gay druggie who claims to have "a not-insubstantial reputation in the Pittsburgh demimonde." The story opens with him and Peter at a diner booth, dissecting the story that has Pittsburgh abuzz—the multiple sightings of UFOs over Mount Washington. Johnny has always been enthralled by the mystical underbelly of Pittsburgh, starting with the three rivers and that fourth, subterranean river. "So basically the Point represents a node or nexus of intense magical convergence… wherein vast telluric currents and pranic energies roil," he pronounces, "and obviously this whole UFO what-have-you is a manifestation of that."
But, oh my, that is just the tip of the conspiracy iceberg. Johnny spends his days reading Winston Pringle, local author of "Fourth River, Fifth Dimension," and more works co-written with one Wilhelm Zollen. Pringle details the all-encompassing "Pittsburgh Project," a plot involving the CIA, Pringle's father and "a group of German emigre scientists" who, in the basement of Mellon Institute in Oakland, "first succeeded in 1949 in opening a microscopic doorway between our quantum reality and the next one over." This "vast magical working" had been in play over many decades, "a spell enacted by the fire of industry above this most metaphysically significant of landscapes." Things got messy when the "Deep Government" got involved—because those who can allow "travel between any points in space-time" will come into "total control over the historical timeline and all that good stuff," says Johnny.
And don't miss the roles of the Priory of Sion, the Illuminati and Freemasons, and George Westinghouse and Nikola Tesla performing "Gnostic-Cathar sex magic rituals"—in Wilmerding—"to divert the fire energies of the hollow earth." There's numerology (look up the "23 enigma"), the owls of Bohemian Grove and the British Union (of Fascists), and much, much more. Bacharach mashes up various and sundry conspiracy theories that thrive on the Internet, sprinkles them with history, and creates a great whirring Rube Goldberg contraption—or, more likely, a send-up of "The Da Vinci Code."
As Johnny gets deeper into the work of Pringle, going on chemical benders to commune with extra-dimensional forces, Mark draws Peter into his web of corporate intrigue. The needy Helen diverts Peter's attention from Lauren Sara. Peter's parents, over dinners at Hyeholde and the Duquesne Club, reveal family entanglements from long ago, which turn out to propel Peter right into the thick of the Pringle/Zollen Pittsburgh Project and the chaotic denouement.
"All coincidences converge on the inevitable," Mark remarks to Peter at their first meeting, at a Carnegie Museum of Art opening. Bacharach may drive you nutty, trying to figure which events are germane to the scheme (at least three different people tell Peter to "keep an eye out" and he catches his mother in a "weird, cross-armed handshake" with the Duquesne Club maitre d'), and which are maguffins to throw you off the scent (are those really Lauren Sara's rich parents from Philadelphia in that big black Mercedes? And why does she keep engine parts in her backpack?). But through the voice of Peter, Bacharach keeps us engaged, often with quips about the milieu of young and educated white folk, riding their "stupid fixie bikes" and wearing "important geometric glasses."
While impressed by the scope and ambition of "The Bend of the World," I found many of Bacharach's throwaway lines just as memorable. When Johnny finally goes in search of the conspiracy-spinning author Winston Pringle, he takes a bus to far-off Wilmerding. Wandering through this once-thriving company town, he encounters "a neighborhood of brick and frame houses that recalled the great, gaudy, fifty-year illusion that there ever was a middle class in America."
* * *
The Bend of the World" is, like many a first novel, a coming-of-age story, though not completely autobiographical (at least one hopes not).
Bacharach's day job is therefore worth noting: A 2003 graduate of Oberlin, he's a manager at the Pittsburgh Cultural Trust, using his Pitt MBA to operate the Benedum Theater. He is perhaps known to you as a maestro of the Wednesday Wine Flights at the Cabaret at Theater Square. He maintains a lively blog under his real name, and for years wrote one as "Who Is IOZ?" Both sites traffic in the social-political-cultural ideas that pepper this novel and shed light on his sensibility. Atheist and gay, raised Jewish but with Catholic heritage, Bacharach wrote in March that, "I like to describe my politics as anarchist by belief and conservative by temperament." He is someone active in Pittsburgh today, not an artiste set apart from society; the resulting work is more like Balzac mixed with Isaac Asimov than a delicate writing-workshop tale of first-world angst.
The clever title can be explained without spoiling the arc of the story, I hope. In cavalier fashion, Peter arranges for a marijuana delivery to his office. Mark catches on, and joins in. They duck out to the Point State Park fountain (accurately, under renovation at this time) and sit by the rivers, "the point of mystical convergence, the weak spot between worlds." Puffing away and looking down the Ohio, Peter says, " 'The West End Bridge always makes me think of the end of the world.' 'How so?' asked Mark. 'It looks like it should be a ruin.' 'Well,' said Mark, 'I guess we'll have to wait and see.' … 'I don't think any of us will live to see it,' I said. 'Hm,' he said. 'That's the point, isn't it? No one sees the end of the world. The end of the world is like the horizon.' 'The bend of the world,' I said to that. 'Yeah,' he smiled. 'Yeah. That's good.' 'But,' I said, 'there's more world beyond the horizons.'"
Does that make "somewhere over the rainbow" the story's subtext? Perhaps, but I lean toward the slogan that locals of a certain age should remember: "Pittsburgh, Someplace Special."