Back to School?
42 Districts, 42 Plans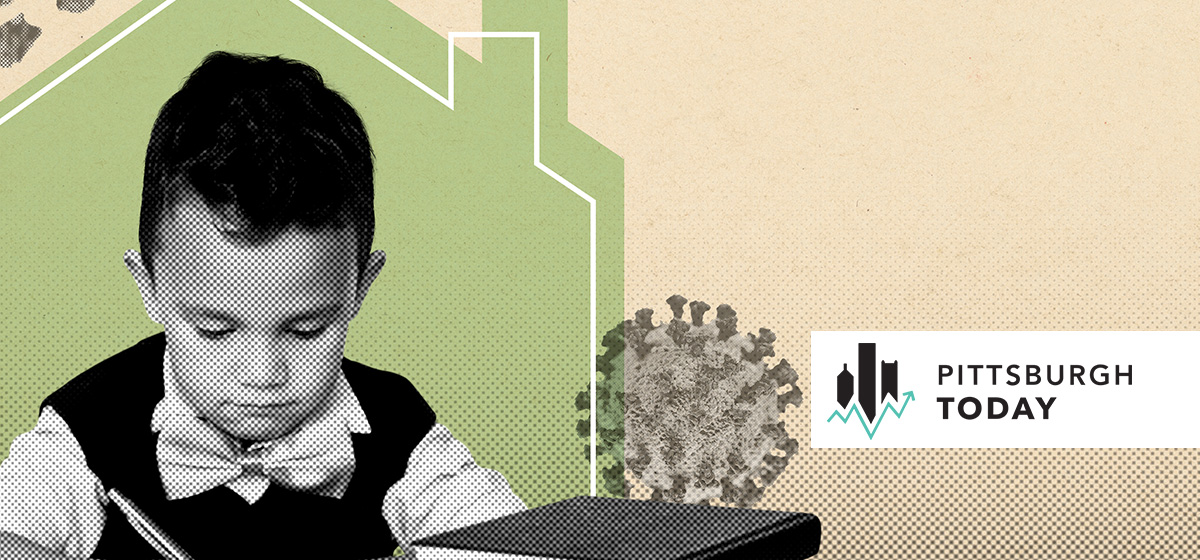 August 24, 2020
Back-to-school shoppers are scooping up tracksuits, vintage 1990s oversized tees and everything tie-dye. But this year, many local students will debut their first day of school outfit on Zoom or coordinate the look with a face mask when they step on the school bus.

Since the COVID-19 pandemic disrupted the school year last March, schools in Allegheny County and across the state and nation have struggled with how to keep children safe while resuming their education in some way, shape or form.
They face an unprecedented problem cloaked in uncertainty without a battle-tested curriculum to lean on. Over the summer, public schools in the region scrambled to figure out how to reopen during the pandemic, reaching out to their communities, other districts, local intermediate units and state officials for guidance.
"How do we have a clear voice when even folks in the medical community don't agree on what we should do?" said Bob Scherrer, executive director of the Allegheny Intermediate Unit (AIU), which represents the school districts in Allegheny County, excluding Pittsburgh Public Schools. "In Pennsylvania you have local control and school districts make their own decisions. You'll have variations in plans from district to district.
"What we're trying to do is say, 'based on the best information, these are the recommendations that you can use to make those decisions.'"
On August 13, the Pennsylvania Department of Education issued guidelines for reopening pre-kindergarten to grade 12 schools. They included thresholds for using approaches ranging from fully remote learning to fully in-person instruction that are based on the spread of coronavirus in their communities. Also included are recommendations on how to adapt to positive COVID-19 tests among students and staff, should they arise.
But the state reopening guidelines arrived after many southwestern Pennsylvania school districts had finalized their plans and presented them to their school boards for approval. The result: 42 school districts in Allegheny County with 42 plans for reopening, employing a broad swath of strategies they hope will prepare them for meeting the biggest challenge they've ever faced.
Zoom calls and surveys
When the coronavirus pandemic reached the Pittsburgh region, schools and administrators went online. The AIU hosted conference calls with all superintendents on Zoom once or twice a week to share guidance or sometimes speak to local, state and federal officials for their input, including those with the Allegheny County Health Department, state departments of education and health, and the national Centers for Disease Control and Prevention.
Talks with health officials were critical, "especially as we came out of last school year and into the current school year, because the guidance really shifted and changed," Scherrer said.
Weekly Zoom meetings also provided an opportunity for superintendents to speak to one another, swap best practices from the past school year and share their plans for their district's reopening in the fall. "Connecting districts so they can share plans has been vitally important for the coming school year," Scherrer said.
Many superintendents surveyed their communities to gauge their expectations and comfort level with various reopening strategies, such as holding in-person classes, and to assess the need among families to adapt to the changes, including whether they have access to Wi-Fi and the devices that enable them to use it.
Nancy Hines, superintendent of Penn Hills School District, conducted two surveys in the district—one in late May and a follow-up survey mid-July. The surveys showed that the community was in favor of some form of on-site learning.
"I felt compelled to offer a recommendation that would allow some in-person learning because the taxpayers hired us to perform an essential service for their children," Hines said. "They are certainly well-informed and I believe that we can offer that in a safe way. But we have to be aware of the guidelines from the county and the state, and have to be able to shift to fully remote, if necessary."
Range of plans
Schools faced two main challenges: Protect the health and safety of students, teachers and staff, and settle on a strategy for instruction that best serves their students' education under the circumstances.
"Every school district had to look at three different plans as they go into the school year," Scherrer said. "What does it look like when you have all students go into school? What does it look like if you're in a complete remote environment? What does it look like if you're in a hybrid plan that maybe you only have half students in on any given day?"
On July 31, Pittsburgh Public Schools' board voted to postpone in-class instruction for the first nine weeks of school. All students in the district will begin the year enrolled remotely.
On the other end of the spectrum, Peters Township School District's board approved a plan to open its buildings for students to attend in-person classes all five days a week. The district also offers full remote learning as an option for those who choose not to attend in person.
Penn Hills School District is offering a hybrid model for the school year. The school board approved an instructional model that allows families to choose fully remote learning or to have students attend in-person classes two days a week and online classes the other three days.
All districts with in-person instruction require students to wear masks at all times indoors. Some schools have mandatory temperature checks. Many will space desks or have reduced classroom and building capacities. Some restrict movement in the halls between classes.
In Penn Hills, high school students will have to move from class to class. "I'm confident they understand that they have to wear that mask, they have to wash their hands," Hines said. "I feel confident that the kids are going to cooperate and help us do this."
The Pennsylvania Department of Education issued reopening guidance for choosing instructional models based on the spread of COVID-19 in each school district's county. The thresholds are based on the rate of new virus cases per 100,000 residents for the most recent seven days and/or the percentage of COVID-19 tests that come back positive.
A low level of community transmission is considered to be less than 10 new cases per 100,000 residents over the past seven-day period and/or a percentage of positive tests of less than 5 percent. In this scenario, the Department of Education recommends a full in-person model or a blended-learning model of in-person and remote instruction.
As of Aug. 22, Allegheny County had five cases of COVID-19 per 100,000 people in seven-day moving average, according to county data.
State guidelines also provide a model for how and when to shift to an alternative instructional model if students or staff should test positive for COVID-19 based on the spread of the virus in the county and the number of positive tests in the school.
The state recommends, for example, that a school close for three to five days and take other measures under these scenarios: There is a low level of community transmission in the county and two to four students or staff members in the same school building test positive for COVID-19; or the number of cases is less than 5 percent of the total number of students and staff in a school building; or there are cases in multiple school buildings with individual cases who are not members of the same household.
Shifting challenges
All district models contain at least an option for remote learning.
While remote learning may be the safest option when there is community spread of COVID-19, it is not without challenges for teachers and other professionals who work with students.
Special education students, for example, have Individualized Education Programs (IEPs), which require specific, individualized instruction that can be difficult outside of a school setting.
"For kids who have more significant cognitive disabilities, what's the likelihood that they're going to get meaningful instruction in a remote learning platform?" said James Palmiero, assistant executive director for special education and pupil services at Allegheny Intermediate Unit. "It might be difficult for those children to access information from a computer and it may be better for them to receive that experience in a face-to-face environment."
He said many special education students also receive related services, such as occupational therapy or speech language therapy. In such cases, a student able to learn remotely might still need to meet face-to-face with therapists to receive those related services.
Access to technology, such as laptops and tablets, vary across and within districts. Many districts, such as Pittsburgh Public Schools, have plans to provide each child in the district with a device. Since spring, the district has been ordering thousands of devices. But demand for them is high, deliveries have been delayed and some orders are expected to arrive as late as Oct. 20, according to the district.
Schools don't know what awaits them after classes resume. But it is clear much will depend on the course of the coronavirus in the coming months. "The public needs to understand how incredibly complex this challenge is," Scherrer said. "We all want to be back in in-person education. But we know there are health and safety challenges we have to contend with and we need help from our county. We can't get back to all in-person until we get the county's COVID numbers down, so everyone can do their part."