Taylor, Singleton, McGarry, Gideon, Rademacher, Littrell, Cooper, Wood
Professionals new to Pittsburgh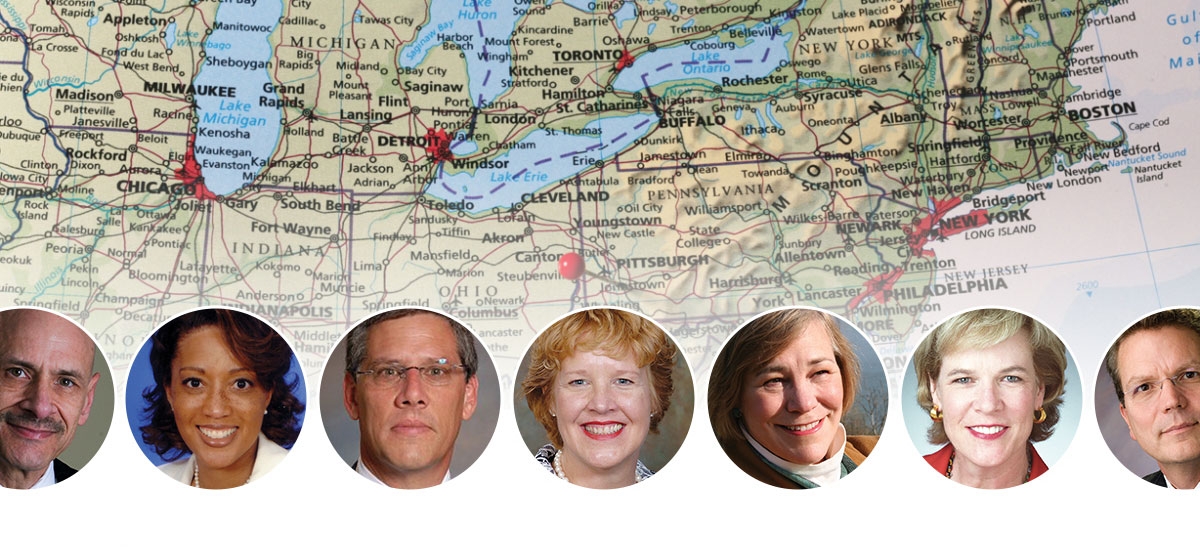 May 19, 2008
Samuel M. Taylor is the Director of the Carnegie Museum of Natural History, where he worked early in his career. A marine biologist and science educator by training, Taylor has been a museum consultant for the past eight years in New Jersey.Previously, he was chairman and curator of the education department at the California Academy of Sciences; director of exhibitions for the American Museum of Natural History in New York; and biology director for the New York Hall of Science. A native of Big Falls, Mont., he has a B.A. from Colorado College, an M.A. from the Marine Science Institute, University of California at Santa Barbara, and a Ph.D. in science education from the University of California, Berkeley. He lives with his partner, Michael, in Squirrel Hill.

Candi Castleberry-Singleton is the chief diversity officer at UPMC. Most recently, she was vice president for global inclusion at Motorola. Previously, she worked at Xerox Corp., She will oversee the UPMC Office of Diversity and will be responsible for establishing systemwide diversity and inclusion goals, measuring the health system's progress toward them and partnering with UPMC leadership to achieve them. Castleberry-Singleton earned a master's degree from Pepperdine University and a bachelor's degree from the University of California, Berkeley.
Michael H. McGarry is senior vice president for commodity chemicals for PPG. He will be relocating to Pittsburgh from Rolle, Switzerland, where he has been vice president for coatings and managing director of PPG Europe. McGarry joined PPG in 1981 and has helda variety of posts around the world. In 2000, he became general manager for fine chemicals and, in 2004, vice president for chlor-alkali and derivatives. In his new position, McGarry will join PPG's Operating Committee with responsibility for the Commodity Chemicals reporting segment and chlor-alkali and derivatives business unit.
Dawn Gideon is president and CEO ofThe Western Pennsylvania Hospital and its Forbes Regional campus. For the last three years she's been managing director and interim management group practice leader in Chicago for the Huron Consulting Group, one of the nation's largest health-care performance improvement firms. She has been chief operating officer and chief restructuring executive for Saint Vincent Catholic Medical Center in New York and has held management positions with Forbes Health System, Allegheny University Hospitals and Transition Management Group. A Pittsburgh native, she earned her undergraduate degree and a Master of public health from The University of Pittsburgh. She lives in Squirrel Hill.
Susan Rademacher is parks curator for the Pittsburgh Parks Conservancy, responsible for landscape design, preservation and guiding restoration, maintenance and enhancements of the parks' designed landscapes, buildings and sculptures. She comes to Pittsburgh from Louisville, where she was the founding executive director of the Louisville Olmsted Parks Conservancy. She has also served as assistant director of Louisville's Metro Parks Department,editor-in-chief of Landscape Architecture magazine and a founding editor of Garden Design magazine. A Georgia native, Rademacher is a graduate of Miami University and was a Loeb Fellow in advanced environmental design at Harvard's Graduate School of Design.
Janet L. Littrell is dean of the College for Continuing and Professional Studies at Chatham University. She comes to Pittsburgh from Tucson, Ariz., where she was executive director of continuing education and academic outreach and assistant to the vice provost for special projects at the University of Arizona. She also has been an executive with National University in California and has taught at San Diego State University and the University of San Diego. A native of San Diego, she received her undergraduate degree in English and comparative literature and an M.S. in rehabilitative counseling from San Diego State and a Ph.D. in leadership studies from the University of San Diego. She currently lives in the Waterfront area of Homestead. She and her husband have three grown children.
Mary Frances Cooper is deputy director of the Carnegie Library of Pittsburgh. She hails most recently from New York, where she helped oversee the 87 branch libraries of the New York Public Library. Cooper has also been assistant director of the Louisville Free Public Library and chief of central library services at the Minneapolis Public Library. Active in state and national library associations, she has served on numerous boards and commissions in the cities in which she has lived. Since moving here in March, she has enjoyed exploring Pittsburgh's neighborhoods surrounding the 19 Carnegie Library of Pittsburgh locations.
Paul Wood is vice president of public relations at UPMC and leads UPMC's global media relations and internal communications. He comes to Pittsburgh from Detroit, where he spent 17 years at Ford Motor Co., responsible for developing and executing communications strategies supporting the Office of the President, global purchasing, supplier relations, information technology, Lincoln Mercury, e-commerce and international public affairs. Prior to Ford, Wood was vice president of corporate planning and development at Chase Manhattan Bank. Before joining Chase, he was with the Federal Reserve Bank of New York. A native of St. Johns, Mich., he has an undergraduate degree in mathematics and a Master's in statistics from Ohio State University. Wood is temporarily living on the North Shore and expects to relocate this summer with his wife Judy. The Woods have two sons in college.