Evans, Meixell, Munchak, Bracken, Peterson, Lam, Bibby
Professionals new to Pittsburgh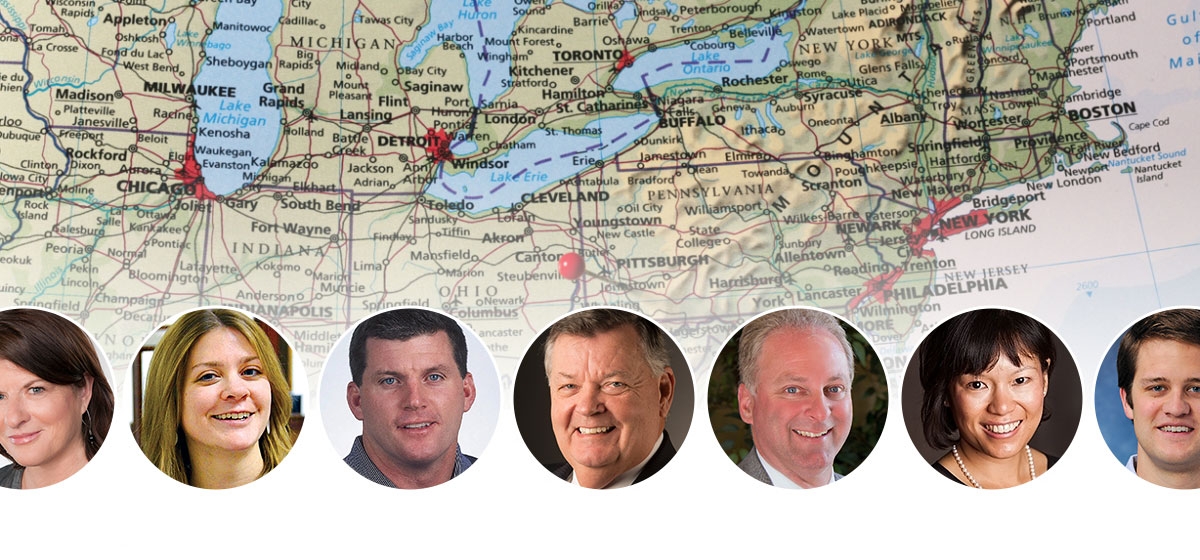 February 21, 2014
Catherine Evans is the chief curator at the Carnegie Museum of Art. She comes to Pittsburgh from Columbus, Ohio, where she served as curator of photography and also chief curator at the Columbus Museum of Art. Before moving to Columbus, Evans and her family lived in Sao Paulo, Brazil, for five years. A New York City native, Evans previously was an assistant curator in the Photography Department at the Museum of Modern Art in New York and at the Canadian Centre for Architecture in Montreal. She is a graduate of Williams College. Evans is in the process of relocating to Pittsburgh.

Laura Meixell is the City of Pittsburgh's analytics and strategy manager, responsible for helping to bring open data, digital government and data-driven management to Pittsburgh. A native of Bethlehem, Pa., she comes to Pittsburgh from San Francisco, where she was a fellow with Code for America, a nonprofit that seeks to improve government by involving citizens and harnessing technology. Previously, she spent three years in Washington, D.C., with the Department of Housing and Urban Development. She has an undergraduate degree from the University of Pittsburgh and a master's degree from Pitt's Graduate School for Public and International Affairs. Meixell lives in Bloomfield.
Mike Munchak is the offensive line coach for the Pittsburgh Steelers. He comes to Pittsburgh from Nashville, Tenn., where he was head coach of the Tennessee Titans. A native of Scranton, Munchak played football at Penn State University, and was a first-round draft choice of the Houston Oilers, where he played left guard for 12 seasons, earning him induction into the Pro Football Hall of Fame. After his playing career, Munchak turned to coaching, becoming one of the best line coaches in the NFL before being named head coach of the Titans, a position he held for three years.
Gary Bracken is vice president for enrollment management at Point Park University. He has worked in admission and enrollment management since 1988, including posts at Ithaca College and Northeastern University. More recently, Bracken was vice president for enrollment for 13 years at Saint Leo University in Florida, where he doubled campus enrollment and helped transform Saint Leo into one of the nation's largest not-for-profit online education programs and providers of military education. He has an undergraduate degree in music education from Indiana University of Pennsylvania and a master's degree in music education and performance from Columbia University. Bracken and his wife, Jane, are living in a Point Park freshman dorm as they house-hunt.
Paul Peterson is the senior director at Longwood at Oakmont, which is part of Presbyterian SeniorCare. He comes to Pittsburgh from Santa Barbara, Calif., where he was executive director of The Samarkand, a Covenant Village continuing care retirement community. Peterson will oversee strategic planning as well as direct all aspects of the operations of the Longwood at Oakmont campus. A native of Jamestown, N.Y., Peterson earned a degree in healthcare administration from the State University of New York at Fredonia and has a license as a nursing home administrator. He is moving to Pittsburgh with his wife, Kirsten, and their two children.
Debra Lam is the chief of innovation and performance for the City of Pittsburgh, responsible for overseeing the intersection between sustainability, performance management, and technology. A native of New York City, she grew up in Pittsburgh's North Hills. Before returning to Pittsburgh, she lived and worked in London, Hong Kong, Taipei, Beijing and Shanghai, advising cities on policy sustainability and the built environment. She has an undergraduate degree in foreign service from Georgetown University and a master's degree in public policy from the University of California, Berkeley. Lam is living downtown.
Kyle Bibby is assistant professor of civil and environmental engineering at the University of Pittsburgh's Swanson School of Engineering. His research interests center on understanding the presence, ecology and diversity of microorganisms, such as viruses and bacteria, in an environmental engineering context. He comes to Pittsburgh from New Haven, Conn., where he earned a master's degree and a Ph.D. from the Department of Chemical and Environmental Engineering at Yale University. Bibby has an undergraduate degree from the University of Notre Dame. A native of Naperville, Ill., Bibby and his wife, Kristen, live in Lawrenceville.