Apple Obligations
Seasons of abundance at the family farm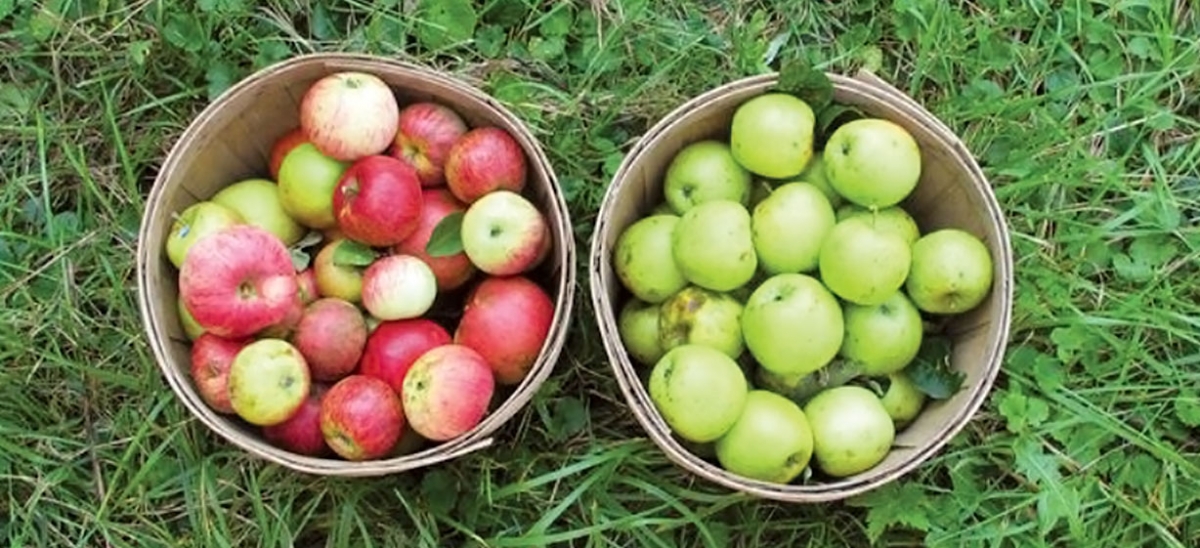 August 20, 2013
There's a point after leaving Pittsburgh, zipping in and out of lanes on Interstate 79, when you distinctly hit Country. Even the dog notices it, sticking his nose in the air, half-closing his eyes in window-seat joy. It's the moment when the air rushing in smells sweet, like hay and dung and grass. Farther north, Route 208 winds its way into Forest County like a corkscrew, the road diving in upon itself through farmland and roadside ice cream stands, some with horseshoe pits out back. The twilight comes on and so do the lightning bugs. Crickets zip and unzip along the ditches.
Past Wolf's Corners, the lane to Flick Farm is bumpy and narrow as the car tips past the barn and then the springhouse. Even before the ignition is off, I anticipate the deep silence that's about to strike. It's like nothing, electrified.
The apple trees on my parents' property have been there a long time, but I never took notice of them in any real way until two years ago when there was a bumper crop. Our family had gathered to paint the large garage where my dad keeps his fishing boat, canoe and other recreational gear. We called it Flick Work Weekend, and after the group ibuprofen distribution, we decided it had been aptly named. On day one, as I edged my way to the side of the building, scraping flaking paint away in the hot sun, I stopped short at the stunning apple tree, huge and filled with small green fruit dangling like little earrings all gaudy in the summer sun.
The apples weren't yet ready because it was July, but my foodie heart pounded in anticipation; my foodie brain planned. I could really put those apples to good use. Why didn't we use these apples? My parents confirmed there were apple trees all around the property, yes. The trees had good years and bad years, and they just kind of let them be. If anyone wanted to come over and pick apples, that was fine. If the deer wanted to eat them, that was fine, too.
So began the 2011 exploration of all things apple. Cakes, pies, applesauce, apple butter and jelly. Shredded in an omelet? Sure. In soup pureed with spinach? Why not? My husband, Rick, and I picked bushels of apples. I fell under a self-imposed obligation to use them. Apple-carrot shortbread, yep. Baked, stuffed apples, of course. We had two filled bushel baskets in the kitchen, wedged under the table.
There is nothing quite like a freshly picked wild apple. Tinier than those you see at the grocery store and not as gussied up, the skin is rough and pocked, but the taste—that's another thing altogether. Tight skin, tart, rush of sugar, firm flesh. You can eat a lot of these little things. When I asked my mom what the green apples were called, she said, "Well, we always just called them Yellow Translucent." The red apples were a variation on McIntosh. Many of the trees scattered around the property and through the woods sported variations of variations, and the way to pick your apples that summer was to walk from tree to tree and taste-test them, like an apple orchard buffet.
So many apples and so little time. I let a friend know about the jackpot and he schemed eight bushels of grounded apples from the yard, which he let rest in the springhouse for a few weeks and then pressed and fermented into hard cider. I took some of the cider from that pressing and made cider vinegar, letting it ferment in my garden shed.
That year, everywhere you turned, loaded apple trees beckoned with their crooked arms. The pear trees went a little crazy, too. My Aunt Laura and Uncle Bill let me use a bushel of their pears while I was at it.
Then, last summer: Nothing. Zip. No apples. Not one apple in the farmyard. A late frost had zapped all the blossoms. While walking through the woods on the family's property, it was hard to believe that these regular-looking tree branches had once been crazily loaded down with fruit.
This fall, I'm hoping for another bonanza. Until then, I still have a couple jars of chutney in the pantry to keep me company.