An All-American Tradition
Local hot dog counters offer a glimpse into immigrants and local history
Photo illustration by Heather Mull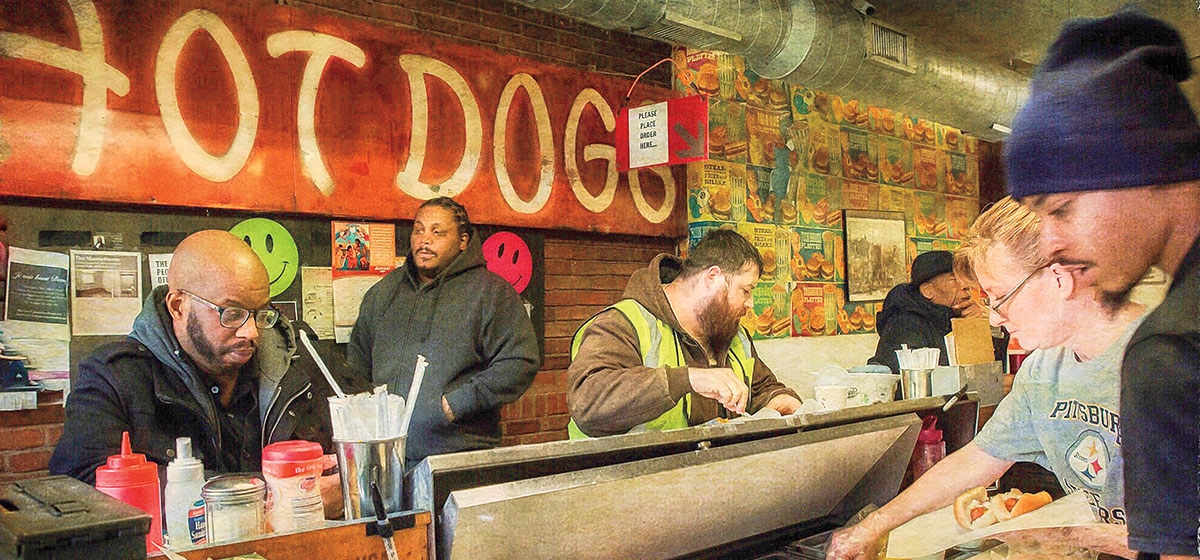 June 20, 2019
Everyone has their favorite hot dog shop, the ones they swear by because they spent their youth eating there. Western Pennsylvania has a number of them. In a culinary landscape dominated by high-profile chefs, these nostalgic hot dog counters remind people of the type of food their ancestors ate while leaving the mills or mines.
"People love hot dogs. They are delicious and part of American history," said Eric Mittenthal, president of the National Hot Dog & Sausage Council. "We all grew up with them. When you have a place that is beloved in the community, it's not only a popular business, it's a popular meeting place and place to socialize. You have these counters that go back so long that they become part of the family experience even. It's a strong tie between the hot dog stand and the communities as a whole."
When you walk into Shorty's Lunch in Washington, Pa., you see something that residents have enjoyed for more than 80 years. George "Shorty" Contorakes started it in the 1930s, and was soon joined in ownership by Pete Alexas. After them, their children John Contorakes along with George Alexas owned it. Now, John and Steve Alexas run it.
"We try to keep everything the same," John Alexas said. "We try not to change. Everything we do is part of the history of what people have come here for. We tried to do the same thing as when they left."
Shorty's Lunch and other hot dog counters have a connection to Greek immigrants and their descendants. The Contacos family ran Coney Island Lunch in Johnstown for more than 100 years. It recently transferred ownership to the Clark Family. And Tsambikos (Jim) Damianos started Jim's Famous Sauce in West Mifflin in 1927.
The stories behind the sauces can be as fascinating as the taste. After Jim Damianos passed away in 1959, his son Alex Damianos forgot the sauce's recipe. Customers complained that it wasn't the same, and the owners got worried. So he experimented with the ingredients. Before he died a few years ago, Alex said that his father came to him in a vision and told him the recipe, according to his brother Sylvester Damianos. "My brother, who I never found to be a liar, went down and tried to produce what that vision suggested," Sylvester said. "And that was it. Ever since, the sauce has been prepared based on that vision of my father after he passed away."
Sam Contacos, the former owner of Coney Island Lunch, said that just three people knew the recipe to his shop's sauce. He, his father and grandfather are the only ones who ever made it. The recipe remains in a safe deposit box.
Nana's Hot Dog Shop, on the North Side, began in the 1960s, when it was known as the New York Hot Dog shop. Greek immigrants owned it originally as well, according to current owner Karen Dobrzynski. "The recipe has been handed down," she said. "It's not even done in teaspoons. It's always written in ladle form. I have to have a specific ladle."
Bruce Kraig, author of "Hot Dog: A Global History," said Greek immigrants worked in restaurants instead of mills when they came to the United States in the 1890s. "They would all live in the same areas. And if they did the same type of food vending, they wanted to differentiate themselves. So around 1910, they wanted to put an added value on their hot dogs," Kraig said. "There weren't a lot of toppings on hot dogs in those days. So the sauce, when you look at it, is tomato based with spices like nutmeg and cinnamon. And I think that derives from the Turkish influence on Greek food."
Other hot dog shops in the area include the Red Caboose in Elizabeth and the New Brighton Hot Dog Shoppe, which has become a chain of restaurants throughout the region. In Market Square, Yovi's Chicago Hot Dogs has an interesting style that owner Lee Yovanof brought from his hometown when he opened the first store on Liberty Avenue in 1987.
Essie's Original Hot Dog Shop, known affectionately as the "Dirty O," is perhaps the most famous hot dog counter in the Pittsburgh area, with a deep history that's connected to the sports teams of the University of Pittsburgh. Sydney and Moe Simon opened the establishment in 1960, and it's now run by Sydney's daughter Terry Campasano. "Everyone came here…even during a Pitt game," she said. "Physically, spiritually, it was the most fun day of the year. The Dirty O came from you couldn't get anything clean because there were so many people. It was just that crazy. There were piles of bags and cups. All the kids threw the things on the floor. That's where that originated."
The fabric of a city depends on people getting food at all types of places, including the fare they can have for $2, according to Alice Julier, director for the food studies program at Chatham University. "What makes places distinct are not necessarily the high end places, but the layers and culture and history of a place. I think that's part of who we were and part of who we are still."