A lens on life
A major retrospective tracks famed photographer and McKeesport native Duane Michaels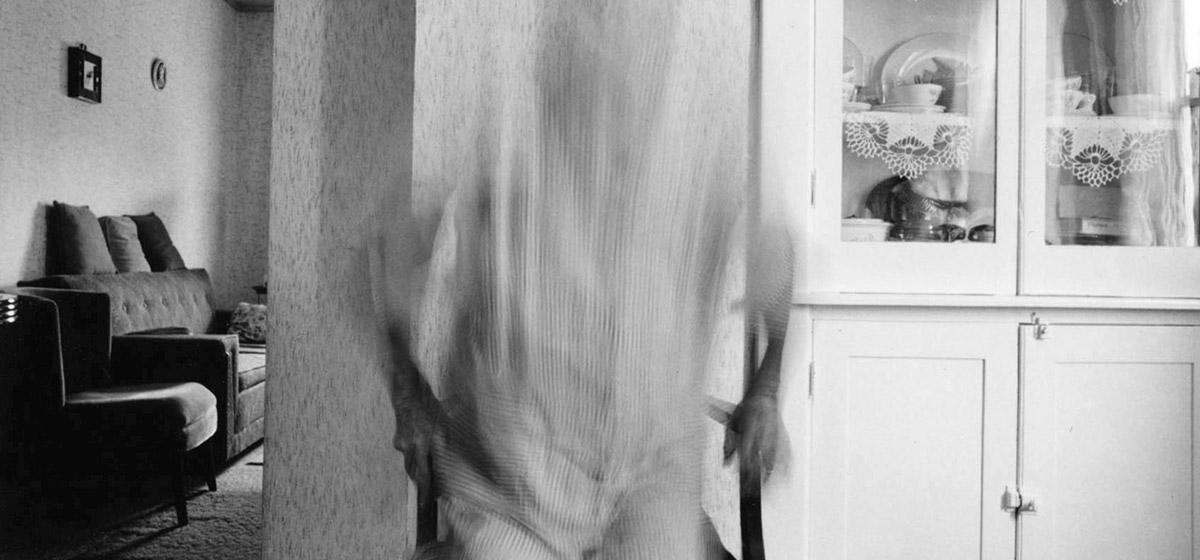 November 21, 2014
1. An old woman is seated in an upright armchair in a sparely furnished room.

2. A slightly younger man in a suit approaches from a room beyond. He is not perfectly in focus. She does not appear to be aware of him.
3. The man seems to pause and fixes his attention on the woman. There appears to be no sign of emotion on the faces of either of these people.
4. The man moves towards her and touches her right shoulder with his hand, which comes into sharp focus, while the rest of his body begins to disappear in a diffused blur.
5. The man has disappeared completely. The woman rises from her seat, leaning forward and slips out of the focal range of the camera. She is disappearing in a blurring movement, her features evaporating.
This sequence of images would mean very little to the viewer without the fact that the photographer has written six words on the first photograph in his own spidery hand: death comes to the old lady. With that we have enough to work on.
In the 19th century, this would have been almost a commonplace work of art—narrative, moralistic, religious and philosophical. But in 1969, when Duane Michals took these photographs? In the America of Andy Warhol? Here was a different voice, a different counterpoint for the times. Michals is still working in his eighties, the same voice with different intonations, influential but essentially independent of the art of his time.
Duane Michals was born in McKeesport in 1932. He was educated there and found his grounding there. He still returns there, nostalgic. But as an adolescent he was regularly sucked into the vortex of metropolitan Pittsburgh. He took the trolley car, changing at Bates Street and alighting in Oakland at The Carnegie Institute—the old, pre-Scaife complex, with its layers of art, natural history, library, music and, significantly, its art classes. Somewhat earlier, so did Andy Warhol, a Pittsburgh native (not McKeesport, as is often claimed). Both left the city in 1949; Warhol, after Carnegie Tech, for a successful job as an illustrator in New York; Michals heading for the University of Denver, with a scholarship in graphic design, and then the army where he was stationed in Germany.
Michals was not to get to New York until 1958, where his career trajectory was, inevitably, in the field of design. A trip to Russia that year with a borrowed camera convinced him of his vocation as a photographer, as it was to convince future employers. He makes a distinction between his commercial work and his own art. But we can enjoy both on many levels.
We can forget Warhol now in this story (except that Michals was later to find him an interesting and willing sitter). But one could cite many other examples, such as Phillip Pearlstein, Peter Sellars and, more recently, David Humphrey. Local boy goes to the big city and makes good. But the rub is, most of these artists don't really come back, not even for Thanksgiving.
Through Feb. 16, Michals is the subject of "Storyteller: The Photographs of Duane Michals," a major retrospective at the Carnegie Museum of Art. In addition to that show, which analyzes his entire output, there is a separate exhibition, "Duane Michals: Collector," in the Scaife Wing. This latter presentation consists of a group of 47 works of art by artists other than Michals, mainly on paper, which are gifts or partial gifts by Michals to the museum. This presents Michals as a collector.
There is a little history attached to these two shows. Richard Armstrong, former director of the Museum of Art, set up a program in 2000 to acquire a number of Michals's photographs over a sequence of years. Thus, The Carnegie would become the main repository of his oeuvre. These exhibitions reveal the ambitious scale of this acquisition policy and the fortuitous happenstance of a donation that shines light on the personal taste of the photographer.
The curation of the main show, by Linda Benedict-Jones (amazingly the museum's first curator of photography), itself exposes the diversity of issues that Michals brings into account. The photographer is gay, something not disclosed in his early career, but its significance is unavoidable in understanding both the early and the later bodies of work.
The role of narrative (the show's title is "Storyteller")… the expressive scrawling calligraphy that is his hallmark… the artifice involved in staging sequenced photographs… have all been bones of contention throughout Michals's career. Few, I would imagine, would have thought of Duane Michals as a creator of illustrated children's books. And his most recent work, where the artist takes antique tintype photographs and paints over the surface of them, seems to be a shocking departure from his regular practice. But is it so shocking? At worst it might be regarded as mischievous, "rattling the cages" of the arbiters of taste in the photographic world.
In the museum, all these aspects are carefully adumbrated, and in the essays in the substantial catalog, closely parsed by contributing writers.
The test of this show may rest on how clearly the viewer gets a sense of the voice of Duane Michals himself. This is partly accomplished by clearly labeled quotations as wall text and the catalog. The handwritten texts on the photographs do the same thing with even greater force, and it is worth remembering how controversial this practice was when Michals first adopted it—way ahead of any other artist. The accepted view was always that the photographic print was inviolate; you wouldn't scribble on a Rembrandt and you wouldn't, with equal reason, scribble on a Cartier-Bresson silver nitrate print or a Man Ray solarized rayograph.
My own feeling is that the visual work is vastly aided by listening to Michals's spoken voice. "Duaneland," a 2004 film by Stephen Seliy and Joe Seamans, is a somewhat straight documentary in which the photographer (whom I have heard described as "wily") extemporizes to revealing effect. He is used to charming an audience with well-rehearsed jokes (shocking, scabrous and beguiling) that don't normally make it to the printed page. For nearly 50 years, he has weathered a good deal of criticism for going against the grain of orthodox photographic opinion. Famous photographers Joel Meyerowitz and Gary Winogrand walked out of his first show in 1968, declaring that the work "isn't photography." And the legendary Diane Arbus, on viewing his classic show "Sequences" (1970), wrote to him, "the whole fiction of them begins by appalling me, but in some I ended by believing your lie and applauding your ability to photograph people alone." By now Michals can handle such kinds of brickbat with a comfortable retort.
Staged photography, whether a single shot or a narrative sequence, which is at the heart of most of his work, is certainly fabricated or of the nature of "lies," and has nothing to do with the concept of the "decisive moment." Modernism took that phrase as critical to authentic photography. Instead, Michals looks back even to the 19th century: things happen, stories are told that are curiously significant, hinting at deeper things, even eschatological things. Things that make us a little uncomfortable.
Thus, the personality of the photographer spills out onto the printed sheet, over and beyond the conventional and polite. No viewer is spared, even the innocent child or the more innocent adult.
The second exhibition, Michals's "collection," for want of a better word, curated by Amanda Zehner, is set a couple of dozen yards away, but it informs us thoroughly of what the photographer responds to and to some extent draws upon. It consists largely of photographs by artists Michals admires: Eugène Atget, the man who photographed Paris as if it were "the scene of a crime" (in Walter Benjamin's words), André Kertész, Herbert List, Irving Penn and Lewis Hine are his photographers. George Platt Lynes, Jared French, Horst P. Horst and Guglielmo Plüschow supply the gay element.
Two works on paper (a drawing and a lithograph) by René Magritte, who was an important influence on Michals, provide the touch of surrealism that one often finds in his photographs. Here also are portraits by David Hockney, Lucien Freud, Chuck Close and Berenice Abbott (the iconic portrait of Atget himself). A collage by Joseph Cornell, another of Michals's subjects, is a welcome addition to the museum's collection (it is seeking a good Cornell assemblage, and this is a good start). I was interested to see the inclusion of a group of good Honoré Daumier caricatures and, less common, a pair of Félix Vallotton woodcuts. It is perhaps not unreasonable to associate the Daumiers with the group photographs that Michals has taken over the years, and to connect his sense of humor with them too.
Enigmatic drawings by Balthus seem to be important in the context of this collection. A Morandi etching from 1931, a still life, "Natura morte con oggetti bianchi su fondo scuro," is a special treat… who would not steal it, given the chance? Two modernist black and white photographs by the great German artist Herbert List, which Michals has acquired, are of a type that influenced magazine design, particularly fashion work. Michals himself does work in this area, even if to some extent he discounts it as being merely "commercial." Finally, gorgeous, trivial little sketches by Edward Lear—nonsense rhymes with tiny vignettes—remind us that all of this collection is cabinet-sized, to be picked up and handled for closer inspection. Michals has little palate for the large scale, and when he resorts to parody, he skewers the makers of big photographs who are currently in vogue.
Perhaps never before has a show been organized that permits us to stand back and assess his reputation. In Europe, Michals has always been held in high regard. In America, his reception has been more variable. In Pittsburgh, he has been "kept up:" The Carnegie has been collecting his work since 1980. Interestingly, the Silver Eye Center for Photography has, I think, been given a photograph by Michals for every one of its fundraising auctions. He is important for this city, and should be considered with those photographers that seem especially to "belong"… Charles "Teenie" Harris, W. Eugene Smith, Clyde Hare and others are part of the pantheon. We are happy to share him.