A century of safety
From miners to firefighters, MSA has built a business—and a reputation—on protecting people
Firefighters using a modern-day version of MSA's SCBA (self-contained breathing apparatus), which the company originated in the 1920s.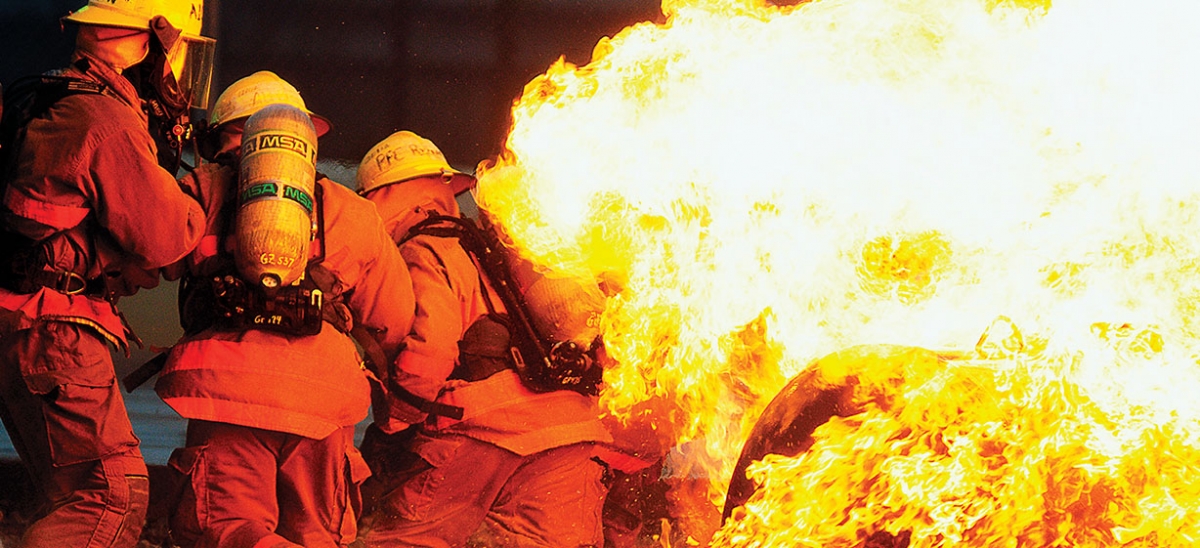 August 20, 2014
It was June 1914 when John T. Ryan Sr. and George Deike, two federal mine rescue engineers horrified by the carnage they'd seen in coal mine explosions, formed a company dedicated to making the industry safer. Ryan and Deike enlisted the services of no less a luminary than Thomas Alva Edison to design an electric cap lamp for miners to replace the dangerous open-flame lamps that were then the state of the art. The invention helped reduce mine explosions and deaths by more than 75 percent over the next 25 years, and the fledgling company, Mine Safety Appliances, was on its way.

Today, in its centennial year, that organization has grown to a $1.1 billion company, an international leader with operations in 42 countries and more than 5,000 employees. From its headquarters in Cranberry, MSA focuses on five areas of safety equipment—fixed gas and flame detection instruments, portable gas detection systems, self-contained breathing apparatus (SCBA), head protection, and fall protection—that serve such industries as energy and construction, as well as firefighters and other first-responding units.
Although MSA isn't the biggest player in safety equipment—Honeywell, 3M and Emerson boast revenues two to three times as great—MSA considers itself the leader in all its core areas but fall protection. How does MSA outslug its better-heeled competitors? Says MSA President and CEO William M. Lambert: "It comes down to the technology you put into that product, having the best of breed in that product class, and the testing and reliability that goes into it so that customers ultimately can put their trust in that brand."
Through the years, MSA has counted on a number of strengths to attain and maintain its position. One is product diversity within a well-defined sector. While the company didn't formally change its name to MSA Safety Inc. until this year, its footprint transcended coal mining from the very days of its founding.
"The notion of safety was always much broader than just mining for the founders of the company," Lambert says. "They had a broader vision—that men and women may work in safety."
Another advantage has been MSA's solicitation of product development input from the users of those products. Listening to the "voice of the customer," MSA calls it, and though other companies may practice it, MSA takes it to an unusual extreme. A number of its key managers, of their own volition, have undergone training and received certification as firefighters. They don't respond to actual emergencies, but they've been hands-on with SCBAs and other equipment and know exactly what product features their customers need.
MSA also received a boost with the 1971 establishment of the Occupational Safety and Health Administration (OSHA), which mandated safety requirements that, hitherto, may have been implemented voluntarily, haphazardly or not at all. To comply with the new law, companies needed safety equipment pronto, and MSA was there to help.
"It was significant," notes John T. Ryan III, who followed both his grandfather and father, John T. Ryan Jr., as company CEO and chairman and now serves as non-executive chairman and board member. "At least in its early years, OSHA didn't invent anything new, but they required that good safety practices of the responsible companies around needed to be learned and applied by all the other companies. Sometimes people do it voluntarily, sometimes they need a kick in the behind. What OSHA did was make it the law."
For all that, MSA might have emerged a vastly different company as a result of an internal dispute about MSA's direction in the post-war years. With coal mining booming, some insiders wanted MSA to abandon, or at least de-emphasize, its safety business and focus on the production of mining equipment. Ryan, whose father was CEO at the time, recalls that the discussion wasn't always cordial. "My father thought we'd be little fish and would have trouble competing (in mining equipment)," Ryan recalls. "But in safety, we were the big fish, so we thought we should focus on that and go around the world and use our know-how to sell safety products. It was quite a fracas; some people left over that decision, but it was the right decision."
Those who departed did indeed enter the mining equipment business, forming National Mine Service, which succeeded and ultimately was purchased by a bigger player. MSA survived the splintering, regrouped and became "The Safety Company" that we know today.
As MSA looks forward to its second century, it expects to continue to rely on its traditional strengths, adding wrinkles where circumstances dictate. One opportunity will be the chance to extend its reach in the shale gas industry as it expands across the Marcellus and Utica formations in the tri-state area.
"When we look at the oil and gas industry," Lambert says, "we see lots of opportunities for increased safety awareness. MSA is one of the leaders in providing safety equipment to that industry. We're investing a lot in R&D for next-generation sensors, on providing the most rugged, most reliable, most easy-to-use instruments for the oil and gas and petrochemical industries."
Yet another opportunity will be providing upgraded safety equipment to fire departments, which, following 9/11, were able to purchase new gear with the aid of federal grants; that cash stream has dried up.
"That equipment is now 10 years old and has gone through two different cycles of certification requirement upgrades," Lambert notes. "That's why we believe fire departments will be looking to replace that aging equipment. So we've spent a lot of resources over the last five years developing a brand new platform product in SCBA."
In March 2014, MSA introduced its new SCBA, called G1, in Indianapolis, where it won rave reviews. Most of MSA's growth through its first century has been organic, but acquisitions may become more prominent—particularly if new players try to exploit the burgeoning natural gas and first-responder markets. In 2010, MSA completed one of its infrequent acquisitions when it purchased General Monitors, which solidified MSA's position in the fixed gas and flame detection space.
However economic circumstances may change. Lambert, who began his 33 years with MSA as a design engineer, expects MSA to prioritize its commitment to worksite safety, the goal that has driven it for a century.
"The reason we have lasted 100 years, the reason we have been successful over that century is the values that guide the behavior of our people and the culture that we have created there," Lambert says. "Our core values—all built around integrity—have kept this company the type of company that it is and as successful as it is."
During his stewardship, John T. Ryan III helped make those core values a global phenomenon, spearheading MSA's entry to China and Russia, among many nations. In fact, professional and personal business took Ryan to 97 countries, three short of the total he wanted to match MSA's 100 years in business. So last year, he fudged a little, renting a car and lead-footing to Macedonia, Serbia and Kosovo—all in the same day—to reach the coveted century mark.
Wherever he goes in MSA's vast network, Ryan sees the same inspiration.
"The biggest thing is the mission—that men and women can work in safety, and they, their families and communities can live in health throughout the world," Ryan says. "From the day MSA was founded, people were driven by this mission to save human lives, to figure out technical ways of preventing disasters. "That's what drives people, knowing they can participate in a unique mission. It attracts employees and helps us retain them. They know they're doing something special. They have a sense that their lives are meaningful."